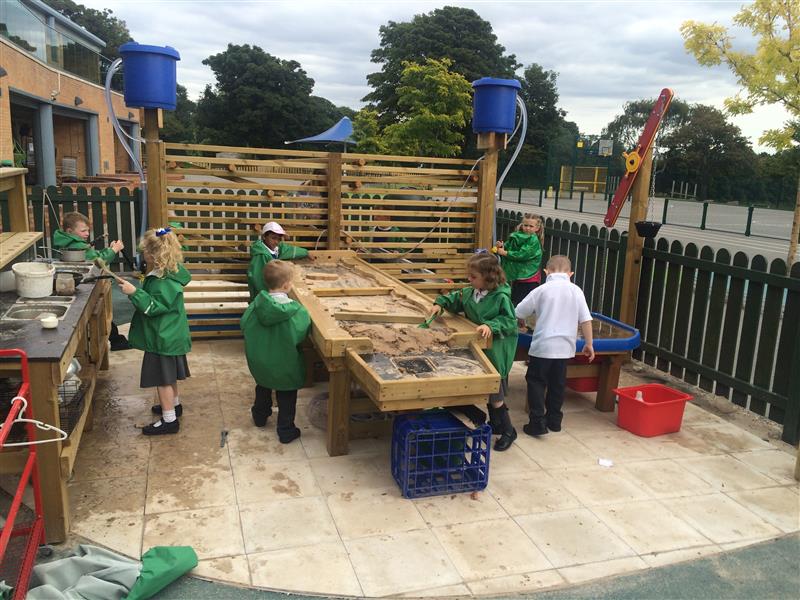 Park Primary School's Early Years Playground Has Been Brought To Life With Our Investigative Learning Zone
We met with Park Primary School to discuss developments to their Early Years playground. Mrs Parker (Foundation Stage Leader) and Mr Mellin (Head Teacher) were very keen to further develop the learning experience of their children, as although they had a modern area with colourful rubber playground flooring, the area lacked an engaging resource that fully tested and stimulated the children.
They wanted their children to be able to access non-prescriptive play equipment that would not only curve their imaginations but also encourage them to play and collaborate as a group.
When we viewed the playground, we could see that it had a modern outlook and was extremely well planned but could see that it was lacking that one special ingredient to bring outdoor learning to life. They were also lacking in storage options and suffered drastically from the North-Westerly wind that made a large part of the area difficult to enjoy.
Overall though, it had potential and it was now our job to turn it into a thriving outdoor learning environment. The first issue we felt we needed to address, was the strong winds which were ruining children's ability to enjoy their outdoor time.
We installed a plastic safety glazing along the North West boundary of the play zone to reduce the effect of the strong winds to make the space more comfortable to play and learn in.
We added our Play Cabin to provide the children with accessible storage. By giving children their own home for storage, it teaches them the importance of tidying up after themselves and further develops their understanding of the world.
The Play Cabin also includes a chalkboard for mark making and expressive arts and a 'counter and hatch' which is ideal for role playing and imaginative play. One day the cabin could be a grocers and on another day, it could be a bakery, it truly is one of the perfect open ended resources. The large bubble window also provides plenty of light into the creative storage unit.
Our Mud and Sand Quarry Will Create Engaging Group Challenges
The area needed a stand-out learning feature, so we developed a bespoke investigative play zone. This included a unique Mud and Sand Quarry; here the children can move mud or sand to the mixing and weighing area via the pulley controlled by an overhead crane.
For mixing components, we included our Tuff Spot Table that gives children a surface to get messy and our giant scales demonstrated the different qualities of the materials. We then installed our engaging Water Wall with an exciting twist… it was connected to a damming table that children can activate via the hand pump.
Once the reservoir is full, it discharges fully onto the damming station. Great fun and intrigue for all involved!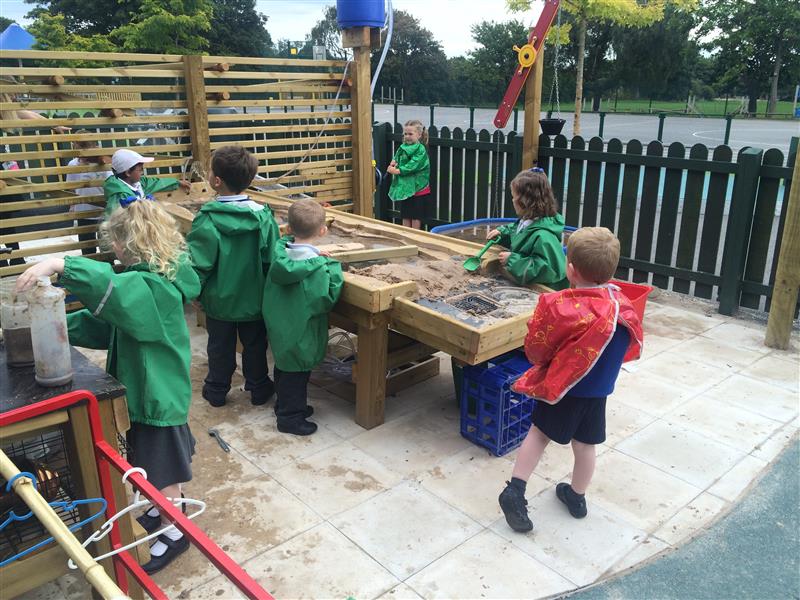 The investigative area also included our famed Mud Kitchen for additional messy and group play opportunities for children to enjoy together. Children now have the ability to utilise the mud and sand quarry to pass over ingredients for them all important mud pies.
As well as our unique investigative area, we wanted to include additional open ended resources, so we installed our Den Posts for unstructured play opportunities. Our Den Posts had Playturf built underneath so that children could kneel and play comfortably under a den constructed canopy.
Our next 'play protocol' was our installation of a wall mounted weaving panel to encourage dexterity and 'grip and grasp' strength which in hand, improves handwriting skills for when the children are back in the classroom.
Planter Benches Can Create An Area For Quiet Time And Reflection
To give the children a quieter area to reflect, we installed our Planter Benches. This provides the perfect environment for one-to-one sessions with fellow pupils and teachers.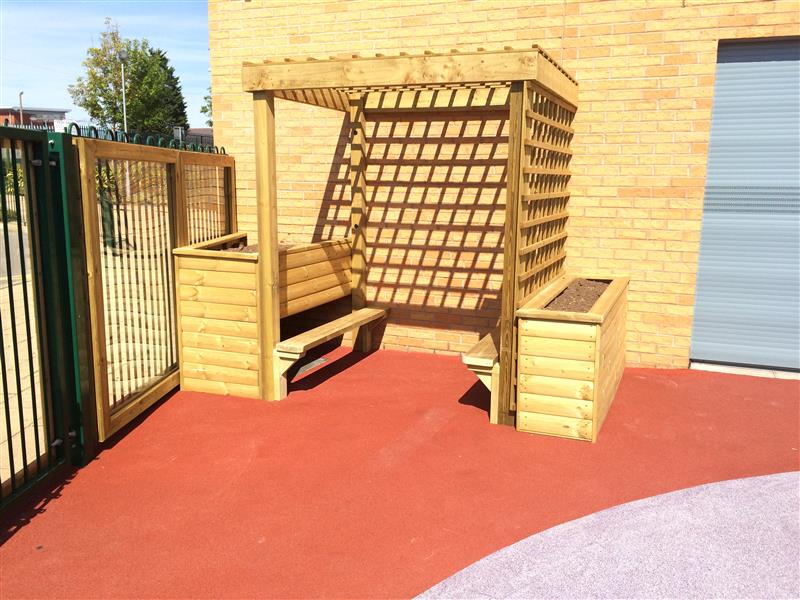 Children Can Now Enjoy Group Tasks In A Challenging Outdoor Learning Environment
We went back to visit the school to see how our unique environment had been embraced by the young learners of Park Primary School. On our return, we observed the children working as a team to build and supply materials to the dam which was holding back the water until it inevitably broke through.
On the reverse side of the Water Wall, the children pumped water and controlled its descent via removable gutters, waterwheels and the shishiodoshi – a tipping water container.
The adjacent Mud Kitchen was a very busy place where the children mixed, shaped, and worked with mud and sand to make various muddy creations.
The whole area was alive with children fully enjoying their new early year's area. It must be said, they were truly fascinated by their new investigative play zone and were buzzing around the different areas it provided.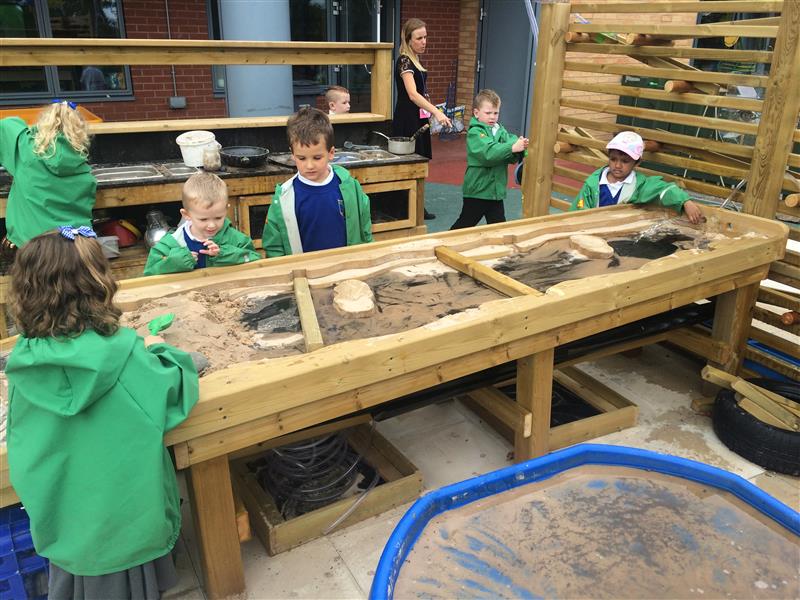 Overall our developments of this particular play zone facilitate and encourage children to work together; firing up their imaginations and challenging them to solve problems as a team. Outdoor learning has never been so fun! If you would like to know how we can help transform your Early Years area, simply Contact Us through the website.
Explore our Website to learn more about our innovative offerings that have transformed over 6000 playground settings. Why not read more of our enthralling Projects that have changed the lives of the children for the better.