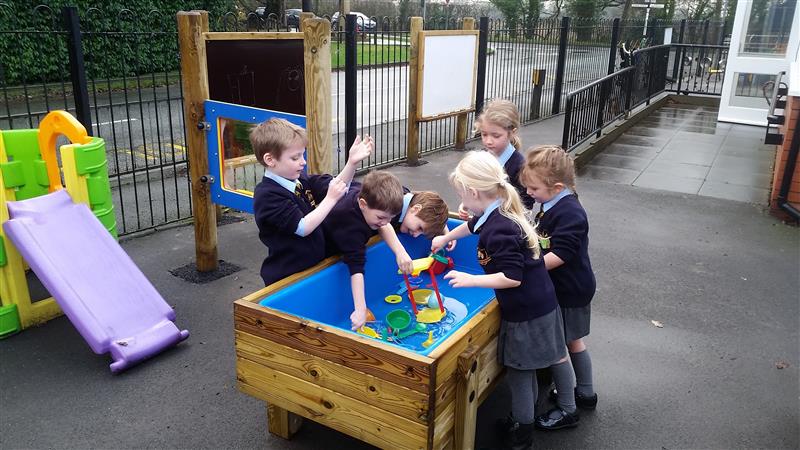 Read how we helped inspire Peover Superior's EYFS children to get messy and creative
Peover Superior Primary School felt their playground lacked inspiration for imaginative play and opportunities to truly push and promote children's creative abilities. They met with our northern play consultant, Paul Bayliss, for ideas on how this transformation could be made possible and the end result, has enhanced their children's learning experience for years to come.
There is no better way to enhance a child's senses and sensory development than through messy and tactile play. Most importantly for Peover Superior, children's creative senses will come to life when manipulating materials and creating their own imaginative worlds. We therefore knew we had to create an area that would promote "getting messy" and offer plenty of investigative learning opportunities.
We delved into our Imaginative and Creative range, to pick some of our very best inventions. The play equipment we chose, needed to have a group focus so that children could interact with each other when overcoming tasks. This means that children will not only begin thinking creatively but also begin developing their communication, interaction, gross motor skills and understanding of the world.
From a Mud Kitchen to a Play Cabin, inclusive play will thrive in this EYFS learning environment
On that note, we had to install our joyous Mud Kitchen to give the young chefs of Peover Superior a place to stir up some delightful mud pies and cakes for the village to enjoy. As soon as the children put on their aprons, they will transform into the worlds' greatest chefs working as a team to get all their important orders out to the demanding public.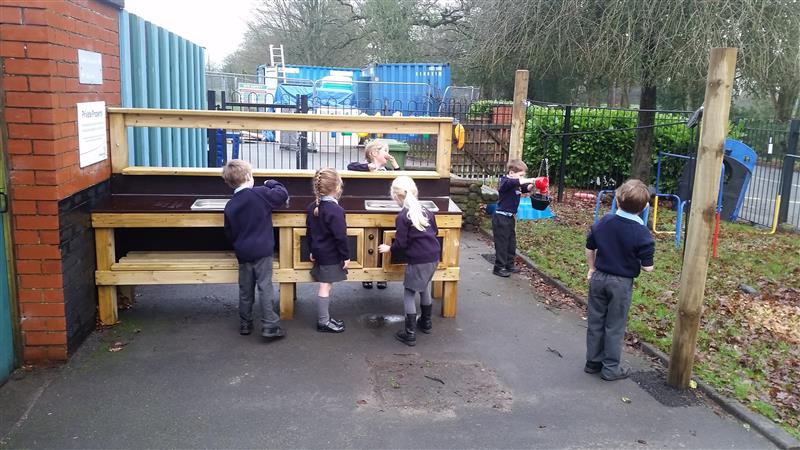 Our Rope and Pulley Materials Mover was added to connect different zones and areas of learning. For instance, when the Mud Kitchen runs out of ingredients, children can create their own mud production line and transfer mud back across to the kitchen zone. This will be an open ended team exercise with plenty of 'messy fun' to be had along the way – "Quick, the Mud Kitchen needs more mud and leaves, who's at the pulley system to load them up?"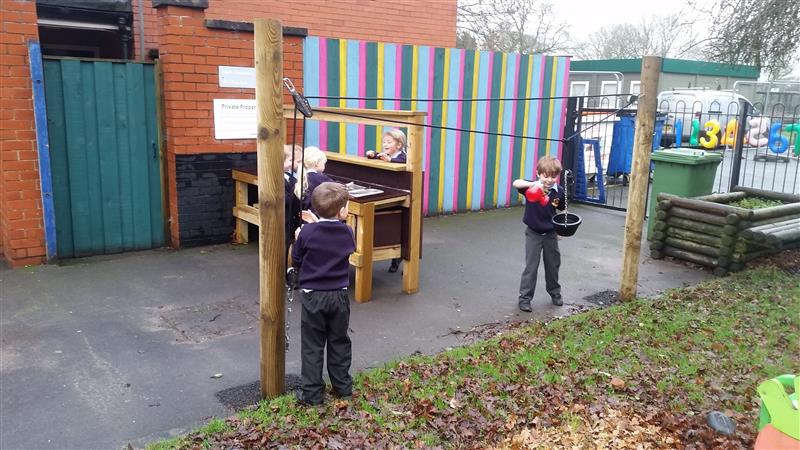 The Water and Sand Tables were two other great additions as they develop children's sense of touch and act as fantastic stimulators for imaginative play. The fact they are both tables, allows for more fluid movement and enables children's play to be more inclusive and cooperative. Each child's vivid imagination will create fictional worlds which they'll share with each other around the table. As an added bonus, curricular topics such as mathematics, can also be introduced to children in a more engaging way.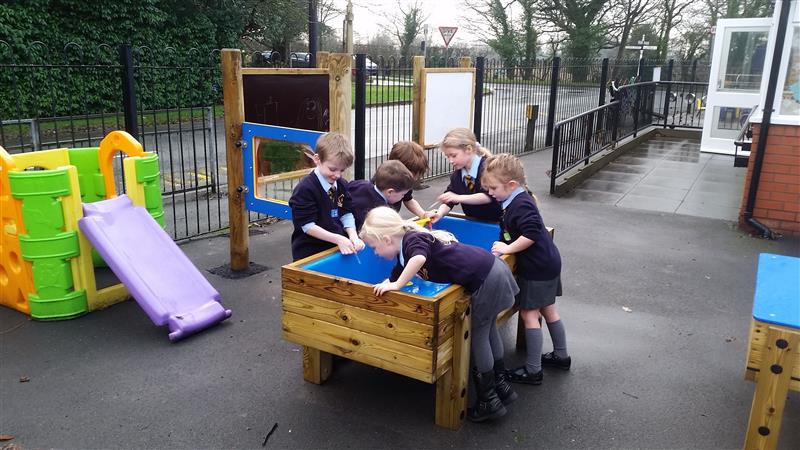 To promote creative writing, we installed our outdoor Mark Making Boards which included a Paint Station, Chalkboard and Whiteboard. Simply being in the presence of the great outdoors will inspire the children to draw amazing creations and actively develop their literacy skills. Children will look to improve on their messy artistic creations each day and be inspired by the outdoor environment around them.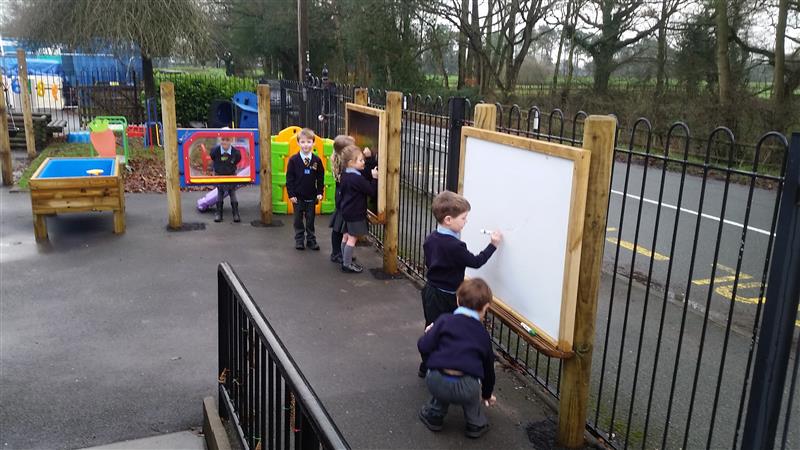 To add to these amazing developments, we finished off the area with our very own Play Cabin which acts as a great storage area whilst having the ability to transform into the perfect open-ended resource. It also doubles up as the perfect open-ended resource with plenty of role play fun to be had along the way… one day it's a bakery while on another day, it's a travel agents - the possibilities are endless.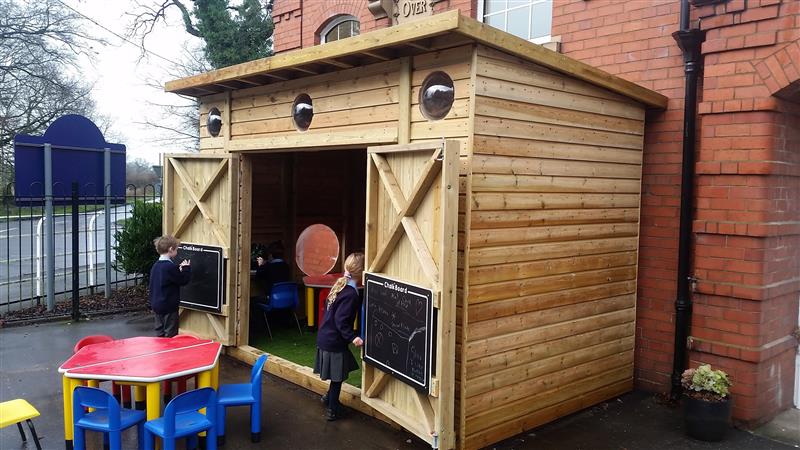 We thoroughly enjoyed working with Peover Superior Primary School and hope their new "Messy Play Zone" helps bring children's imaginations to life as well as develop them through the seven areas of learning. If you're looking to improve your EYFS Outdoor Learning Environment, please feel free to Contact Us for a free expert consultation.