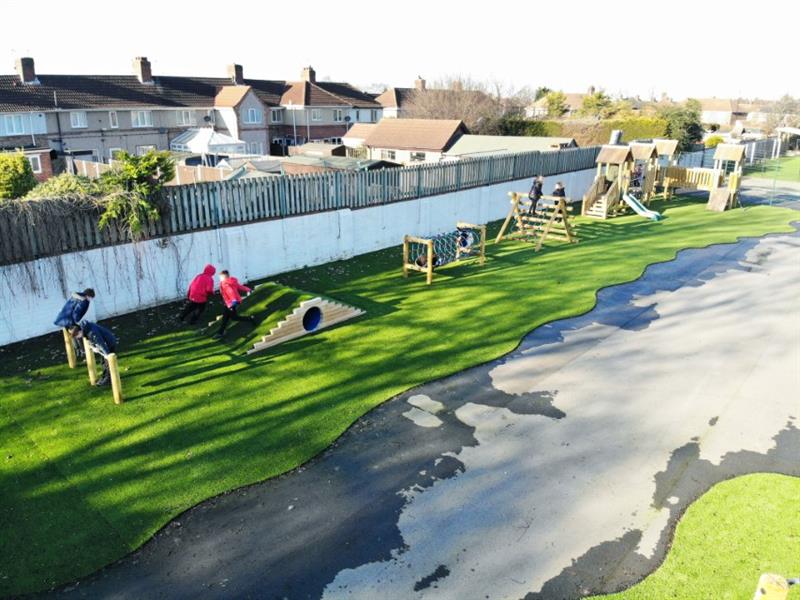 An Outdoor Play and Learning Development that Benefits the Whole School
An impressive playground dream has come to life for this Doncaster primary School!
Pheasant Bank Academy's lucky pupils have a wide range of outdoor play and learning spaces available to use during their playtimes, break times and lunchtimes - there's an activity to entice every child.
Our dedicated playground consultant, Dan Young, worked alongside the school to improve their outdoor play space, creating five areas that benefit all ages.
Fresh Air Learning
Encouraging learning in the great outdoors, a 6m Octagonal Gazebo stands tall at the edge of the playground.
Little learners can gather inside the new gazebo to participate in exciting outdoor lessons as they reconnect with nature and concentrate on the lesson at hand.
The whiteboard at the rear of the new fresh air learning facility ensures the environment is practical for teachers and students alike.
To create an exciting gazebo entrance, we installed a Trellis Arbour. Climbing plants can be planted at the base in pots and left to weave and wind around the timber to create a magical walkway.
Nature and Growing Area
With a big focus on providing the young gardeners with a space, where they can immerse themselves into nature, relax and socialise in a natural environment, we created an enclosed and calming space through clever use of Trellis Fencing, Bow Top Fencing and a Trellis Arbour.
Planter Benches and a Small World Seating Circle enables children to reconnect with one another or read a book in a tranquil space.
Comfortable artificial grass surfacing provides plenty of further seating for the children and a natural looking environment, away from the grey tarmac.
Climbing plants, such as ivy, clematis and green peas can wind themselves through the timber to create a truly green area as the children discuss and watch their plants grow over time.
Adventure Play Area
For adventurous playtimes, an energising active play space has provided the little monkeys of Pheasant Bank with a place to swing through the trees and balance over streams.
The star of this area is our enormous Goodrich Play Tower!
Moving through the four-deck tower, children can scale the climbing ramp, balance across the clatter bridge and fly down the slide back onto the soft surface.
Various other trim trail items installed into this space create the ideal adventure play area, where the children can improve a wide range of key physical skills.
A favourite obstacle is the rope tunnel as they can climb up and over, scramble through or crawl underneath gripping and grasping the brightly coloured ropes.
Fun Fitness and Climbing Challenge
Developing their exemplary climbing skills, our Tryfan Climber is a log and rope climber that stretches children's imaginations as they move around it.
It's completely open-ended and flexible. Swinging through the deep dark forest, scaling a giant castle or bungee jumping down the side of a mountain – it can be whatever they want it to!
Competitive All-Weather Sports
For the sport enthusiasts, a revolutionary 30m x 20m MUGA has extended the sporting and physical education curriculum by providing a four-season sporting space for competitive games and playtime kickarounds.
Recessed goal ends at all four sides ensures the area can be split into two pitches to enable four teams to participate in tournaments in the same space.
Blue cut-in football line markings create a practical space where young sportsmen know clearly where the centre line is, and where each goal is – squabbling over what was a goal and what wasn't is now a thing of the past!
Football, basketball, hockey, handball… the number of varied competitive sport matches that can take place in this area is endless!
Shelter and Shade for Parents and Children Alike
A huge 18m x 4m Canopy installed outside the classroom doors against the school building has delighted both children and parents alike!
Shelter in the adverse weather conditions and shade in the bright summer sun, children have a wonderful space to wait to enter the school building whilst parents can comfortably wait to collect their children.
Encouraging Active Journeys to School
The school wanted to encourage their children to take more active journeys to school, but didn't have a dedicated scooter and bike parking area for their vehicles during the school day.
Using his expert design knowledge, Dan designed a 8m x 4m bike shelter with a bike lock.
Numerous different vehicles can be stored safety throughout the school day in a dry environment – what a fantastic way to encourage children to cycle or scoot to school every day!
Pupils, staff and parents alike love the new playground developments, and with an activity for everyone, playtimes and lunchtimes are now full of fun, laughter and chatter each and every day.
Would you like to improve your playground environment for all pupils of all age? Contact Us Here to begin your journey with Pentagon Play.
Alternatively, you can view all of the stunning playground projects we've completed in Yorkshire on our dedicated Yorkshire Page Here.