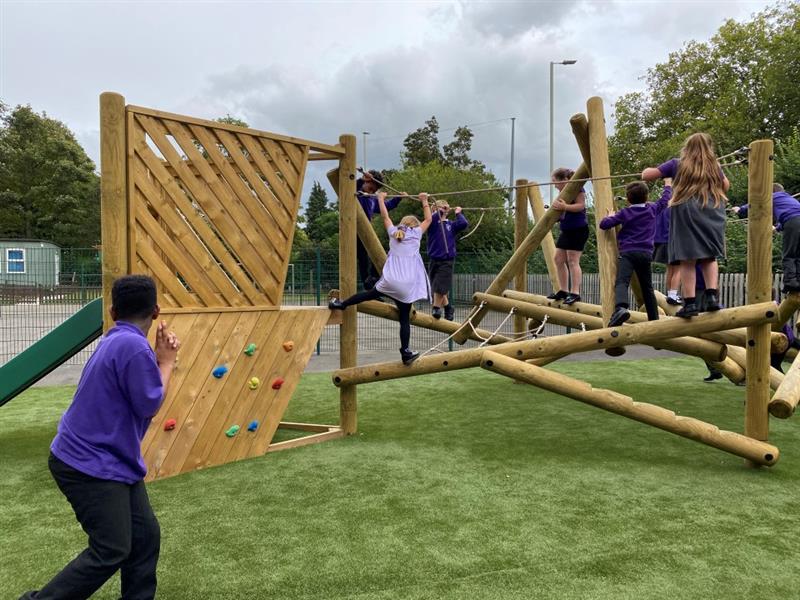 A Bundle of Excitement for the Active Play Focus at
Finlay Community School
"Wow! This is amaaaaaaziiiiiiing!" came the delighted cries from the children at Finlay Community School in Gloucester, as they set eyes on their new playground for the first time.
We've just installed two fabulous new Pentagon Play Frames for them, and the children couldn't wait to head outside and get climbing!
The school wanted us to create new 'Active Zones' that would be progressive and challenging for their KS1 and KS2 students. And while a focus on being active was the main priority, it was also important that the new provision would offer something diverse and open-ended that would encourage students to develop their creativity through imaginative play.
Come Rain or Shine
New all-weather safety surfacing was also a top priority, as the school quite rightly wanted their students to have uninterrupted access to their Active Zones all throughout the year, come rain or shine.
Our outdoor-enthusiast and creative Playground Consultant,
Nicole Fairman
, met with staff at Finlay Community School earlier this year to discuss their needs and priorities for developing physical activity and all-weather play across both the KS1 and KS2 playgrounds.
Having worked in a variety of different educational settings as a former teacher herself, Nicole has an in-depth understanding of what is needed for children's development, and the many benefits to be gained from regular opportunities to take their learning and play outdoors.
Can You Climb to the Top?
Based on their priorities, Nicole presented Finlay Community School with a design for their new Active Zones that included two of our innovative Playframe structures for developing children's physical strength, coordination, balance, core stability, fine motor skills and physical climbing confidence - the beautiful
Bowfell Climber
for their Key Stage 1 students, and the tremendous
Tryfan Climber with Platform and Slide
for Key Stage 2 pupils.
These climbers were a perfect choice for Finlay Community School as they would enable the children to focus on physical activity during their playtimes, as well as being versatile resources for PE lessons to develop physical literacy and fundamental movement skills.
Each presents a flexible and open-ended design with no fixed entry or exit points, and features a range of different log, rope and platform climbing challenges at different levels.
Climbing is a wide-ranging activity with so many different facets.
Recognised by physiologists as one of the most important fundamental movement skills for developing children, it plays a huge part in their physical development. It's important for cognitive development too, as it requires logical thinking to move around the frame safely and successfully.
And of course climbing has always been a favourite playtime activity choice for young children because it's just really good fun - the children at Finlay Community School certainly love it!
With their new equipment, climbing during play and PE lessons can now be both a physically challenging and a problem-solving activity that naturally allows the children to develop many different skills while improving their overall fitness.
Safe and Surface
To make sure that the new Active Zones would always be safe spaces for the children to play, and enjoyable in all weathers, we installed our
Playturf Artificial Grass Surfacing
with Shockpads underneath, all around the new Playframes. These self-draining, low-maintenance surfaces have plenty of 'give' - kind to little limbs as they leap on and off their new equipment!
The children love the natural appearance and soft, tactile nature of the Artificial Grass. There is plenty of space for them to comfortably crawl under and around their Playframes for creative climbing, or imaginative den-building with a difference, without getting grazed or dirty.
Now the children at Finlay Community School are moving, motivated, and excited to get involved in their new playground spaces!
Many schools across the UK are using their PE and Sport Premium allocation to upgrade their playground equipment, in order to provide outstanding opportunities for physical activity and physical development for their students.
Here at Pentagon, we can help with your playground redevelopment from concept to completion.
As the UK's Number 1 playground provider, we design, supply and install a wide range of outdoor equipment for primary schools and nurseries. We are proud of our high quality, innovative designs, and the guaranteed longevity of our installations, that make a Pentagon playground a worthwhile and cost effective investment where it matters.
View our full range of products and find out more about what we do here.