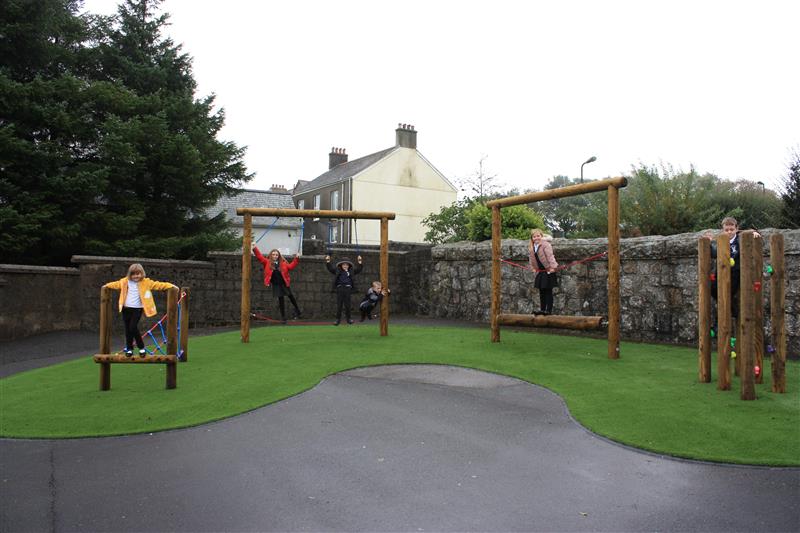 A Challenging, Versatile Trim Trail For KS1 and KS2
A Devon primary school contacted us as they wanted to revitalise an 'out of bounds' area in their school playground. Our playground consultant, Nicole Fairman, assisted Princetown Community Primary School, located in Devon, to replace the tired trim trail with a fresh, versatile adventure trail.
The school wanted their children, from Reception all the way up to KS2, to be able to use the new equipment, so Nicole designed and installed a bespoke trail that provided a challenge for all.
The New Trim Trail
Nicole designed the Trim Trail to include a variety of equipment, arranged in such a way, that it is a progressive challenge for the children to conquer.
The energising trim trail includes:
Climbing Poles
Rope Swing Traverse
Rocking Log Traverse
Twist Net
As they move through the different challenges, the children develop their fine and gross motor skills, core stability, coordination, upper body strength and climbing confidence.
To create a safe, inviting area for the children to play, we installed our vibrant Artificial Grass Playground Surfacing. The natural appearance of the playground surfacing has brightened the once dull area, along with enabling the children to take safe risks, since it prevents serious injury from occurring due to its impact absorbing nature.
Furthermore, the surface enables the children to use the area throughout all weathers as it is free draining. Rain water penetrates through the surface so that it doesn't become waterlogged and as it is artificial, there is no mud!
When Nicole went back to see the new area, there was gleaming smiles all around as the children took on their fresh new challenge. She also heard plenty of encouraging, motivating conversations as the older children helped the younger children take on the obstacles and challenge themselves to complete part of the trail they couldn't once do!
If you would like to enhance your outdoor environment through the addition of energising Trim Trail Equipment, we would love to help! Please Contact Us for a free, no-obligation quotation.