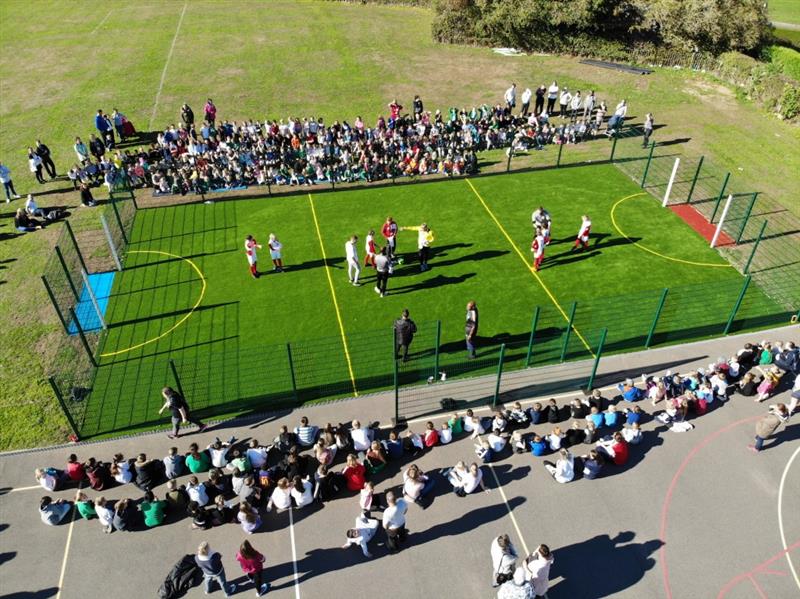 A Legacy Has Been Created With a Multi Use Games Area
Our Playground Consultant, Greg Rossiter, met with River View Primary School to discuss plans to deliver a versatile, Multi Use Games Area, which would extend and complement their current outdoor play space.
We installed a brilliant, all-season 20x 12 metre dedicated Multi Use Games Area, in line with River View's requirements.
It is situated adjacent to the tarmac playground and can also be accessed via a chicane entrance. The designated area is enclosed from the neighbouring playground, with a hardwearing 2-metre-high, green mesh fencing around the perimeter.
For the surface, we used durable all-weather artificial grass to withstand with regular use. It is sand filled to minimise injuries and allows children to participate in a range of sports, short of the untidiness and chaos often created by natural grass and mud.
Vibrant yellow inlaid lines were added to highlight the centre line, goals and centre spot.
The addition of red and blue goal end surfacing was included to help with assigning teams for activities.
We fitted two 3-metre by 1-metre white, strong goal posts at either end of the MUGA for the children to perfect and practise their foot/hand-eye co-ordination.
The keen and enthusiastic children at River View Primary and Nursery School love their new MUGA.
It delivers supplementary space for children to get physically active and reap the benefits of sports and exercise all-year-round in a safe environment.
It encourages collaborative play, group work and promotes social interaction between peers.
If you are looking to add a Multi Use Games Area to your school, Contact Us to arrange a free consultation. We take great pride in delivering high-performance outdoor playground equipment and offer exceptional service from initial consultation through to completion.