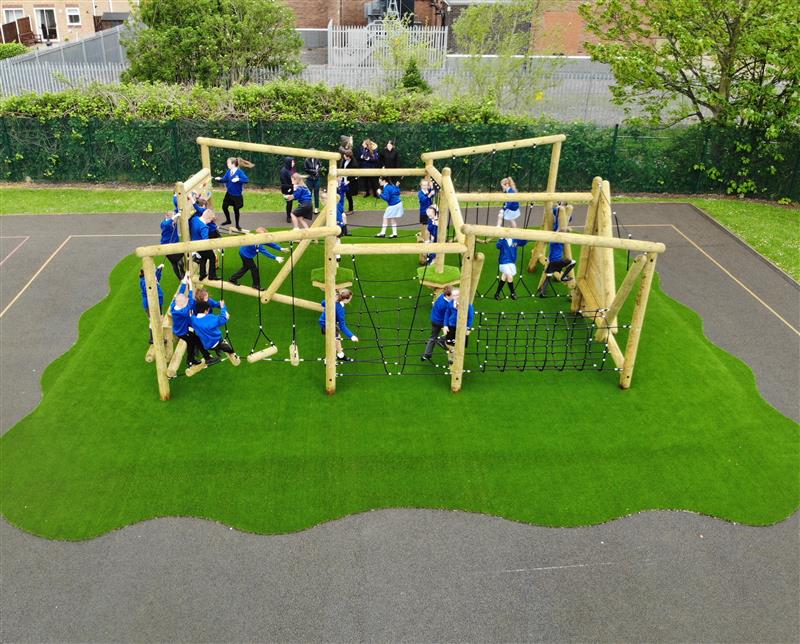 Our New Grizedale Forest Circuit is Ready for Play
Our Educational Copywriter Emma Homan, talks about the many amazing features and benefits of our incredible Grizedale Forest Circuit which was officially unveiled at St Anne's Catholic Primary School in Leyland...
Every now and again, you see something that makes you stop in your tracks and think, "Wow, that really IS awesome."
That's exactly what happened to me when I saw the Grizedale Forest Circuit design for the first time. I then made the mistake of showing it to my own kids and they immediately asked if they could change schools and go to St Anne's Catholic Primary School in Leyland, Lancashire, instead. Now. Today. Pleeeease?!
Because Pentagon Play have just installed the very first Grizedale Forest Circuit in the St Anne's playground and it is absolutely brilliant.
I could start trying to describe for you every single feature and detail of the Grizedale Forest Circuit, but you'd be here all day reading this. You really need to have a look at the pictures and see it for yourself.
What I will say though, is that it's as if an entire log, rope and platform based tree-top forest adventure assault course has been plucked straight from the tree tops, mixed up with some clever design twists, a hint of magic and a couple of full-scale climbing walls for good measure and then epically re-assembled on the St Anne's playground.
Just so that the children can escape there every day without the need for harnesses, hard hats and long car journeys.
Our design team have put everything into this product - and it shows. So when St Anne's came along looking for something special and different to bring to their outdoor play and physical education provision, things got really exciting.
Our Technical Director, Thomas Hanson, had the pleasure of working with the Head teacher Mrs Darnell and her staff at St Anne's on their fabulous project.
The school wanted something to challenge their children both physically and mentally, that could be used by a whole class group at any one time, and that would make the most of the outdoor space that they had to offer.
Because of its scope, scale and technical design, the Grizedale Forest Circuit has no difficulty in meeting these requirements.
It takes its inspiration from the breathtakingly beautiful and high-energy, natural outdoor-activity centric Grizedale Forest, in the Lake District.
Crafted predominantly out of high-pressure treated timber logs and reinforced ropes, with a series of pathways for children to navigate at different levels, there is no limit to the number of travel combinations they can choose.
Children can step and balance, reach and stretch, grip and grasp, pull and push, hang and swing, climb and jump. It's a good workout and it allows them to use every part of their body to develop both fine and gross motor skills, improve their balance, proprioception, strength and core stability.
In short, there is nothing physical that it doesn't do!
Of course with any product, and particularly with a high-level product like this, safety is paramount. We installed it onto our Artificial Grass Playground Surfacing, which we have designed specifically for schools.
It cushions the impact of falls, reducing the risk of injury and provides a safe and mud-free environment, which doesn't become slippy and allows the area to be used all year round. The Circuit itself is designed for small hands to be able to grab and hold without slipping.
It's completely flexible and open-ended when it comes to entry and exit points, so the children can get on and off it anywhere they like. This allows them to safely learn to manage risk themselves, test their own boundaries and climb to their own limits (if there is such a thing!), without pushing them too far.
We went to visit the children playing on their new Circuit after the installation to find out how they were getting on with it. The Year 5 class were the first to play and they were all so excited! It was a real delight for us to see all the smiling faces and to hear the children's thoughts.
Asked what their favourite part of the Grizedale was, the response was unanimous: "We love it all!" Although the platforms in the middle, the climbing walls and the rope tunnel seemed to top the charts.
St Anne's have been making the most of their new Grizedale Forest Circuit for PE classes and because the whole class can use it at once, there is no hanging around waiting and no falling out - everyone can be active at once!
The next step is to open it up for use at playtimes and lunchtimes on a rota basis for all the classes. The children can't wait, and we can't blame them. The Grizedale IS awesome.
If you're also a school or nursery looking for something special to improve your outdoor play, learning and/or sports provision and you want the peace of mind that it will be designed, manufactured and installed by professionals who care about and enjoy what they do, then please do Contact Us. We are the leading specialists in outdoor playground equipment and design. We'd love to come and visit you, and for that reason we never charge for a consultation.
Take a closer look at our amazing Grizedale Forest Circuit here.