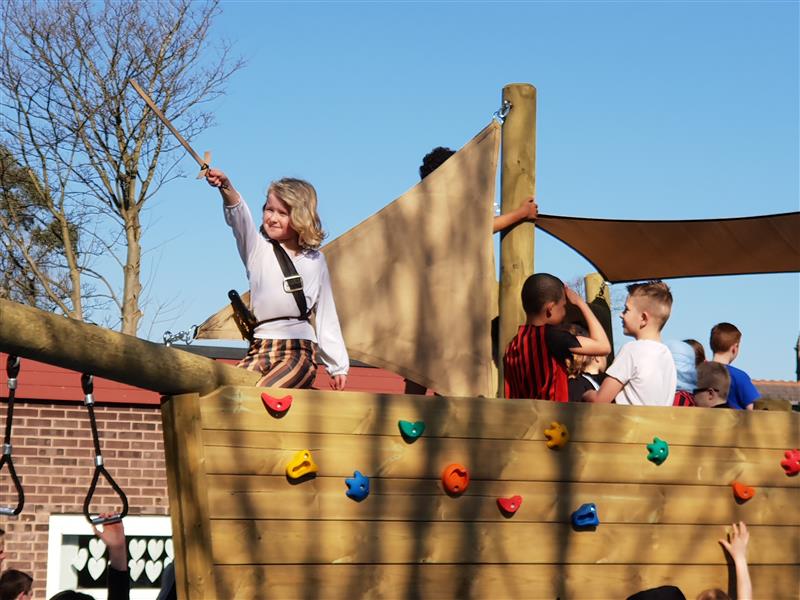 Creating a Themed Playground With Our North Sea Galleon
It's been an exciting Spring Term for St Anne's Church of England Primary School in Sale, Manchester.
Our Sales Director Paul Bayliss had the pleasure of working with the Manchester primary school on the installation of our magnificent "North Sea Galleon", to create a themed playground space on their school grounds.
It looks superb, even if we do say so ourselves! The children have been having a "whale" of a time in their new ocean playground fit for a Sea King.
Our Themed Playground Ship, The North Sea Galleon, incorporates elements of Physical Development, Imaginative and Creative Play.
Our North Sea Galleon is an immense playground ship incorporating a range of different physical and mental challenges to engage children at primary level across the board, from EYFS upwards.
The hull is made from high pressure treated play grade timber - a naturally beautiful smooth wood that withstands weather conditions and looks stunning in a playground environment.
Themed activity features of the Galleon at St Anne's, where their young sea explorers' imaginations have already set sail, include the following:
A giant Climbing Wall on the Port side, with brightly coloured climbing, holds to allow children to scramble all the way up to the top of the ship's deck;
A lower Climbing Ramp for easier access to cargo on the Starboard side;
Stunning waterproof fabric sails, that will take flight on a windy day and allow pupils to sail off on their voyage of discovery around the world! They make the galleon look truly authentic and are useful for providing areas of shade in hot weather too;
Rope Hanging Bars that dangle from the Bow - because no pirate adventure would be complete without something from which to swing over the sea and avoid the waiting jaws of the creatures of the deep!
A Net Bridge Traverse between the Stern and the Bow - can be used for dangling crab lines, casting out fishing nets or raising the anchor as the mood takes;
A Scrambling Net on the Port side leading up to a circular window entrance to crawl through;
A bright blue Vertical Sliding Pole on the Starboard rear for children to grip and slide down into the sea below, or even shimmy up to hoist the sails if they can!
A wooden Stepladder and a Steel Slide for a more speedy exit at the Stern - vital if you need to quickly escape a rival pirate invasion or plunge into the sea for a refreshing swim;
An all-important Ship's Wheel for those who are prepared to take the helm and set off on an expedition to discover new lands;
Hold dens under the deck level, with circular ship's windows looking out. This is a place of action as much as the rest of the Galleon - a hideout for convening secret meetings, storing goods for trade, fixing leaks and maintaining the inner workings of the vessel, and a place for the crew to spend their off watch hours too!
There are so many opportunities for role play and social interaction that can be enjoyed here as well as physical activity
Our North Sea Galleon is unequivocally one of the best outdoor resources for inclusive play.
The design has something for children of all abilities because of the different levels and points of access at every angle.
There are platforms for climbing and traversing, swinging, balancing, sliding and den-making.
There are challenges for children's upper body strength, core stability, and gross motor skills through bigger body movements. Grab and grasp actions for swinging and climbing help to develop fine motor skills.
Children can start off playing under and around the Galleon, then venture further up and along the structure as they build their confidence and start to try out some safe risk-taking.
It encourages positive behaviour too, through open-ended and free-flowing play.
Swashbuckling Play Sessions at St Anne's
At St Anne's, they specifically wanted to create a fabulous and engaging large-scale themed area, with plenty of space to accommodate a whole year group at any one time.
So as well as the North Sea Galleon, they also opted for a large Gazebo Outdoor Classroom to be situated alongside the Galleon.
Made from the same timber, the two facilities really compliment each other both aesthetically and functionally.
The outdoor classroom is the ideal space to gather for interactive outdoor learning and circle time and can accommodate large groups on the bench seating around the edges.
It's also a great sheltered base for children to sit down, take a break and chat after running around on the Galleon!
We made the themed play area at St Anne's particularly special by setting it on a bold blue Safeturf surface - as bright a blue as the Pacific ocean and with wavy edges to look just like it, it's a perfect setting for any seafaring sailing ship worth its salt!
As the Safeturf reaches from the Galleon to the Outdoor Classroom, the colour changes to a sunshine bright yellow to create a brilliant beach or desert island effect.
This type of surfacing creates a safer play area as it has "give" to limit injury should anyone trip or fall. And it also means that the area can be used all year round without getting muddy!
The North Sea Galleon Grand Opening
Captain Goodson (aka Mrs Goodson, Headteacher at St Anne's!) set the ship to sail and welcomed the first pirates aboard with a wonderful grand opening ceremony! Staff and children alike dressed up in fine pirate robes, cut the ribbon, then set sail together on their maiden voyage! A fabulous fun day for all!
The school has since tweeted some great pictures of their Year 5 group battling the high seas in full costume, and Year 6 having lots of fun reenacting the story of the Titanic!
They started the redevelopment project with the idea that it will benefit many generations of pupils at St Anne's school and church. We are delighted to see that they are already making the most of it - it's been an exciting project for us too!
If you are interested in improving your school's outdoor playground with some imaginative and themed playground equipment, you can take a look at our range of suitable products here. Please do not hesitate to Contact Us by telephone or email if you would like to discuss how we may be able to help you with your design. We are always happy to come and visit your school for a free consultation.