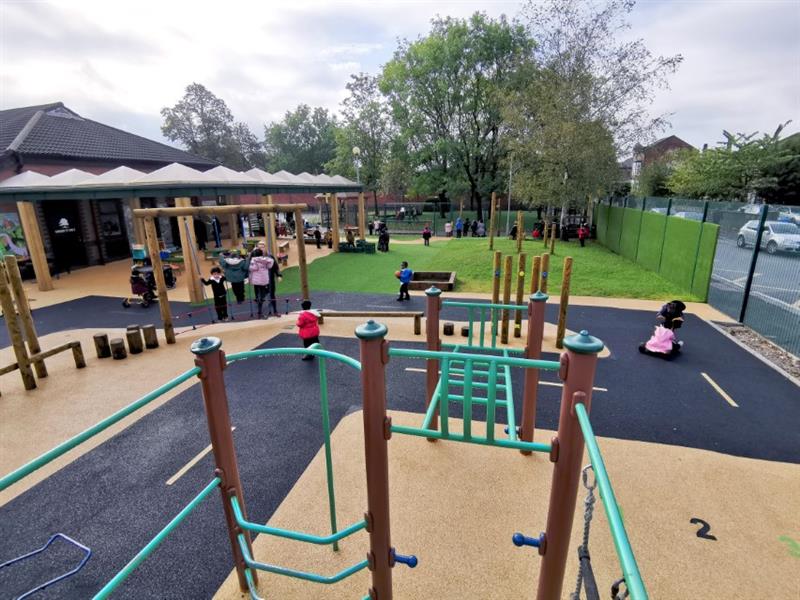 A Stimulating Outdoor Learning and Play Environment For EYFS
Our Sales Director, Paul Bayliss, worked with St John's CE Primary School, located in Manchester, to revitalise their Early Years playground: creating a stimulating outdoor learning and play environment for their young children.
The school wanted to provide their pupils with an outdoor environment that would provide numerous opportunities to participate in messy play and active play during the school day, along with ensuring play was purposeful and contributed towards the curriculum. #
As a result of this, we installed a huge selection of equipment to meet the objectives set out.
Messy Play Equipment
As the school wanted to provide the children with numerous opportunities to participate in messy play, we had to install one of our market-leading Mud Kitchens!
Alongside a Mud Box and Rope and Pulley Materials Mover, the new Mud Play Area is truly enhancing sensory play and imaginative play as the children explore a range of textures and materials in the outdoor environment.
As the children gather their main ingredient, mud, from the Mud Box and manoeuvre it to the kitchen with the Rope and Pulley Materials Mover before cooking up delicious baked goods, their fine motor skills, communication and language skills are advancing. Featuring a chalkboard countertop, they are able to write down their exciting recipes for others to follow, contributing towards mathematics and literacy.
Little chefs can truly explore their culinary skills as they present many delicious creations to their friends to try!
Creating an energetic zone for water play is our brilliant Water Wall with Water Play Package! Working together to manipulate the water channels to guide the water down the channels, the children have been having tons of fun exploring water, gravity and other scientific concepts.
Using jugs, buckets and other resources, they love gathering water from the Water Table before testing out their newly constructed route; enhancing their problem solving, fine motor, teamwork and communication and language skills during play!
Active Play Equipment
Another exciting addition to the outdoor play and learning environment created for the EYFS children at St John's is an excellent Trim Trail, providing a stimulating space for physical development to take place.
The adventure trim trail has been designed and installed including a range of equipment to target various key physical skills. The trial consists of:
Walk and stretch
Log Weaver
Stepping Logs
Net Traverse
Inclined Balance Beam
Climbing Poles
As the little monkeys in Reception take on their new physical challenge, they are developing their overall body strength, core stability, fine and gross motor skills during play.
In addition, the children have been using the trail to participate in imaginative play games as they pretend they're high up in the trees, tackling each obstacle in their way to the treasure on the other side. Determination, climbing confidence and creativity are also being targeted in the outdoor environment.
Surrounding the new trim trail is a realistic Wet Pour Roadway. Who doesn't love to race bikes and trikes around the playground?
Further developing the young racecar drivers' physical skills while contributing towards their understanding of the world, the roadway is an excellent addition to the playground.
Through the addition of the roadway, the children can be taught important road safety rules to abide by within the playground before taking their knowledge outside of school. As children play and learn outdoors, they will look left and right before crossing the road onto the trim.
Playground Surfacing
The school wanted to ensure their young learners could access this excellent outdoor environment throughout all-weathers, so we installed a vibrant selection of free-draining Playground Surfacing.
Not only does the new surfaces ensure the area can be used throughout all seasons, it also absorbs any impact from slips, trips and falls as the children play and explore the outdoor area.
Additionally, it has zoned the learning spaces away from one another.
The children love exploring their new outdoor play and learning environment as they learn through play. Paul is very proud of the development and was delighted to go back and see all of the smiley, happy faces playing and learning with the new equipment.
If you'd like to re-develop your outdoor learning and play space to create a purposeful space, that contributes towards the curriculum, where your EYFS children can learn through play please Contact Us. We'd love to help transform your outdoor environment with a wonderful selection of Early Years Playground Equipment, too!