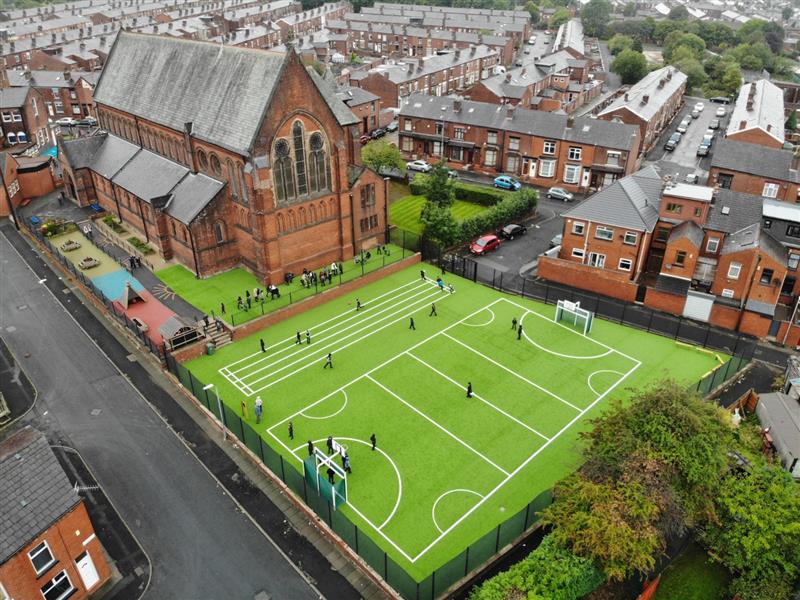 A Stunning Active Playground Environment
Our Sales Director and Playground Consultant, Paul Bayliss, worked in partnership with St Thomas CE Primary School in Bolton to transform an old and tired tarmac play area into a vibrant, colourful and adventurous active playground environment.
This incredible outdoor play space area provides children with a platform to learn and develop important gross motor skills, whilst simultaneously inspiring children to get fit and healthy.
We covered the dated tarmac with our visually stunning artificial grass surfacing to encourage play and enable year-round use.
This amazing multi-activity zone includes a Multi-Use Games Area (MUGA), Outdoor Gym Equipment, Benches and a Solar Powered Stop Watch to encourage competition amongst children.
This new, versatile playground can also be utilised on sports day and match days, where parents and families can spectate.
Take a look at more examples of our Artificial Grass For Schools here.
Multi-Use Games Area and Running Track
We installed a multipurpose Multi Use Games Area, with inlaid lines for football in yellow and distinct lines for netball in white.
Next door to the MUGA is a 4-Lane Running Track for children to practise their running technique and test their overall speed compared to others. This is perfect for P.E. lessons and will encourage children to lead a fit and healthy lifestyle... "on your marks, get set, GO!"
View our amazing range of Multi Use Games Areas here.
Outdoor Gym Area
With a smaller area, we installed an excellent range of Outdoor Gym Equipment with artificial grass surfacing underneath. This gym equipment includes;
Arm and Pedal Bike
Double Air Walker
Elliptical Cross Trainer
Row and Ride
Air Skier
Seated Leg Press
We know that cardio is great for the heart and lungs and the above Outdoor Gym Equipment allows the children at St Thomas' to become healthier, whilst reaping the benefits of the fresh air.
Exercise helps to increase import muscle mass and helps children to develop better balance and coordination. As a bonus, the children at St Thomas CE Primary School will be much happier due to the release of endorphins during exercise.
View our full range of Outdoor Gym Equipment here.
We loved working with St Thomas CE Primary School in Bolton and seeing how much the children love their new outdoor adventure playground, makes it even more rewarding for Paul and the rest of the Pentagon team.
If you would like to see how Pentagon Play can help you transform your playground environment, Contact Us, for expert advice and a free consultation.