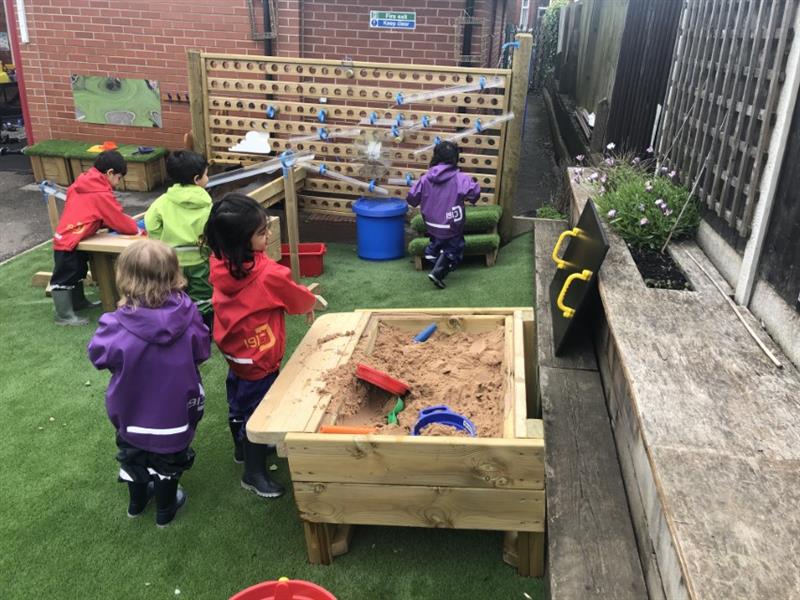 A Play Space Brimming With Exciting Nursery Garden Play Equipment
Our playground consultant, Daniel Young, worked closely with Stonehill Nursery School to improve a small area in their nursery garden.
The Nursery Managers wanted to transform a previous natural grass area into a space which enhanced the communication and language skills of the children through play outdoors as well as providing equipment that would both stimulate the children, promote the curriculum and improve school readiness through exploratory play and problem-solving.
To meet the needs of the school and create an exciting outdoor environment, we installed an energetic selection of play equipment.
Messy Play Equipment
The fantastic messy play area includes:
Water Wall and Damming Play Package
Sand Table
Rope and Pully Materials Mover
Water Table
By including this amazing range of Sand and Water Play Equipment, the children are encouraged to investigate different materials and textures, manipulate sand to create dams and problem solve as they build their dams to see if they'll stand the flow of water.
These magnificent resources also improve the children's school readiness, communication and language skills as they work in teams to manipulate water flow. Not only that, the children are also gaining early scientific knowledge through play.
Underneath this messy play area is our vibrant Artificial Grass Playground Surfacing. The children can now play with water and other messy resources without the nursery nurses worrying about slippery mud or water spillages.
Timber Canopy
Along with the wonderful messy play area, we also installed a Timber Canopy. The nursery wanted to enable free flow play from the indoors to the outside all year round into an area that protected children from both the sun and sheltered them from the rain.
As all our Timber canopies allow light through the polycarbonate panels making up the roof but prevent harmful UV rays it has created the perfect shaded, sheltered area for the children to play.
The nursery is extremely happy with the area that we have created and the children are enjoying their new play equipment, too!
The nurseries EYFS Lead, Claire Thompson, had this to say about the development:
"The children love their new outdoor space and the project has given the children an exciting and language rich area of provision. Working with Pentagon Play has been fantastic! From start to finish, it has been great service. Dan was able to map out the new area and come up with some great suggestions of what we could to with such a small space. We highly recommend them…"
We love this smaller development at Stone Hill Nursery. If you'd like to transform your Nursery garden, please Contact Us here. Alternatively, you can view all of our Nursery Products here.