Just Pretending: How to Encourage Pretend Play and to Support Young Children in the Land of Make Believe
We recently discussed the importance of Pretend Play and the benefits it brings to young children and their development, right across the seven areas of learning.
The next question is how to go about it! Is it simply a case of giving children a selection of toys and a box of dressing up clothes and letting them get on with it? Or is there more to it than that? Here we reveal how good quality, well facilitated Pretend Play really does make all the difference, and suggest some inspirational make-believe ideas.
Early Years learners engage in pretend play, either alone or with friends, by copying actions and sounds that they come across in everyday life.
They extend this play by imagining and then acting out scenarios that take familiar experiences in new and different directions.
Teachers, parents and carers can play a huge part in this, enhancing the quality and subsequently the developmental benefits of pretend play.
By actively engaging with children and participating in pretend play where appropriate, and by enriching the environment in which pretend play takes place, the opportunities for learning through pretend play are plentiful.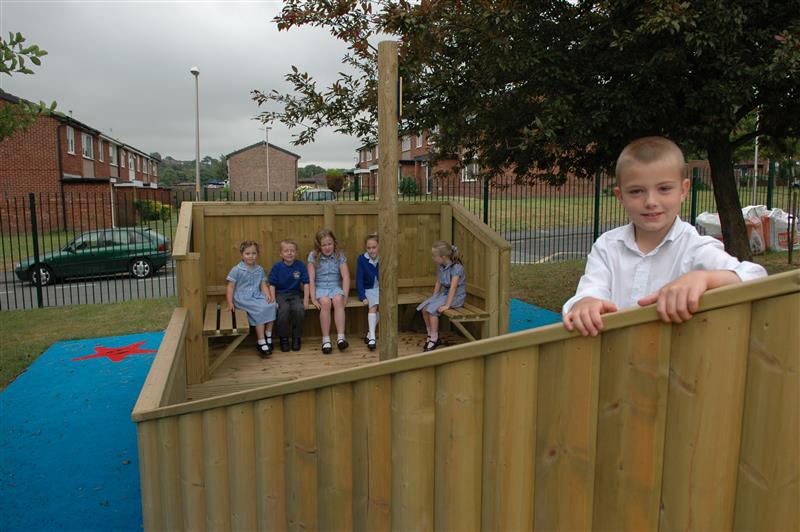 Setting the Scene: Create the Perfect Environment for Pretend Play
Traditionally, pretend play in many classrooms has revolved around the "home" area. This is a solid concept and a great starting point for introducing children to pretend play, but we encourage you to go bold!
When children are observed during pretend play, you will see them reinventing many different scenes that take place in all sorts of different areas of life; at supermarkets, theatres, on holidays, at petrol stations, restaurants, libraries, hospitals, in castles and on boats, the list goes on!
So in order for children to derive as much benefit as possible and enjoy a variety of pretend play options, a good classroom or playground really should set the scene for imaginations to run wild.
It is worth investing in a few pieces of good quality play area or playground or equipment as a base for inspiring pretend play.
Any pretend play area should be inviting, and if presented properly it will immediately inspire creative and imaginative play.
Themed Play Equipment is brilliant because it looks so exciting and inviting and immediately sets the scene for interactive imaginative play.
Imagine your very own pirate ship setting sail in the school playground, monkeys swinging through the trees in a Bespoke Tree House, or a whole medieval village coming to life in an Outdoor Play Castle!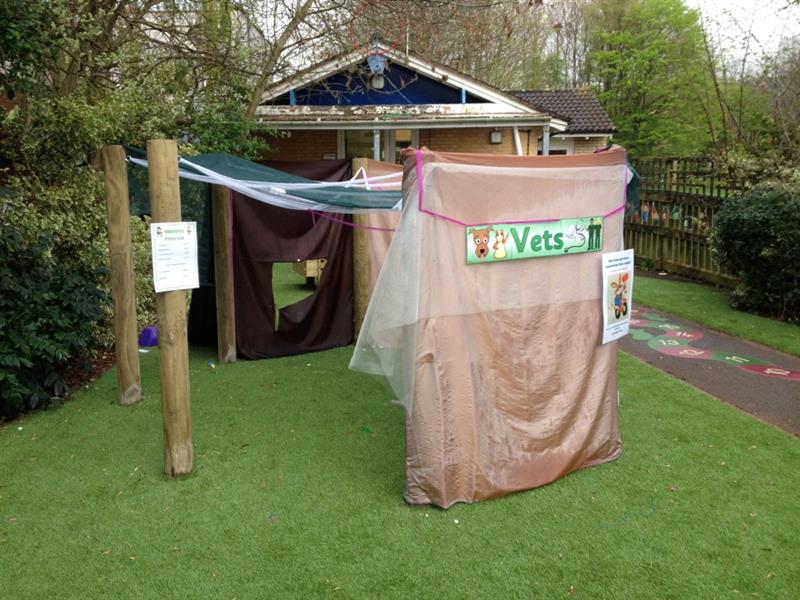 Performance Stages provide the perfect forum for children to initiate role play and to put on a "show" for their friends, a wonderful way of developing language and boosting confidence.
A Mud Kitchen is an extremely popular choice for pretend play as there is so much that children can do with it.
Whether making mud pies, working in a restaurant or hosting a banquet for their classmates, a Mud Kitchen offers all the benefits of Messy Play combined with the benefits of pretend play.
If you are more limited for space, Activity Play Panels such as a shop window or a driving panel can transform an empty wall or a forgotten corner into an intriguing, interactive pretend play area.
And of course we mustn't forget Dens and Playhouses!
The excitement of venturing into their own secret play area sets a child's imagination running wild and offers no end of opportunities for pretend play.
Take a look at our Imaginative and Creative Play resources for school playgrounds
Once you have set up the base of your pretend play area or areas, the next step is to put together a "prop box" or two filled with objects to ignite an early learner's interest in creating a make believe world.
The types of objects you supply should span a number of themes to allow children to make their choice, and should be changed on a regular basis to spark new interest. Consider:
Dressing up items such as hats, scarves, masks, old clothes, costumes and shoes
Items to stimulate literacy activities such as paper, pencils, chalk and chalk boards, notebooks, coloured card etc.
Boxes, crates, blankets and pieces of fabric for home/den building.
Old telephones and calculators.
Cooking utensils, plastic containers, bowls, napkins, spoons, pans, old/toy kettle, teapot, cups etc.
Stuffed and plastic toys on themes such as farm animals, dinosaurs, vehicles, dolls, tool kits and work benches, coins and tickets, medical kits etc.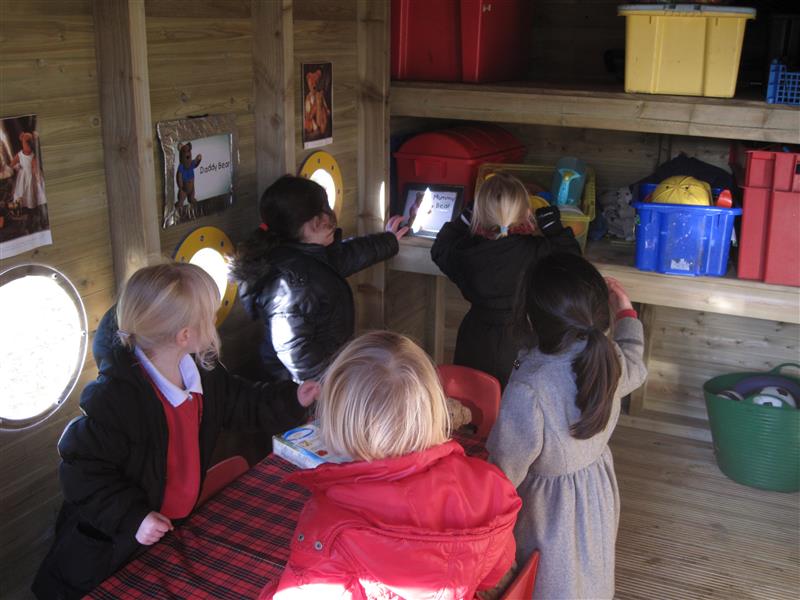 A good activity is for children to build their own props too.
They could build a tower or a paper mache rocket, sculpture food with clay, or design a menu for a restaurant. The aim should be to include a variety of materials that are appropriate for a child's level of development, flexible, and allow for creativity.
When the prop boxes come out for play, it's better not to put too many of the contents out at once, as this can be overwhelming for some children, they won't know where to start and will end up moving around too much instead of focusing on a pretend play theme.
Keep it simple as children love and learn from repetition!
Imitation Games
Early years learners use their bodies and voices to imitate actions and noises that they come across, such as birds chirping in the trees or frogs jumping across lily pads on all fours.
They learn best about the world around them by observing, imitating and repeating.
Support this approach whenever it arises by observing what a child does in pretend play and in turn imitating what they do.
You can then look out for and support imaginative role play, and take advantage of opportunities for imitation and repetition throughout the course of the day.
For example, at "carpet time" children can have a game of charades acting out what they did during a lesson, such as reading a book or painting. At the end of a reading session, children can role play the characters in a book and imitate their actions or voices, even better if the story involves lots of action or growling animals! Group songs and games which include actions, such as "Simon Says" or "Row Your Boat" are great for imitation too.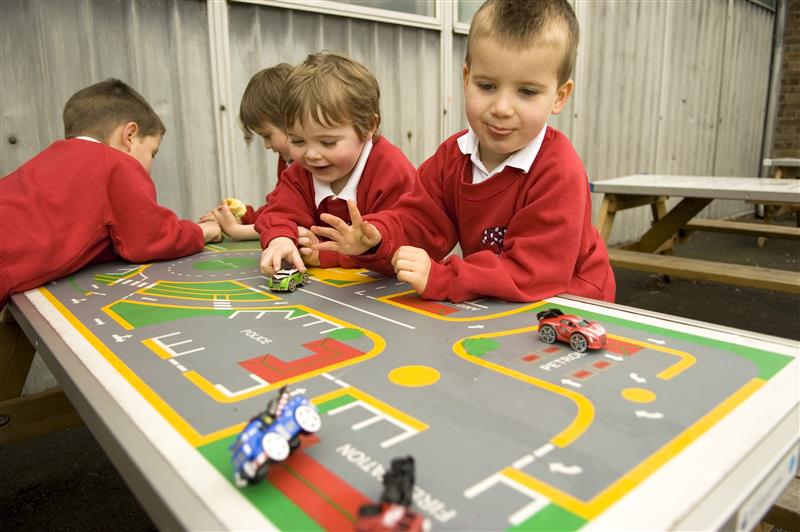 Observe and Elaborate
As your children are going about their pretend play, observe their interests and take note of the people and events that they portray.
Then if you need to, provide extra props to help and encourage them. Going on a boating trip? Add fishing nets or sheets for sails to the prop box. Going on a camping expedition? Throw in some torches and sleeping bags.
It's important not to take over and to let them keep control of the game, but to encourage their imaginations to develop, and to support them so they can take their pretending in the direction they want it to go.
Take opportunities to introduce them to new experiences. A new story book with imaginative themes is a great foundation for role play and drama.
School trips, apart from their specific educational and developmental value, provide excellent new material for future pretend play from the moment they get on the bus!
Once children are used to linking familiar pretend actions together, they can be encouraged to explore less familiar ideas. If a child enjoys playing with toy animals, introduce a new theme by taking them to the farm. If they like playing with dolls, elaborate by letting them host a tea party!
This will become even more relevant as children progress through Key Stage 1.
Go Outdoors: Imaginations Thrive in the Open Air!
Pretending and role play can be even more exciting when you take it outdoors, and it's a great way to get some fresh air and exercise too.
Fluid open spaces with a few interesting focal points can really inspire pretend play. School playground equipment such as Play Frames and Climbing Frames make the best fairytale castles, swinging jungles, army bases or captain's ship! Just be careful not to fall into the sea!
Bicycles and scooters can become racing cars, rockets or speedboats.
Natural objects gathered from the playground such as pebbles, twigs and leaves, make excellent currency for trading, or treats for feeding "animals" with!
Give children options to take some of the items from their prop boxes outside too, so that they can learn to be flexible with their ideas and let their imaginations go.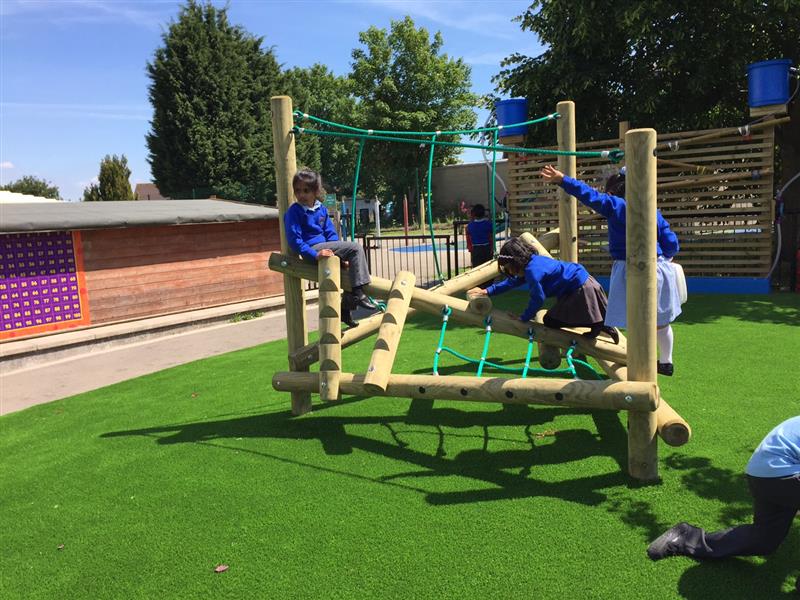 Join in the Fun!
Research has shown that adults who join in with children as they play are generally better observers, understand children better and are able to communicate with children more effectively.
Never was there a better excuse to have some fun playing together!
This needs to be done carefully and with sensitivity though, to avoid taking over and so that children can continue to lead pretend play.
The best way to do this is to watch the children at play first so that you understand what the intention of the game is before you join in.
Then as you join in, stick with the theme that the children have set such as being another pirate, or a cat, just like them, rather than adding a different character.
When it's time to offer suggestions, stay within the general theme and acknowledge and accept their responses to your ideas.
Don't force a point if they are not following, rather leave it and try again another time.
By way of conversation, talk through and describe what they are doing as they are playing, rather than telling them what to play.
It's about reinforcing their ideas to give them the boost they need to move on to the next level by themselves.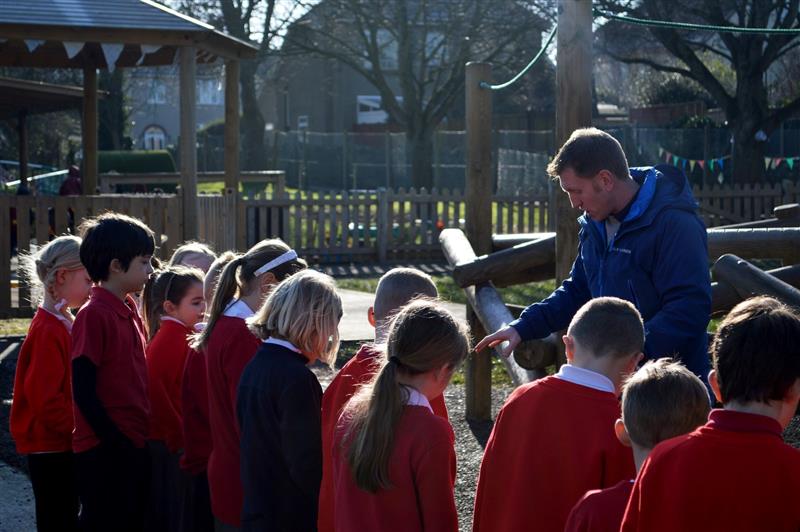 If a child does not yet know how to pretend, he or she will rely on you to start off the play…
See which toys take their interest, then pick their favourite and pretend to do something with the toy yourself, such as dressing a doll, flying a plane, talking to grandma on a toy phone or sipping a cup of tea.
Then offer the toy to the child and see if they want to have a go.
Taking turns with a toy that captures a child's heart is the best way to motivate them to start pretending.
It may look to the outside world that you are just having a bit of fun (and why not!), but by joining in with pretend play in this way you are actually helping children take some really important steps towards developing essential skills that they will need throughout life.
Did you enjoy this post? Feel free to get in touch with us for more ideas and to see how we can support you in setting up imaginative and creative pretend play facilities at your school!
If you enjoyed reading this post, you'll love these:
Maximise Your Playground For Outdoor Mathematics