Pentagon Play's Playground Equipment In Nottinghamshire
As the trusted playground equipment provider for schools and nurseries across the UK, Pentagon Play have worked with over 3,000 settings to date; improving the educational play experience for over 900,000 children.
Across Nottinghamshire, we've worked with over 70 primary schools and nursery settings to improve their outdoor learning and play environment, so we thought we'd summarise some of our most recent, biggest projects around the Nottinghamshire area.
From creating amazing, cross-curricular play spaces to healthy, all-weather sporting spaces, we've installed it all in and around the Nottinghamshire area.
Our devoted playground consultant, Daniel Young, is Nottinghamshire's amazing outdoor learning enthusiast, who loves seeing all of the wonderful possibilities of a playground unfold before his eyes. He's passionate about the projects he manages and the children's play experience he improves.
4 Wonderful Pentagon Playground Projects In Nottinghamshire
Enhancing Outdoor Learning and Play At Flying High Academy Ladybrook, Mansfield
Working with the Flying High Academy Ladybrook, based in Mansfield, Nottingham, we designed and installed a number of outdoor learning and play zones to meet the following objects of the project:
Provide access to a range of different play equipment that isn't available in the local area.
Develop key physical skills, specifically coordination and balance.
Act as a reward system on occasions for the children.
Instil a greater level of pride within the school.
Dan has created numerous outdoor exciting play zones that have truly enhanced outdoor play and learning, while promoting cross-curricular play activities including amazing Climbing Frames, Amphitheatres and Gazebos.
The school are more than happy with their development and William Burke, the project manager, had this to say:
"Pentagon have been amazing from start to finish. From speaking to Dan for the initial design, everything was taken into account and we felt like we were really involved in the process. We were constantly updated with timescales which made it easier to allow the install to happen effectively. The workmen themselves were polite, did an amazing job and were great with the kids. Any questions the children had they answered and always had a smile on their faces (even during a storm!) After the project was signed off, the after service has been amazing, any concerns were quickly addressed and we are very happy with the work that has been carried out."
Read more about the exciting selection of outdoor play and learning zones installed at The Flying High Academy on our website Here
Promoting Cross Curricular Play Activities At Kimberley Primary School, Kimberley
Kimberley Primary School had a desire to improve and renew their outdoor learning spaces, including creating a dedicated sporting space, active play area, performance stage and outdoor classroom. The school, located in Kimberley, Nottingham, contacted us for help transforming their playground dreams into a reality.
Dan worked closely with the senior leadership team to design and install wonderful areas, meeting their needs and promoting cross-curricular play activities.
One of the problems the school previously faced was that the playground was a quite open space, which lacked zones for different types of play. As a result, we installed a magnificent, dedicated sporting space to enable the children to participate in a range of ball games, without disrupting others games.
The new MUGA Pitch features vibrant, impact-absorbing artificial grass surfacing, enabling the multi-use games area to be used throughout all-weathers without the worry of muddy, slippery water-logged grass preventing play.
The MUGA even supported the school's basketball team with getting into the District Finals – the children are very proud of themselves!
The school are more than happy with their new outdoor play and learning spaces, they even had some very kind words to say about working with us:
"Pentagon Play have been very responsive to everything we've suggested and asked for during the consultation and installation period. The after-care has been good and the level of service has been very high. We highly recommend them."
Read more about the excellent playground development at Kimberley Primary School and the huge range of outdoor play and learning zones we created to enhance the children's educational play experience by clicking Here.
Energising Active Play Space At Leamington Primary Academy, Sutton-in-Ashfield
Working alongside Leamington Primary Academy, located in the Sutton-in-Ashfield area of Nottinghamshire, we've designed and installed an excellent selection of active playground equipment.
Since the school's key aims were to extend the physical play opportunities presented to the children while enhancing their outdoor play areas, we designed and installed two spaces which did just this!
In one area, we created an excellent space where children could act like little monkeys: balancing, swinging, climbing and traversing through trees as they transport their imaginations deep into the jungle.
The Crinkle Crags Climber is a bold, exploratory climbing frame that has met the goals of the project by creating an entertaining, stimulating space.
We also wanted to provide the children with a different type of challenge alongside the climbing frame, so we designed and installed an amazing adventure Trim Trail featuring 14 different challenges for the children to conquer as they move through the equipment.
The children and teachers at Leamington Primary Academy are thrilled with their new and improved outdoor play area. It is now a fun and challenging space that promotes physical development through outdoor play.
Read more about this fantastic active play project on our website Here
An Amazing All-Weather Sporting Space For Newlands Junior School, Mansfield
Newlands Junior School, located in the Mansfield area of Nottingham, contacted us as they were concerned about the lack of space in their school grounds that they had to accommodate playtime sporting activities and PE lessons outdoors.
They felt that their playground area was too small to accommodate different types of ball games, while their field was out of action during the winter months - water logging, mud and a slippery mess meant that the space was too unsafe for children to play sports on.
The solution to the school's lack of space was to create a humongous, all-weather, dedicated sporting space for the junior children!
With an all new sporting pitch, surfaced with Artificial Grass Surfacing, the children would never have to be told to 'keep off the field' or 'no ball games' during periods of poor weather again. The children feel extremely lucky, proud and excited to have all year access to such an amazing area…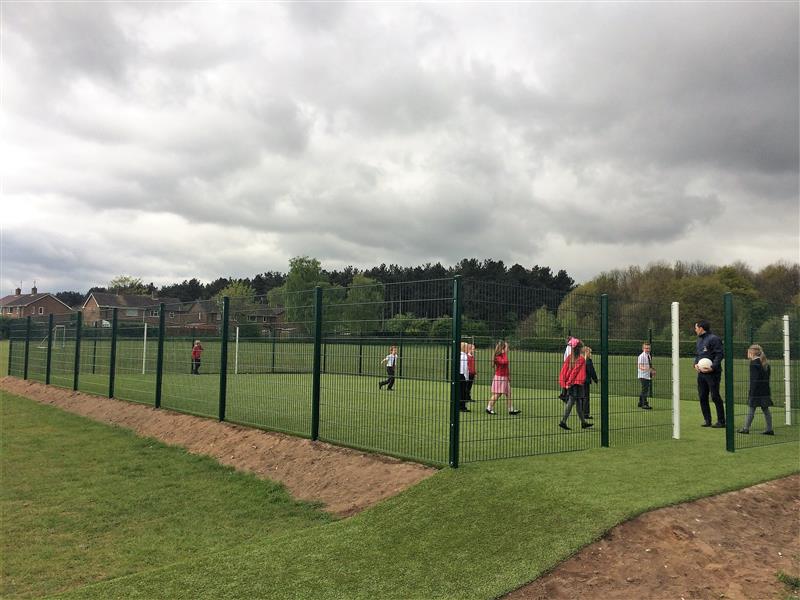 Read more about the wonderful sporting space we created through the installation of an amazing multi-use games area at Newlands Junior School by visiting the project on our website Here
Across the Nottinghamshire area, we've worked with many primary schools and nursery settings to meet their outdoor project aims and goals. If you're based in or around the Nottinghamshire area, we'd love to help develop and improve your outdoor learning environment, too! Contact Us to arrange a free, no-obligation with one of our expert playground consultants like Dan Young.