Explore what the right safety surface is for your school playground!
Children are bound to fall down in the playground from time to time, but a professional safety surface means that they won't hurt themselves too badly when they do!
What is a safety surface?
A safety surface is designed to absorb some of the impact from a fall, so that the severity of an injury is reduced. All new climbing play equipment should come with an appropriate safety surface, especially equipment that is more than 600mm tall, or any equipment that uses springs. A good safety surface is the best way to reduce the number of accidents and potential hospital visits needed due to injuries in your playground.
There are a number of different options available when it comes to safety surfaces, and each one has its own set of properties that should be carefully considered. Natural grass is a good safety surface in some weather conditions, but when it is dry it can become very hard and absorb little to no impact.
In a busy playground it is likely to get worn down and become unusable in wet weather. Ideally, you want a safety surface that works well all the time, in all conditions.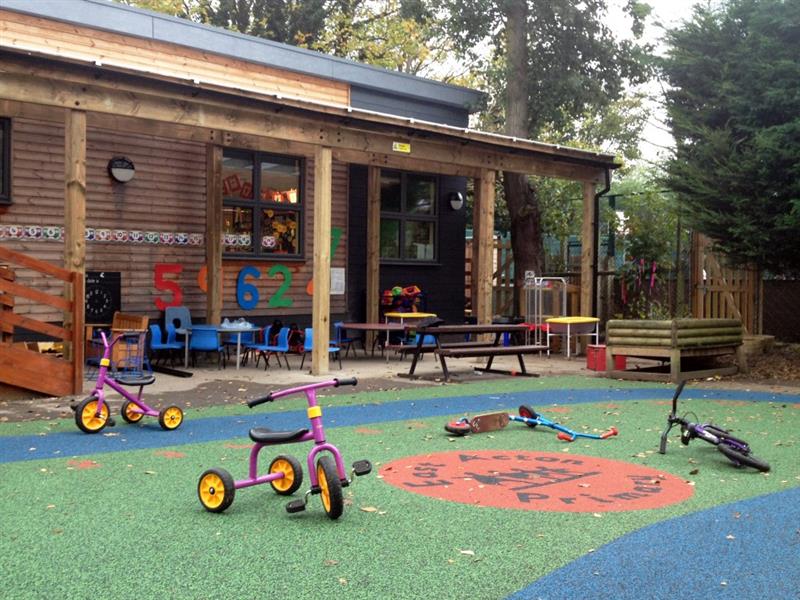 What is Wetpour?
Wetpour is a rubberised tarmac that comes with a smooth finish. It has excellent impact absorbing qualities, making it one of the safest brands on the market. It is extremely durable, and is easily swept clean, which keeps maintenance costs low and makes it a suitable material for a messy play area.
However, the standout feature is the range of colours it comes in. You can use a Wetpour surface as you might use a blank canvas, the only limit is your imagination! Numbers, letters, shapes, you name it, and we can design it either as part of a play area or outdoor learning environment.
Wetpour is a great product, but it does need to be installed onto a firm base, such as tarmac, granite or crushed limestone - otherwise known as M.O.T. type one.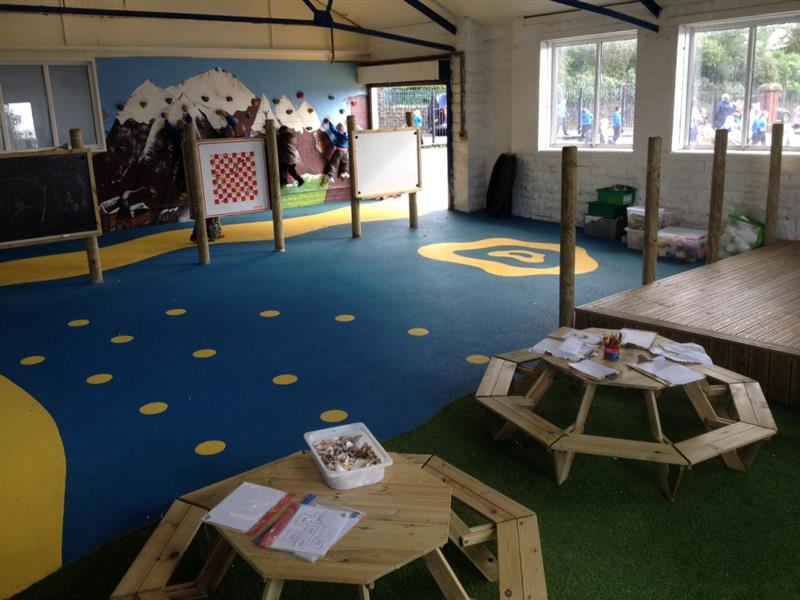 What about Playbond?
Also known as 'bonded rubber mulch,' this safety surface is made from recycled rubber scraps which are bonded together to create a rubberised surface. It has good impact absorbing properties, and it is a good economical alternative to Wetpour.
Rainwater easily travels through the little gaps between the shredded rubber without causing any damage, however weeds can sometimes self-seed in these gaps and require a little bit of maintenance work to remove.
Playbond comes in greens, browns and other natural colours, and is an excellent solution for those grassy areas which quickly become too muddy for children to play in.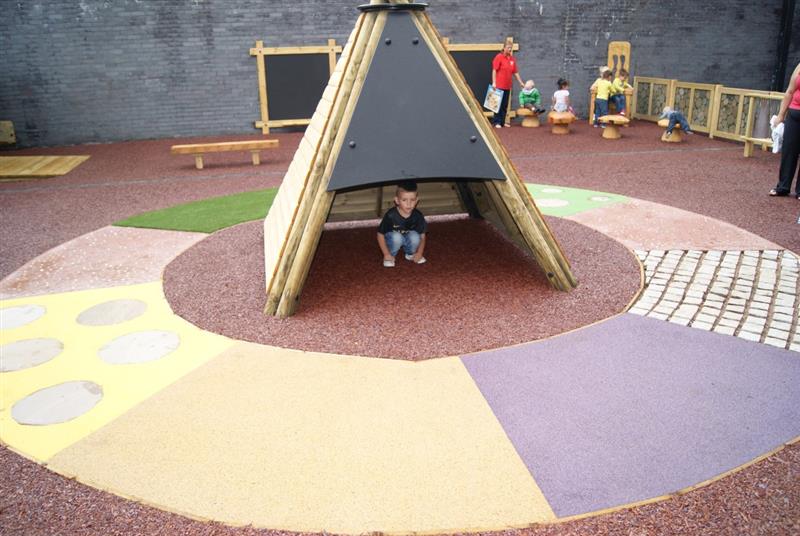 Why choose Playturf?
Playturf is an artificial turf that looks just like the real thing! It is safe for use under equipment with a Critical Fall Height (CFH) of under 600mm, but you can use it under higher level equipment if you install a rubber membrane underneath the top layer.
Unlike other artificial turfs, Playturf does not require a sand or rubber infill, which keeps initial costs down and maintenance costs low.
Playturf is a fantastic solution to those high footfall areas that grass won't grow in anymore.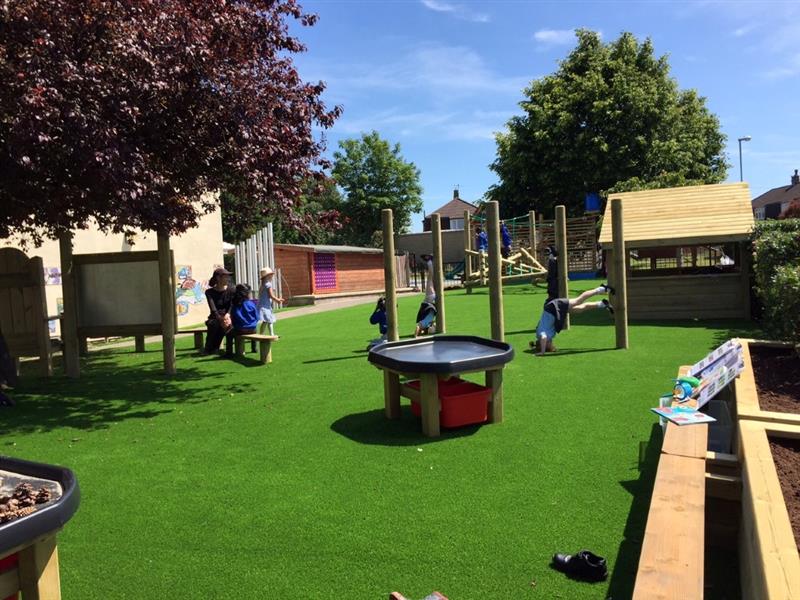 What is Saferturf?
Saferturf is an all-weather outdoor carpet that comes in a range of colours. Like Playturf, Saferturf is safe enough to use on equipment with a CFH of under 600mm, but you can use it under high level equipment if you install a rubber membrane underneath the top layer.
Saferturf has great longevity under normal conditions, as rainwater easily drains through it. However, it can absorb drops and spills, so it is not a suitable material for messy play areas.
Saferturf's main advantage is that the design possibilities are very flexible; roadways, caterpillars, hopscotch look beautiful with Saferturf.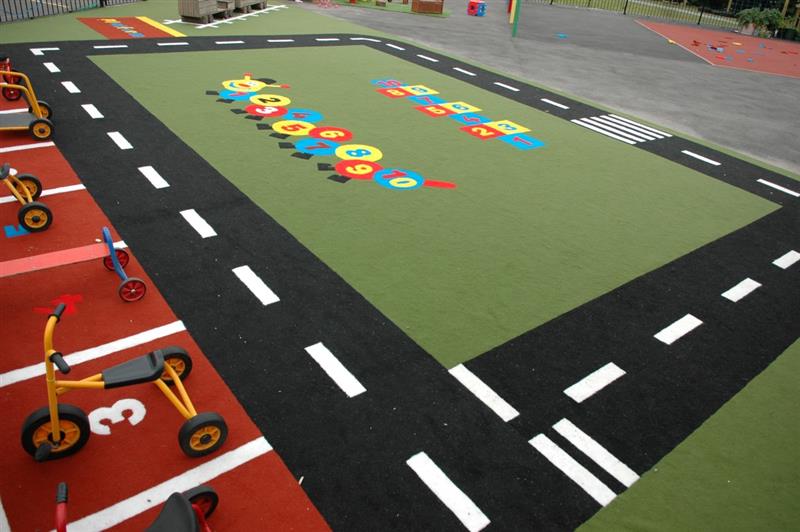 What about Safermats?
Safermats are impact-absorbing tiles which have holes in them that allow natural grass to grow. This adds more safety value to your grass area, without compromising on a natural look.
It is a very affordable safety surface, though it is unsuitable for use in areas of high traffic where the grass can get worn away and you are left with an earthy or muddy surface.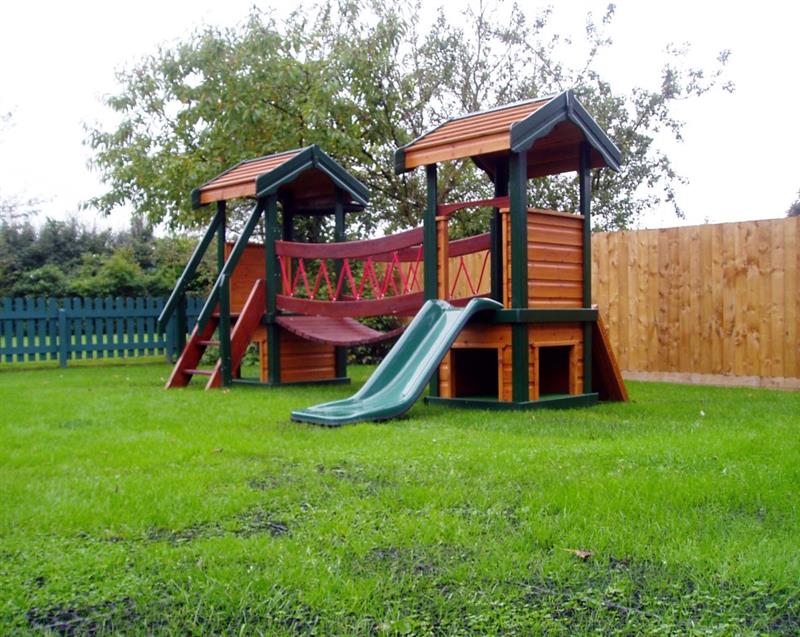 What are loose fill areas?
A loose fill area contains sand, pea gravel, bark or another similar material which is very safe for a child to fall onto. Keeping the materials in place can require a fair amount of sweeping, especially on windy days, but they are very popular with children and parents who desire a safety surface with a natural texture.
Loose fill areas also need top-ups from time to time, which means additional costs should be expected.
The other main drawback is that the loose fill material gets messy when it is spread around an area by little people's feet and fingers!
Even the very best safety surface can deteriorate over time, so be sure to give any unfamiliar play area a proper check for damage before allowing children to play on it. If you find something of concern, then you should report the problem to whoever is responsible for the play area's maintenance. Contact Us through the website for more information!