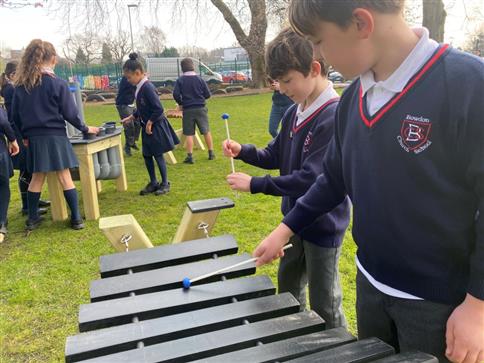 Mini Xylophone
Our product code: P-IC-MUS-MX
Online Price: £895 +VAT
Delivery to mainland UK only, excluding Northern Ireland, The Scottish Highlands and Offshore Islands
Bring the noise to your playground with our magically musical Mini Xylophone.

This unique outdoor musical instrument has been constructed from recycled plastic planks and high pressure treated 'play grade' timber, created to last all through the years for your pupils to explore their inner musical talents.

As children strike each of the keys, they can discover the amazing sounds each key makes, while creating fantastic musical sounds, rhythms and patterns; this will naturally help develop their hand to eye coordination and decision-making skills as they choose what order to hit each key and in what pattern.

Our Mini Xylophone has been designed so that it can be used alone or with others to offer the children a great opportunity to work collaboratively and form their own playground orchestra or experiment with different musical notes on their own.

There are plenty of hours of learning through play on the playground to be had with our fantastic Mini Xylophone!

Online Price: £895 +VAT
Delivery to mainland UK only, excluding Northern Ireland, The Scottish Highlands and Offshore Islands
---
Technical Details
Associated Documents
Guarantees
Technical Details
Size (L x W x H): 995mm​ x 750mm x 613mm
Made from Recycled Plastic Planks​ and High pressure treated 'play grade' timber
Freestanding Design
Encourages social musical play
Includes:
Associated Documents
Guarantees
Please contact us for further information.