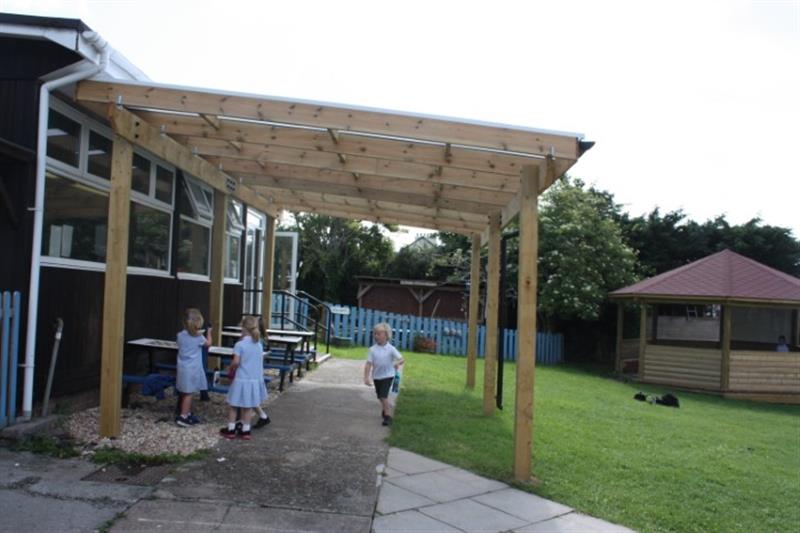 Outdoor Learning Spaces to Provide Memorable Experiences
Kevin Martin, headteacher at Abbotskerswell Primary School, contacted us as he was keen to develop outdoor classroom spaces that could be used by the whole school.
The outdoor classroom and canopy would provide necessary shade and shelter during all seasons and would be wonderful additions to forest school sessions.
Nicole Fairman, one of our creative playground consultants, was able to share her expertise with the Devon based school to construct two amazing outdoor areas that would provide a multitude of possibilities for learning in nature.
The New Outdoor Gazebo
The Outdoor Gazebo provides a new and exciting place for pupils to learn no matter what the weather. The octagonal design, with seven benches ensures that there is plenty of space for whole classes to gather.
The decked base allows for large floor-based activities to be completed and offers a comfortable surface for children to sit and work together.
Muddy, waterlogged ground will no longer be a problem and the waterproof roof ensures that children stay dry whilst benefitting from being surrounded by nature. Half cladded sides provide extra shelter from the elements and the installation of a chalkboard and whiteboard allows for greater modelling within lessons.
The gazebo can be positioned in any location, as the site at Abbotskerswell Primary sloped we were able to adjust the levels of the gazebo to achieve an even base.
Our gazebo is an ideal spot to relax, devise imaginary games, hold whole class lessons and provides a wonderfully peaceful spot for small group work. Budding artists at Abbotskerswell Primary have been using their new, calming space to produce some observational drawings of natural discoveries.
Abbotskerswell Primary plan to use their new gazebo as part of their fantastic nature school sessions where children learn about different animals and their habitats, how to tie different knots and check weather conditions by taking temperature and rain gauge readings.
Taking learning outdoors with a timber canopy
Planned outdoor lessons will never be disrupted by the weather again with the installation of a Freestanding Timber Canopy adjacent to the school building. The canopy was built to the school's exact requirements and is made from high quality, pressure treated timber.
The canopy provides a large, sheltered space where both adults and children can enjoy spending time together outside. Children can move easily between the classroom and the outside space. The canopy provides a place for learners to explore and be more physically active.
A polycarbonate roof provides shelter from the rain but ensures that the space is light and airy. Small group work and one to one sessions benefit from having a designated quiet space that allows children to focus.
The two outdoor spaces have created a significant increase in useable space for pupils at Abbotskerswell Primary. They will be used and enjoyed on a daily basis throughout the academic year.
If you would like to transform your playground into a wonderful play and learning area, don't hesitate to Contact Us Here to start your journey with Pentagon Play.
If you are in need of some inspiration take a look at the amazing projects we have completed in the Devon area on our dedicated Devon Playground Projects Page Here.