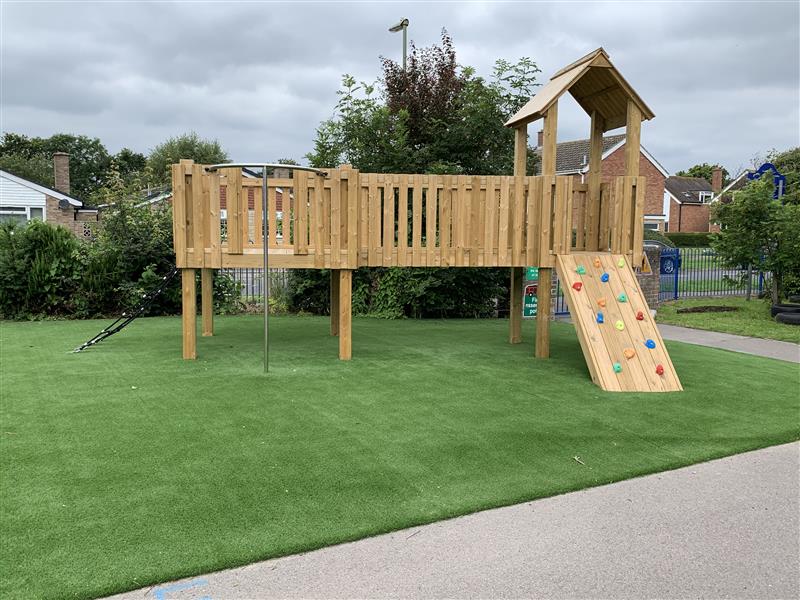 Peel Common Infant School discover their amazing, active play space.
Peel Common Infant school in Hampshire had big plans to transform their outdoor space into an active adventure that would stretch and challenge pupils.
Our experienced playground consultant, Donella Felton, met with headteacher, Lesley Spicer and school business manager, Sam Paine, to discuss their vision for this project that would spark children's interest and imagination.
The transformation begins…
The current playground surfacing had been damaged by large trees and old equipment was no longer fit for purpose.
It was out with the old and in with the new as we opened the space and prepared the ground ready for our exciting installations.
Artificial Grass Surfacing gave the space a natural and inviting feel, in keeping with the school grounds.
A Shockpad Layer ensures children are protected when exploring and taking safe risks.
Sliding through playtime!
The star attraction of the new space is the Bespoke Play Tower. The three entry points provide different levels of challenge as pupils develop their strength, balance, and grip.
The Fireman's Pole has proven very popular as students enjoy sliding through their playtime!
There is plenty of space at the top of the tower for children to devise their own games whilst developing social and language skills.
Even the area underneath the tower can be used for den building or made into a comfy reading space.
Steady balance is required when crossing the new Wobbly Bridge.
Gross motor skills are improved as the children ponder which creatures could be hiding underneath!
Swinging and Strengthening
A Rope Swing Traverse provides a crossing challenge, improving grip and strengthening those important hand muscles ready for writing.
A set of Rollover Bars develops core strength when spinning and hanging.
Co-ordination is needed to cross the Horizontal Net Traverse as pupils discover the correct placement of hands and feet.
Our popular Climb Through Tunnel Hill offers the perfect playground lookout spot. The soft, foam cushioned surface allows children to climb, roll down or to just sit back and relax.
Pupils have so much fun moving through the tunnel and it's the ideal spot for a game of hide and seek!
Reading and Recording Times
A Solar Powered Stopwatch is a fantastic addition to the space. Pupils can set their own targets as they complete their new playground trail.
They learn to estimate and how to read and record times digitally. The stopwatch encourages collaborative working and discussion and aids work in class when ordering times, calculating averages and graphing results.
School business manager, Sam Paine, was delighted with the new, vibrant, inspiring infant playground.
The term-time installation went very smoothly as our professional team of installers were accommodating and ensured that risk assessments were followed.
It was extremely exciting for the children to see the different stages of their space being developed and Sam felt that she received regular progress updates. Peel Common Infant school would not hesitate in using Pentagon Play for their next project.
If you, like Peel Common Infant School, wish to transform your old, outdated play area, please Contact Us Here
Or, if you aren't yet convinced that we are the company for you, browse our Hampshire Projects Page Here.