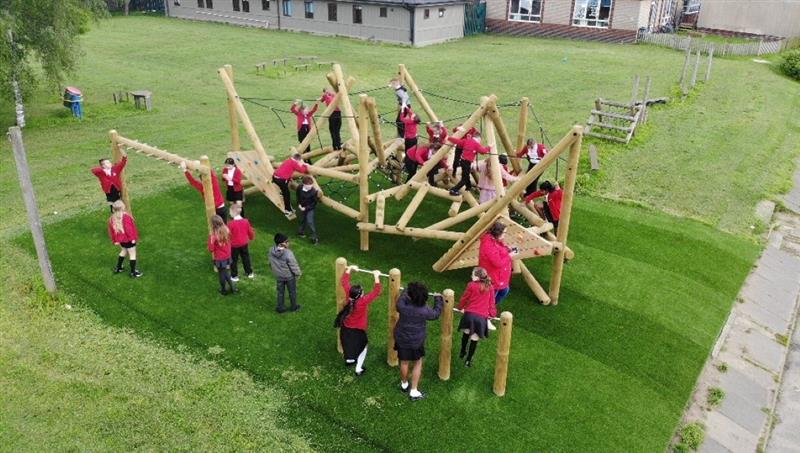 The Customer
A 'dazzling' school for sure, Rowanfield Junior School pride themselves on instilling their pupils with a drive to always achieve their best in education, and all other aspects of their life too!
Therefore, it's only right that they offer one of the best playgrounds around for their pupils to thrive within!
---
Their Objectives
Rowanfield contacted Pentagon Play with active play on their mind. They wanted to create an engaging active play space where pupils could let off steam, have fun and boost their physical activity levels.
The main priorities were:
A good range of active play opportunities
Something with WOW-factor
Suitable surfacing underneath
Outdoor Learning Consultant, Nicole Fairman, worked closely with them on the project to ensure that all of these needs were met!
---
Our Approach
Nicole and the team talked the school through their options and guided them to the best surfacing solution for their needs.
Initially, Nicole discussed the possibility of either a Grizedale Climber or a Crinkle Crags.
Both offer an abundance of climber opportunities for variable levels and abilities; however, they have different specific challenges and characteristics.
Ultimately, the school decided that the Crinkle Crags Climber was the best choice for them, and we think that it looks absolutely fabulous in the space.
To meet some of the school's specific interests, and to maximise the active play opportunities available to the pupils, Nicole suggested the installation of Forest Roll Over Bars and Forest Monkey Bars.
Pupils will love building their upper body strength on these challenging yet adventurous products.
---
The Results
After speaking to Pete Aldred, P.E Lead, it's safe to say that the children are loving their new play space.
"There's huge excitement! They have all wanted to play on it, from the Yr 3s to the Yr 6s. We've had to introduce a bib system to restrict numbers. The children already have their favourite areas. Some spend their entire lunch rolling on the bars, some repeatedly complete the monkey bars and others like the climbing frame."
It's also been beneficial in teaching the children some skills that possibly weren't even considered during the initial project design.
"It is helping the children in thinking of others - waiting their turn, helping other who need assistance etc.".
And the area looks luscious as ever with the super green, lovely looking Playturf Artificial Grass down, providing a suitable safety surface underneath the daring Crinkle Crags!
We loved working on this area, and we hope the pupils continue to learn an abundance of skills on their new playground!
If you would like to discuss your own playground development, Contact Us Today to speak to one of our outdoor learning experts.