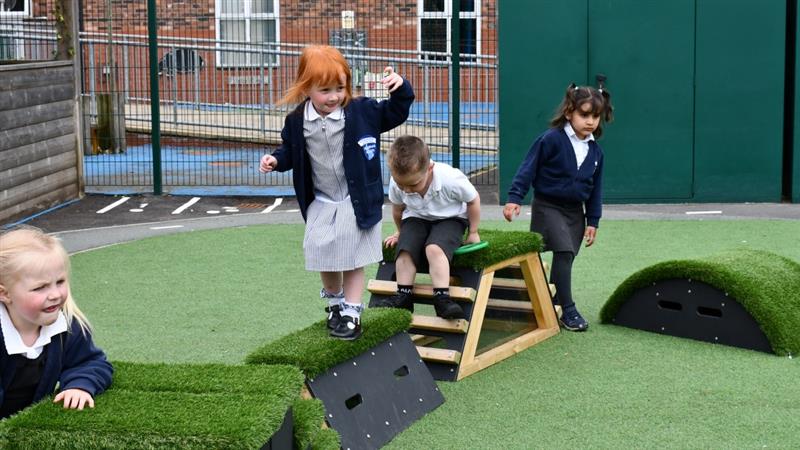 Discover the ideal solution for Active Play for your EYFS pupils at Alderman Bolton!
Alderman Bolton Primary School in Warrington are now the proud owners of our extremely popular Get Set, Go! Blocks – The Peaks Set. The blocks have been a fantastic addition to their EYFS outdoor environment.
Introducing 'The Peaks Set'
Our Get Set, Go! Blocks are the perfect solution if you're looking for freestanding play equipment in your outdoor area.
The Peaks Set consists of 9 blocks each with its own interesting shape, whether it be a flat, curved or sloping surface. The blocks are the ideal height for nursery and EYFS pupils and work perfectly in both small or large outdoor spaces.
Pupils can take ownership of their learning by devising their own courses. Gross motor skills are greatly enhanced as children climb, jump, travel and balance from one block to the next. The blocks encourage collaborative play and children will engage in natural conversation as they support each other, take turns and enter into imaginary worlds.
Each block has an element of Playturf Artificial Grass which creates a comfy outdoor cushion whilst also proving to be extremely hard-wearing and long-lasting. Hand holds on the side of each block allow children to work together or to support practitioners when moving and rearranging each piece.
The added feature of mark making panels on the sides of the blocks allows for numbers and letters to be incorporated into play or little artists may use their creativity to enhance games.
Quick and Easy Delivery with the Pentagon Online Shop
Alderman Bolton purchased their blocks via our Online Shop which offers a range of affordable, movable equipment available for immediate delivery. Our online shop allows us to deliver some of our most popular learning resources directly to schools within 4-6 weeks.
Pieces arrive assembled, ready to be enjoyed straight away, without the need for a design consultation process.
Hayley Nicholson, Nursey Teacher at Alderman Bolton is extremely happy with the school's investment. Hayley wanted to create a 'safe' space where children could climb and take some risks. The nursery previously created obstacle courses with planks and crates but Hayley noticed that injuries were occurring whereas since the arrival of the Get Set, Go! Blocks pupils are free to climb, step and slide safely.
Hayley told us that even though the blocks are used in provision every day pupils never tire of them. One of the best features of the blocks is that they are moveable and flexible. Practitioners can vary their set- up in consultation with pupils and based on their needs.
Pupils at Alderman Bolton are drawn to their new, active play resource and their confidence continues to grow each day. Hayley commented on the high quality of the products and would certainly recommend them to other schools.
If you are looking for a fresh and flexible solution to revamp your outdoor area the Pentagon Online Shop has a variety of products to suit different spaces and various budgets.
Quality Pentagon products made by our own expert in house team can improve children's physical development and enjoyment within a matter of weeks.