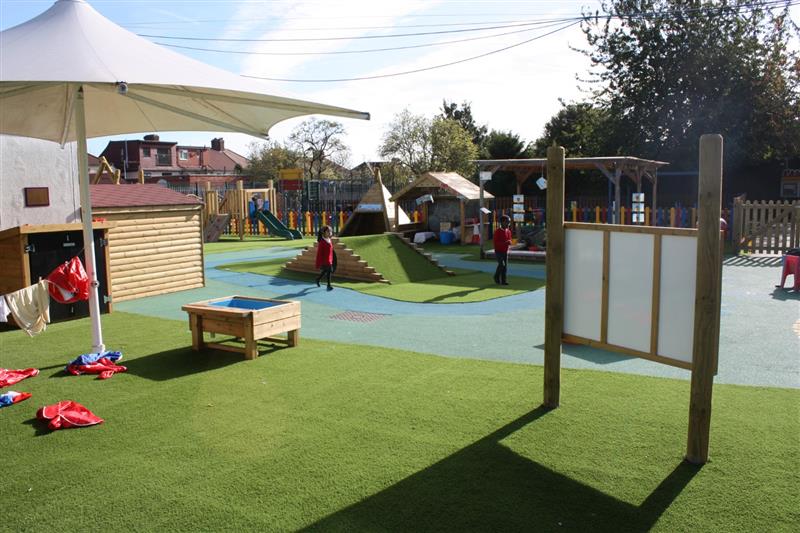 Promoting the curriculum in an exciting playground environment
Two exciting new projects at Allenby Primary School, Southall, have seen the creation of a brand new, multi-purpose Early Years Outdoor Classroom , as well a beautiful Sensory Garden for the school's SEN pupils.
Allenby Primary School is a small community school, which holds a fundamental belief for children to thrive in educational settings where they are each known as individuals.
They wanted us to help them with zoning their outdoor spaces, so that there would be a real purpose behind each area, with purposeful equipment to encourage and develop every single child who would engage with the space, in an outdoor learning environment.
Our Playground Consultant, Luke Banner, worked closely with the school's headteacher, Daniel Bishop, to carefully plan out their spaces.
Daniel explained,
"We chose Pentagon because of their ethos and the knowledge that they brought as a team - enabling us to make informed decisions - with some really specialist staff that aren't just experienced about installation, but also about the rationale and the reasoning behind the installation. That was the key difference between some of our other tenders and Pentagon, and that was really the key reason why we decided to go with them."
Before and after development…
The existing EYFS area at Allenby Primary School was a huge open space, suffering from a real mish-mash of old, difficult to use pieces of equipment that had been added ad hoc without any planning or clear purpose. It was unorganised and difficult for staff to set up and uninspiring for the children.
The school also faced real challenges with their surfacing, which was uneven and presented awkward changes in levels.
Daniel had a clear vision of what he wanted to achieve and had some great ideas, which provided a fantastic platform to build on. The school wanted a completely new design and layout of the outdoor space.
A big priority was to reduce the size of the area by splitting it into two separate spaces. This was partly to help improve supervision and partly to create a smaller outdoor classroom that was clearly zoned and better to manage.
It was to provide more purposeful learning and play opportunities for the children, with some real thinking behind where everything was going to be placed and how it was going to be used.
Both of the projects were installed over the summer holidays to avoid any disruption to the school day.
Once we had removed and disposed of the old equipment and surfacing and prepared the ground ready for the installation, we were ready to go!
Playground Safety Surfacing
Surfacing was first. A beautiful, bespoke Wet Pour design forms the surface of the new EYFS playground at Allenby Primary, with a bright green and blue fleck, Welcome text, a 1-30 Number Line and an Alphabet Soup.
Our Wet Pour surfacing is free draining to ensure year-round use. It is impact absorbing and provides protection from falls, so enhancing safety and having both a fun and educational purpose at the same time.
We included a Blue Roadway, Yellow Numbered Parking Bays and an Earth Blend Construction Zone, to support active and imaginative play.
In conjunction with the Wet Pour, we installed our Playturf Artificial Grass over a Shock Pad Layer around some of the play zones.
It's soft to the touch and has the appearance of beautiful natural grass, but without any of the unwanted mud or maintenance.
The continuous and combined surfacing is proving to be not only great for safety, but also for the sensory aspects of moving from one type of surfacing to another.
View our fantastic range of Playground Surfacing and Markings here
New Active Play Zones
Active Play Zones are now a big feature at Allenby Primary, with our fabulous Harter Fell Climber and an exciting Restormel Modular Play Tower, offering a huge range of age appropriate physical challenges.
"These have been really great pieces of equipment for our children to get hold of" says Daniel.
"The old equipment was lacking in challenge. The new climbers open up a world of different ways of travelling to our children, using different parts of their body to challenge themselves with their physical development. There's a good mixture - the slide and the fun side of play - but also the challenges with the climbing wall and the steps."
Our Climb Through Tunnel Hill has been a hit too. They have used it for literacy, acting "Going on a Bear Hunt" for example, as much as active play:
"The mound and the tunnel have been well used by all of our children. Having the change of levels, being able to use language to describe all their different actions, has been really important for their learning."
We have an amazing range of Active Playground Equipment for EYFS, Key Stage 1 and Key Stage 2.
Messy Play Zones
Messy Play Zones have been cleverly set up with the inclusion of some of our classic EYFS playground resources:
Tuff Spot Table
Water Table with Lid
Mud Kitchen
Bespoke Dig Pit
Each of these favourite pieces of equipment offer children the opportunity to use their imagination, giving them a real sense of independence as they create their own explorative play scenarios.
They are versatile in that they can be used in conjunction with various sensory resources, sand, mud, water, jelly, foam, or natural objects found by children in the playground such as leaves and twigs, pebbles and mini-beasts.
They can be used to teach a wide range of subjects across the curriculum, whether science-based through the resources, numeracy through counting, measuring and pouring, or language and literacy through new vocabulary, listening and following verbal or written instructions.
Our exciting range of Messy Play Equipment can be viewed here
Role Play, Den Making and Construction
Creative Play and Role Play Zones are versatile and flexible at Allenby Primary, with plenty of mark making opportunities.
A Wigwam and two Playhouses with seating and chalkboard are being used as cosy reading spaces, hospitals, space shuttles and anything else that the children decide!
The fantastic Construction Zone surrounded by wooden sleepers has also become a really popular creative play choice.
Role play is something they really love to do and the flexible nature of these zones has been ideal.
View our huge range of Den-Making Products and Playhouses here
Playground Storage and Fencing
Self-selection was a key requirement, so we included a Self-Selecting Store, which is flexible for use by children and adults.
One Early Years teacher commented;
"It's been really good for us to be able to keep our outdoor equipment outside, rather than having to transport it continuously inside and out."
The EYFS area has been completely transformed. It is now a bright and inviting space; it is clearly zoned and surrounded with our brightly coloured Bow Top Fencing to keep the children safe and secure.
The thoughtful design and carefully selected equipment and resources mean that there is now more learning and play opportunity for Allenby Primary's EYFS pupils than ever before.
View our Playground Storage and Fencing options.
SEN Sensory Garden
With the growth of the Special Needs Unit at Allenby Primary, they needed a flexible and safe space to use all year round, with a key focus on sensory development.
We have transformed a disused space into a beautiful Sensory Area that enables both staff and children to engage with the outside world in a safe, enclosed environment.
To do this, we resurfaced the area with our Play Specification Playturf Artificial Grass. We installed a gorgeous wooden Story-Telling Chair with three Perch Benches, a Giant Chalkboard, Whiteboard and Mirror on Posts and a Corner Planter Bench.
The children's teacher, Mr Pascoe, explained that they have absolutely loved using it and now have a great spot outside that they can use just for themselves.
They are using the planters for experiencing the sight, sound and smell of the plants, bushes and trees and utilising the storytelling section for their songs and goodbye time at the end of each day.
The children have been expressing themselves with the mirror and mark making resources. It has proved to be a really safe environment for them to explore what can otherwise be quite difficult to access in other areas.
"We've got a fantastic sensory garden," says Mr Pascoe, "and it's particularly important for my class - we have children with very complex needs and by having an outside space that they can freely access and use regularly, it allows us to go out and explore the outside in much more creative ways. We're really enjoying it."
View our excellent range of Mark Making Boards and Playground Seating Solutions for schools and nurseries.
Allenby Primary has been a fabulous project for us to be involved and we have loved helping to make it all come together. It was wonderful to hear the positive feedback from the school after the project was complete:
"From the moment Pentagon came out and did some design work with us, it was really clear that their expertise was going to enable us to create a purposeful environment. The expertise of the staff has enabled us to work with our aims to create a really lovely garden. We'd seen some of their work before, some of their projects in the local area, and it was work that clearly lasts. It was a really good experience for us to be able to work with Pentagon and we would highly recommend them."
We loved working with Allenby Primary School on this incredible playground project. If you are considering improving your outdoor learning environment, Contact Us Here to arrange a free consultation with one of our expert playground consultants. Alternatively, you can call 01625 890 330 (North Office) or 0117 379 0899 (South Office).