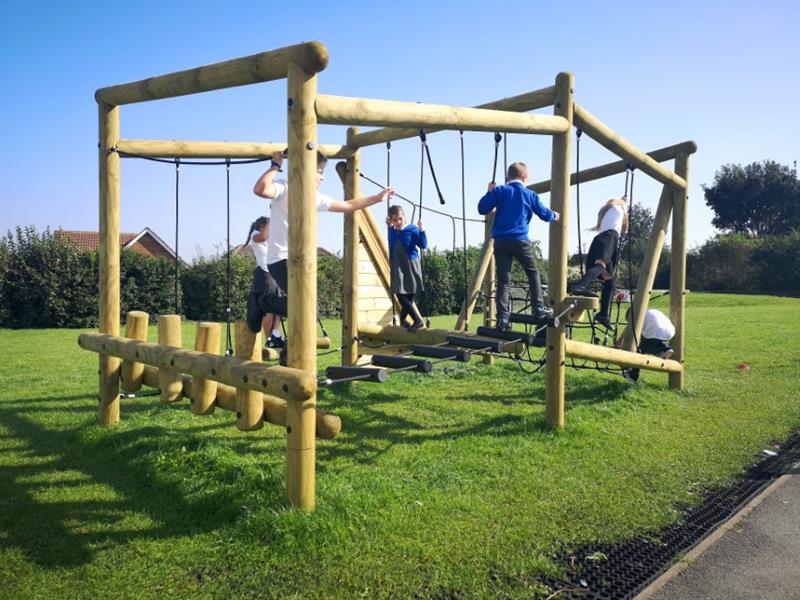 A Fun and Challenging Active Play Area For KS1 and KS2 Pupils
Asquith Primary School, based in Leeds, wanted to create an open-ended, invigorating active play area that could be used by KS1 and KS2. The school also wanted the space to be used by their older children throughout the day.
The PE Coordinator and Project Lead, Joshua Jones, worked with our Leeds Outdoor Learning Consultant, Meg Booth, to bring the school's vision to life.
The Puzzlewood Forest Circuit inspired by tree top challenges
After discussing many different ideas and product recommendations, the school fell in love with our Puzzlewood Forest Circuit.
The Puzzlewood Forest Circuit is one of our latest climbing frame inventions and includes multiple traversing and climbing obstacles inspired by tree top active challenges.
This open-ended climbing challenge has numerous entry and exit points, created an open-ended and non-prescriptive play environment. With each obstacle featured at different heights, children can build up their climbing confidence on the lower level challenges before taking a safe risk on the higher obstacles.
Both the KS1 and KS2 children have been thrilled with their new Puzzelwood climbing frame at playtimes. The children will improve their fine and gross motor skills, balance, proprioception, strength, and core stability.
The Puzzlewood Forest Circuit can also provide children with inspiration for imaginative play. Can the children make it across the shaky ladder without touching the floor (or hot lava)?
These inventive games help foster friendships, improve social skills and develop communication and language.
We have installed safety surfacing underneath the climbing frame to protect children from falls. This is a great way to also encourage safe risk taking
For this development, we used our Playground Safermats to create a safe space for climbing and taking on challenges. Since the Safermats allow grass to grow through, the black mats will not be visible at a first glance.
Here is what the children have had to say…
It is always great to hear from the end users on every project we work on. Here is what the children at Asquith Primary School had to say:
"I can't wait for the days when our class get to go on the climbing frame" - George
"This climbing frame is very fun and a great chance to challenge yourself." - Fox
"I love the playground, before I couldn't climb the wall and now I can." – Holly
"I love this playground it has helped me and my friends get along better!" - Ella
Amazing feedback from the school
The school's PE Coordinator, Joshua, had this to say:
"What a fantastic addition to the playground, it has been amazing watching all of the children, from Year 1 all the way to Year 6, use the equipment in different ways. We have seen the children develop new skills that in the past others have struggled with whilst providing them with something new and interesting in the playground. Pentagon Play have been amazing both pre and post installation and I am looking forward to working with them again in the future!"
Are you looking at improving your children's physical play opportunities? View our huge range of active play products and create your own wish list. If you are looking for further inspiration, you can view more active play projects on our website.
We have developed new ways to conduct playground consultations safely in these difficult times. Complete our Online Form to begin your journey with Pentagon Play. One of our consultants will be in touch to arrange a free consultation.
If you would like to view more examples of our playground projects in Leeds, visit our Leeds page.