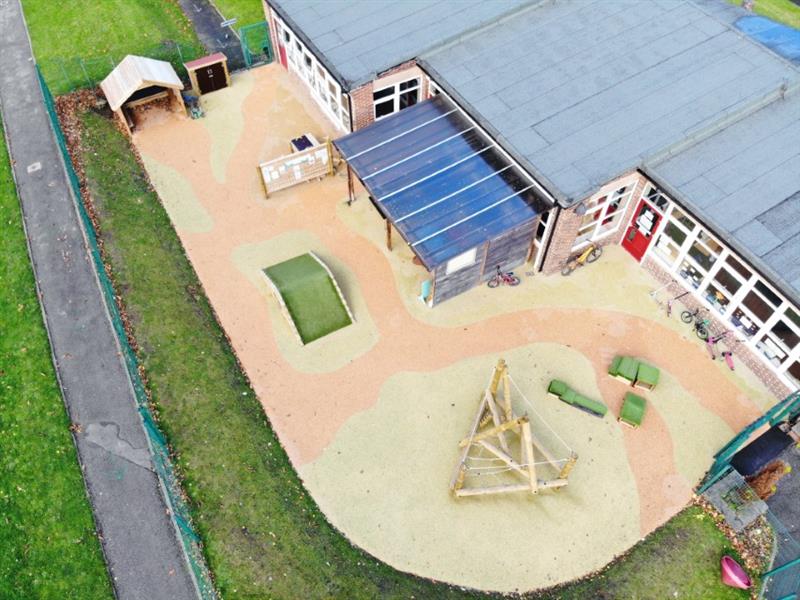 A Super New Outdoor Provision For Foundation Stage Children!
"We would like to thank Pentagon Play for an amazing service from start to finish." - Wickersley Partnership Trust
Something special has appeared in the Foundation Stage outdoor playground at Aston Lodge Primary School in Rotherham!
During lockdown, we were busy installing a super new outdoor provision for the children to return to - part of a series of outdoor play and learning projects that we have had the pleasure of working on for Wickersley Partnership Trust.
Our outdoor learning consultant, Dan Young, has been transforming playgrounds across their group of schools - designed to help their pupils with their overall development, so that they can become the best they can be!
We were delighted to hear from the Trust that the Foundation Stage children at Aston Lodge have been relishing opportunities to play, learn and explore using their brand new equipment, and couldn't be happier!
That's exactly what we set out to achieve, and we are proud to be a part of their journey.
At Aston Lodge, we removed and disposed of all the old play equipment and storage facilities that were tired and no longer suitable for use.
All-Weather Surfacing Solutions for Year-Round
Floor-Based Activities
We resurfaced the ground throughout using a selection of our brilliant Playground Surfacing solutions to make it an all-weather environment, with both sensory interest and plenty of space for enjoying floor-based activities all year round.
Wetpour Surfacing is an impact-absorbing rubber surface that is ideal for high-energy, high-impact playground areas.
We can form bespoke designs with our Wetpour using a combination of preferred colours, which we did to create a beautifully unique, themed play space for Aston Lodge.
We laid some of our fun and vibrant educational Thermoplastic Playground Markings to support outdoor numeracy, literacy and real-world play:
A gorgeous A-Z Caterpillar trail is a firm favourite with the younger pupils learning their alphabet on the go!
An exciting, wheeled vehicle area for the children to ride their bikes and trikes, featuring a 32 metre Roadway with Zebra Crossings and a Stop Look Listen Sign, a Roundabout Sign and a car park with Numbered Parking Bays.
Our Playturf Deluxe Artificial Grass is a great base around and underneath climbing equipment. It provides a soft landing and because we install it as a self-draining, all-weather surface, it means the equipment can be enjoyed whatever the weather without becoming dirty, muddy and slippery.
It's comfortable enough to sit on for floor-based activities too, so it's been a great choice for Aston Lodge.
Non-Prescriptive Physical Play Opportunities
Having an outdoor space that would present lots of opportunities for large movement, climbing at different levels and general physical activity was really important for this Foundation Stage playground.
With all the newly surfaced space to run around, we were able to create a fantastic new climbing area, featuring our Harter Fell Climber.
It's a non-prescriptive log and rope centrepiece, offering open-ended climbing opportunities and lots of space for little ones to climb together.
Our popular Get Set, Go! Blocks are ideal for setting up obstacle courses in this playground and the children have been finding some interesting ways to tackle them!
We added a fun Climb Through Tunnel Hill for active play at different levels, whether the children are running up, rolling down or crawling through, there's some great motor development and aerobic exercise going on here.
Literacy Activities and Games Can Now Come To Life
To create a calm area for outdoor literacy, there's a Storytelling Chair for readers to sit tall and Moveable Artificial Grass-Topped Seats for listeners to enjoy their favourite books. We added some Giant Chalkboards on Posts to enhance outdoor reading and writing.
We've used some Straight Planter Benches for the children to grow and care for sensory plants and flowers across the seasons, making this a lovely space to discover new things about the natural world and sit and enjoy their surroundings.
A Space for Imaginative and Creative Play
We included a Wigwam, a set of Den Making Posts set at different heights with holes for threading and weaving and a Giant Playhouse with Walls, Chalkboard and Benches for some wonderfully creative den building and role play activities.
Our innovative, interactive Water Wall with Water Play Package has introduced a fabulous zone for scientific exploration and investigation.
The addition of a Sand Table with a lid has increased the scope for messy and sensory play in this area.
The teachers at Aston Lodge have personalised the new Self-Selecting Store to transform it into a "Maths and Literacy Shed", which is full of interesting resources that children can choose for themselves to really engage in their outdoor learning activities.
Because the children love using it and enjoy the responsibility of looking after their own space, it makes set up and tidy up times much quicker and easier for the teachers!
Could you Early Years children do with some more educational outdoor play and learning opportunities?
Our expert playground consultants would love to help transform your playground, too. Contact Us Here to begin your journey with the Pentagon Play team.
Completing thousands of playground projects across the UK each year, you can view some of the outstanding playground transformations we've completed in Rotherham.