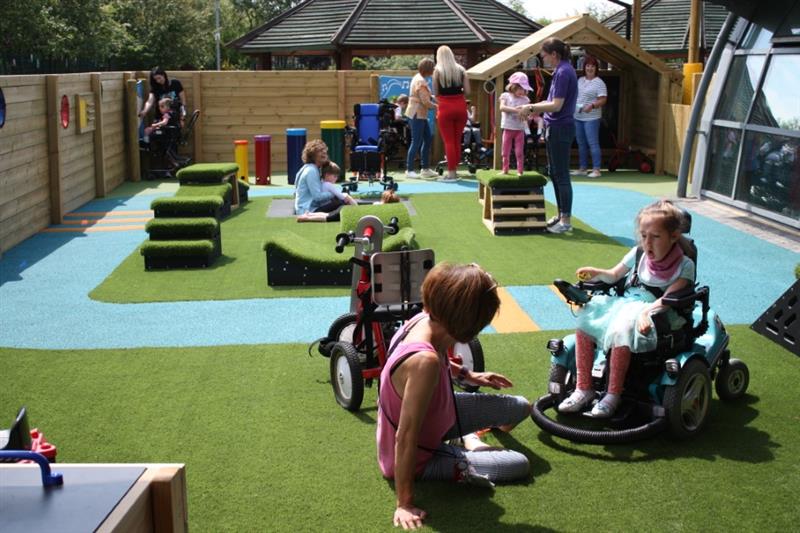 An Inclusive Playground For Children With Special Educational Needs
What a wonderful surprise for pupils at Baytree School in Weston Super Mare, Somerset! Thanks to Weston Sunbeams, we have been able to install a fantastic new playground at the school to support independent learning, physical development and sensory play.
Baytree School is a specialist school for young people who have severe learning difficulties and/or profound and multiple learning difficulties. With background experience of teaching at specialist schools herself, our outdoor learning consultant, Becky Hazell, was ideally placed to work with Baytree and to understand their specific requirements for this exciting project.
Becky met with Baytree's headteacher, Ed Bowen-Roberts, to discuss the school's plans for a new outdoor learning area and to identify their design priorities. They wanted us to design a space that would:
Promote physical development, working on balance and coordination
Provide opportunities for more independent and shared play between the children
Allow flexibility and freeflow, laid out in zones to make the spaces more effective for learning
Include some great sensory play areas
Allow children to play outside every day and all year round
We removed all of the old surfacing and replaced it with a combination of our Wetpour and bright green Playturf Artificial Grass, which instantly lifted the appearance of the area and created a safe, impact absorbing surface for the children to play on.
We created a Physical Development Zone in the centre of the area for physical activities that can be accessed by all of the children. We set the parameters of this area with a central, bespoke Wetpour roadway/rolling river in a beautiful, sky-blue colour.
We incorporated some small road bumps in a contrasting sunshine-yellow, for a fun sensory experience to discover with wheelchairs, bikes and trikes. The children at Baytree love chasing each other around the track!
In the centre of the roadway, we installed a Floor-Level Trampoline, which can be used with or without a wheelchair. It's a great facility for all the children to experience the physical and sensory benefits of bouncing and rebound therapy.
The Trampoline is surrounded by an area of Playturf Artificial Grass, which offers practitioners the flexibility to set up a range of different floor-based activities on a clean and self-draining surface.
We completed the zone with a set of our ever-popular Get Set, Go! Blocks to promote physical literacy. The Blocks can be grouped together in different ways to create different obstacle courses as the practitioners and children choose.
The range in shapes offer some unique opportunities for children to practice and master skills in balance and coordination as they climb up and over, slide down and manoeuvre around any which way they like.
On the periphery of the area, away from the classroom entrance to avoid disturbances, we created a Musical Play Zone with a selection of Outdoor Musical Equipment for making a superb range of sounds:
A Glockenspiel Panel - for expressing creativity and, as it is tuned, playing out recognisable music to sing along to.
A Shaker Panel - turn the wheels to hear the sound of marbles swooshing together.
A set of brightly coloured African Drums - to add a creative spark to the children's play. They can learn about counting, beats and rhythm and it's a great set for practicing shared play and turn taking.
The children can play with the instruments alongside one another and they are really enjoying making music together. We installed all of the instruments at optimal heights so that they can be accessed easily by children in wheelchairs.
Not only does the new Musical Play Zone provide rich sensory opportunities for the children at Baytree through a range of sounds and vibrations - it also supports them with developing fine and gross motor movement and coordination as they shake and beat out their tunes.
We designed a therapeutic Sensory Play Zone underneath Baytree's existing outdoor canopy. It was important to create this area under cover as the items are hugely popular and children and practitioners needed to be able to access them in all weathers.
A lovely dig-in sand pit is a firm favourite at Baytree. The children build their gross and fine motor skills as they dig, pour, scoop, sprinkle and mould the sand with all sorts of different vessels. It has a handy sliding lid, which allows teachers to set up different learning activities when the sand is not in use and keep it clean overnight.
Equally popular with the children at Baytree is our outstanding Water Wall with Water Channels and a Water Table. It's a wholly inclusive, sensory and interactive STEAM learning space, comprising movable parts, so that the children can channel the water as they like and dip their hands in as the water flows through the chutes.
Not just limited to plain water, the chutes can also be used with soap foam and other sensory resources, or for rolling down balls, cars and any other small world toys.
We included some Sensory Panels against the walls for tactile stimulation, and a wipeable Tuff Spot Table for communal sensory play and learning activities.
A Giant Chalkboard provides plenty of wonderful mark-making opportunities and allows children to practice bigger motor movements with their arms as well as helping to develop fine motor skills.
The children at Baytree love watching themselves in the Giant Mirror - it adds a lovely new dimension and a feeling of space to the area as well as being good fun for dressing up and helping with self-awareness.
At the far end of the outdoor area, we installed a beautiful, timber-clad, bespoke Sensory Den. It has an internal bench seat, a giant mirror and holes for adding all sorts of sensory materials and creating themes - wind chimes, solar fairy lights, ribbons - anything the children will enjoy.
There is plenty of space for everyone and it's easily accessible for wheelchairs. This super play-house is a great spot for imaginary games and storytelling. It gives the children at Baytree a magical sense of being cosy and enclosed, despite having good visibility and easy supervision.
Finally, we installed bespoke timber fencing throughout the area, with an increased surrounding height to remove the issues practitioners face having to collect objects that have been thrown over the fence (this is no longer possible!). We fitted a wide gate for easy access.
We incorporated some beautiful Coloured Porthole Windows into the fencing, which make it a really engaging and integral part of sensory play in the area as the light shines through in different colours.
The new playground has made a huge difference to the children and their teachers at Baytree School, who are now enjoying some fabulous outdoor learning and play experiences every day - come rain or shine!
To view our full specialist range of outdoor playground equipment for children with Special Education Needs, you can visit our website. We offer a free, expert, no-obligation consultation service, for any school or nursery wishing to develop their playground for outdoor learning, play and sport. Please Contact Us Here for further information.