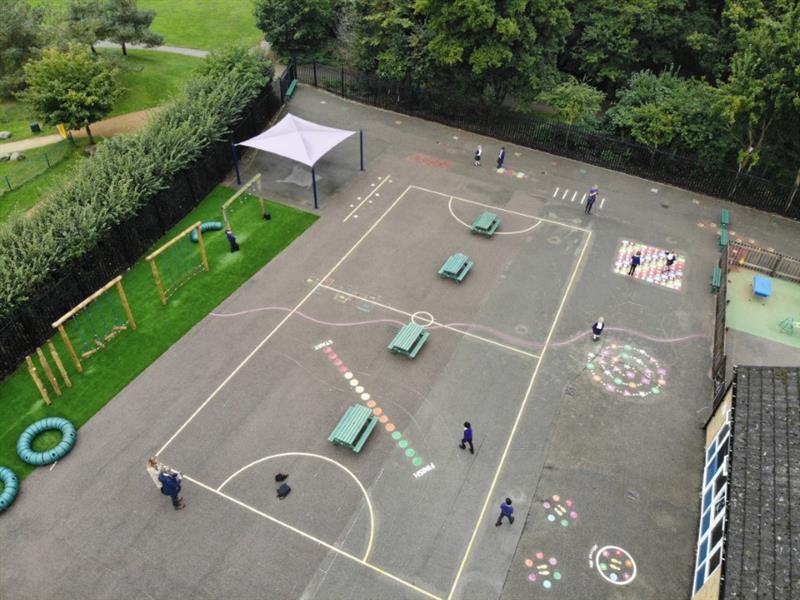 An Outstanding Playground Development For Key Stage 1
A beautiful bespoke Outdoor Classroom and a Trim Trail, complete with all-weather Artificial Grass surface, have completely transformed the Year 2 playground at Bedgrove Infant School in Aylesbury.
Our Outdoor Learning Consultant Sam Flatman, worked with headteacher Julie Lawrence, at the Buckinghamshire infant school to create this super new space for their 6 and 7 year old pupils.
A sheltered space that can accommodate up to 60 pupils
We're proud to have created a unique Outdoor Classroom, tailored to suit the school's exact requirements. It's a stunning, spacious, open-fronted timber canopy structure, designed to accommodate up to 60 children.
In the current climate it's able to support a whole class pod for outdoor learning, offering the Year 2 pupils and staff the opportunity to spend much more of the day outside in the fresh air.
A polycarbonate roof and shatterproof windows at both of the side ends keep everyone dry inside and block the strong UV rays in the summer. They allow natural light to flood the entire space all year round and create a fabulous platform for observing the effects of the changing seasons.
Full cladding at the rear of the outdoor classroom can be used for pinning resources and displays, to aid in the children's learning and development.
We've embedded a series of fun, coloured porthole windows within the rear cladding - perfect for peeping through! They add to the overall sensory experience within the classroom as the light changes and colourful patterns reflect onto the decked flooring.
The children step up into their outdoor classroom to find integrated perch benches all the way around the internal perimeter. There's so much space for everyone to spread out and sit comfortably ready for learning.
We added some small moveable artificial grass topped seats and a set of Drum Seats for flexible use and to spark the children's creativity.
Exciting new ways to exercise in the playground
On the main Year 2 playground we've created a Trim Trail - an active space that promotes physical development and exciting new ways to exercise. The trail consists of:
A Net Traverse
A Swinging Log Traverse
A Trapeze Swing Traverse with Step Up Logs, and
A Set of Climbing Poles
Each of these items offer different physical challenges for the children, helping them to strengthen and develop their gross and fine motor skills, balance and core stability as well as enjoying some good aerobic exercise.
We installed our Playturf Artificial Grass throughout the area, so that it stays clean and mud-free and can be used all year round - it makes the area a safe space to run, climb and play with less risk of injury from falls.
A vibrant play surface for imaginative games
And finally, what seems like a very simple change has totally transformed the way the Year 2 pupils at Bedgrove Infant School use their existing open playground space.
A series of our innovative Thermoplastic Line Markings, which we installed directly onto the existing playground surface, have really brightened up the area and brought it to life. We added:
A Hopscotch
A Mirror Me game
A 1-100 Multi Colored Number Grid
A Fun Fitness Trail Outline
A Football Pitch Outline
An Alphabet Spiral, and
A set of Target Lines
Each of these colourful and robust markings encourage children to use their imaginations as they play and inspire some great physical and problem-solving based games.
They're ideal for supporting literacy and numeracy learning on the go and they prompt important social interactions that teach children how to communicate with one another, taking turns and sharing ideas.
Children and parents alike at Bedgrove Infant School are delighted with the new space and the opportunities for outdoor learning that it brings to them. It's a pleasure to see the children enjoying their time outdoors and making the most of all the space they have to move around!
Would you like to improve your outdoor play and learning facilities at your school? If you're looking to make better use of your outdoor environment, we can help you.
We have developed new ways to conduct playground consultations safely in these difficult times. Please do Contact Us Here for more information.
If you would like to view more examples of our playground projects in Buckinghamshire, visit our Buckinghamshire page here.