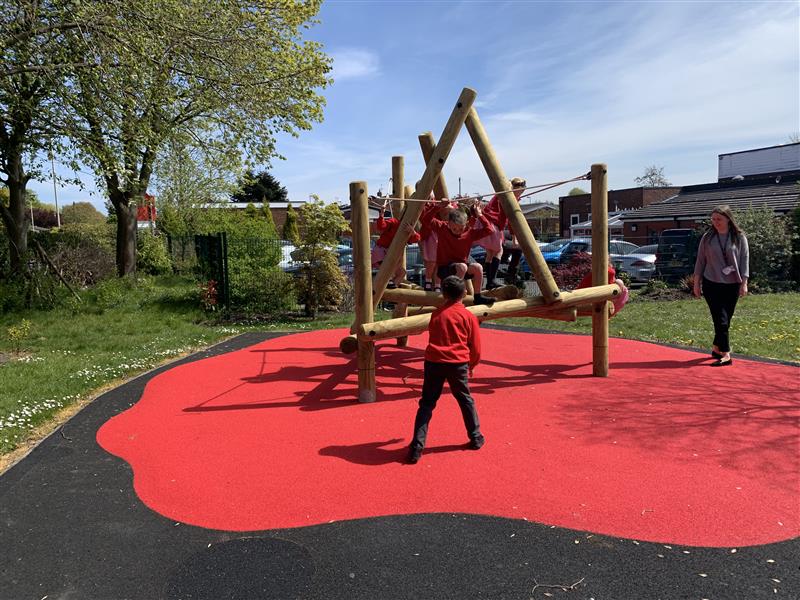 A Blank Canvas Transformed into an Invigorating Active Play Environment
Blanford Mere Primary School's playground dream has been transformed into a reality. With two blank canvases, the Dudley-based school wanted to create a purposeful active play environment that would suit all ages and abilities.
Our health and fitness enthusiast playground consultant, Tom Hollingworth, was delighted to work alongside the school to bring their vision to life.
Integrating Active and Imaginative Play
Games
The first canvas was a section of their school field. They wanted a space where children were inspired to participate in new and creative imaginative play games, whilst improving all those key physical skills.
We replaced a large section of the grass with a dedicated area for swinging, climbing and balancing through the installation of a Log and Net Climber on one end and a Harter Fell Climber on the other.
Underneath the Harter Fell Climber, we surfaced the area with our bright red Wetpour surfacing surrounded by black surfacing to make the zone truly stand out. The children love 'swimming' to the climbing frame, reaching the top and 'diving' back into the water below.
On the other end, underneath the Harter Fell Climber, we surfaced the space with bright red Wetpour to further inspire creative games. The most popular playtime game is, of course, the floor is lava! Who can jump the furthest to miss the lava?
A Play Tower for Little Kings and Queens
Blanford Mere's very own castle has become an immense focal point for imaginative play games!
Little kings and queens can scale the playground tower through multiple entry and exit points as they build up their gross and fine motor skills, upper and lower body strength and climbing confidence through play.
Once up onto the Kenilworth Play Tower, the kings and queens can take their games to the next level as they look out to the playground and participate in collaborative creative games.
If they spot the knights coming, the children can quickly exit the tower down the slide!
We surfaced the space with our green Wetpour surfacing to create a soft landing from the slide and ensure the new space can be used throughout all weathers.
Blanford Mere's new active play environments provides plenty of physical play opportunities for the children to develop and improve all of their key physical skills whilst participating in exciting creative games.
Could your playground do with a refresh? Explore all of our invigorating active playground equipment here. To begin your playground project with Pentagon Play, Contact Us Here.