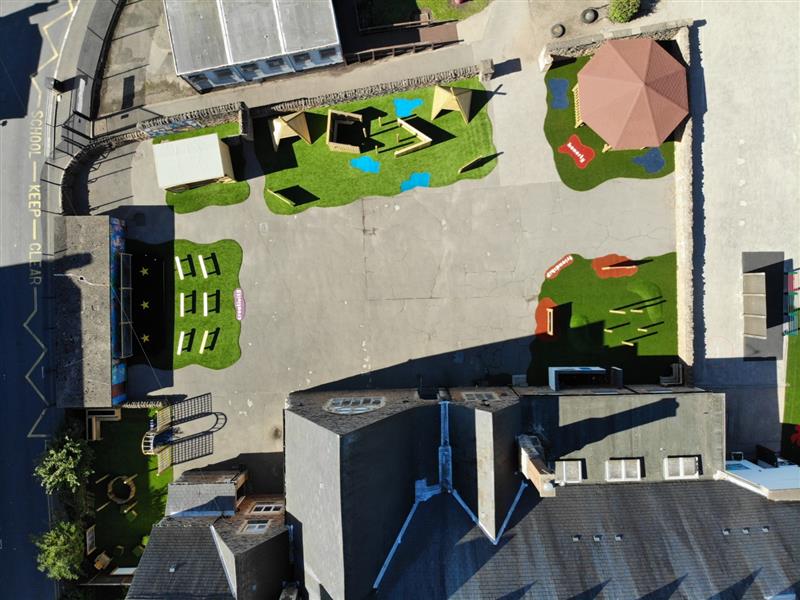 A Huge Playground Development Promoting The Curriculum
The head teacher at Bulwell St Mary's Primary and Nursery School in Nottingham, Daniel Farthing, and the School Council had some clear priorities in mind when it came to planning the redevelopment of their school playground.
Our Playground Consultant, Daniel Young, met with them to discuss their exciting ideas and views.
They wanted us to design an outdoor space that would create well defined zones within the playground, taking care to ensure that the zones not only provided some brilliant play opportunities, but also challenged the children physically, mentally and across all the EYFS, KS1 and KS2 areas of learning.
Following the meeting, we prepared a playground design to present to the school to reflect their visions for the space.
This resulted in the creation of three fantastic zoned areas, effectively redeveloping the school's upper and lower playgrounds and creating a beautiful all-weather Sensory Garden and Nature Area off the lower playground.
KS2 Playground Developments
In the KS2 playground, we created zoned areas specifically for children's fitness and physical development, also encouraging group activities leading to social development, improved teamwork and communication.
Fitness and Development Zone
During the consultation, some of the children's ideas and requests were put forward for consideration.
Something that they really wanted was more space for ball games and sports in addition to their MUGA, to cater for the large number of children that enjoy participating in these types of activities.
We therefore created an open-ended Fitness and Physical Development Zone for them.
This fantastic new Fitness Zone is surfaced with our all-weather Playturf Deluxe Artificial Grass, which is safe and hard wearing, so it can be well used as a team sports pitch year-round.
Two brightly coloured Target Panels at either end transform the space into a mini football pitch, a cricket field or an aim and throw area to suit whatever the children want to do!
These panels are brilliant for teaching hand-eye and foot-eye coordination, reaction and alertness, improving overall physical skills and general fitness.
Two of our Four-Way Ball Shoots at one end of the Sports Zone compliment this provision perfectly.
We wrapped a blue Saferturf running track around the edge of the Sports Zone - great for their daily mile and keeping children moving!
The entire zone is a wonderful facility for outdoor games and PE lessons as it covers multiple sports and really helps to improve the schools PE Curriculum.
At playtimes, it's a welcoming and sociable area and the children are really enjoying gathering together, having fun trying out new activities, challenging each other and building some great friendships.
The Framlingham Play Tower
Our Framlingham Modular Play Tower is a giant of a Climbing Frame and a sight to behold. It's going down a treat with the children at Bulwell St Mary's!
Incorporating multiple physical challenges ideal for KS1 and KS2 children, it's made up of a series of climbing and balancing challenges, including a large climbing wall, net and rope traverses, balance beam, tunnel and trapeze swing, decks, ramps, slides - you name it!
The tower covers all areas of physical development: fine motor skills through grab and grasp actions and gross motor skills through navigating all the different physical challenges on offer.
It's not only great for physical activities. The children have been using it for role play and den making activities too, supporting social development and demonstrating wonderful behaviour at playtimes. It's a really happy place, which is so great to see.
Next to the tower, is an Outdoor Gym Equipment area to promote a healthy lifestyle and boost both physical and mental well-being.
The KS2 playground at Bulwell St Mary's is now a truly excellent, multi-faceted outdoor playground. We even included a Large Steel Storage Unit, so there is plenty of space to conveniently store and keep safe all their toys and equipment.
View our full range of Active Play and Sport Products. Alternatively, take a look at our selection Key Stage 2 Playground Equipment.
KS1 Playground Developments
Outdoor Classroom
For the KS1 playground, we designed a number of different zones, with physical play areas leading to more sociable spaces with plenty of educational benefits.
We installed a beautiful, bespoke, timber Outdoor Classroom that seats up to 50 children. We fitted it with work stations and a large chalkboard to provide an informal, functional outdoor classroom.
Performance and Expressive Arts Zones
A Performance Stage was something that the pupils had highlighted as a must-have, so we designed and installed a huge stage with chalkboard backs and a seating area especially for them!
It's a superb resource for developing language and literacy, to enjoy physical activity and self-expression through music and dance and for building self-confidence.
There is enough space for a whole class to enjoy it at once, and it's already staged some wonderful, creative and imaginative performances!
Imagination Zone
In keeping with the theme of capturing the children's creativity and imagination, we created an area next to the Performance Stage that includes our fabulous Imagination Station and two Wigwams.
Flexible and adaptable, this zone really lends itself to role play and den making as well as providing small and comfortable sociable areas.
Both products are popular in schools to use as cosy outdoor reading spaces too: they are brilliant for encouraging children to voluntarily read and enjoy books in an informal environment with the added benefit of the fresh air.
Friendship Zone
We extended the existing Buddy Bench area within the playground, adding some sensory Playground Mounds for the children to use as relaxed and informal seating on the ground.
They can also climb up and roll down them if they wish to!
We included some flexible timber Den Making Posts, which are great for throwing a sail over to create a relaxing sensory area and providing shade in sunny weather.
Take a look at our full variety of exciting Key Stage 1 Playground Equipment or check out our Outdoor Classrooms and Imaginative and Creative products.
Sensory Garden and Natural Play Area
In a hidden end of the KS1 playground, we have transformed a previously unusable space into a gorgeous all-weather garden and nature area.
Enter through a secret Trellis Screen entrance and discover small world opportunities abound in the EYFS den making area with Den Posts!
Our Deluxe Playturf surfacing ensures that the ground stays mud-free and a pleasure to use all throughout the year.
It boasts a Corner Planter Bench, which the children can fill and learn how to care for their favourite sensory plants and flowers.
The children are looking forward to investigating all sorts of minibeasts as the year goes by and learning about the effects of the changing seasons.
We have put our favourite wooden Storytelling Chair in the sensory garden along with some Moveable Artificial Grass-Topped Seats, so there is plenty of comfortable space for everyone to sit out and enjoy a story surrounded by the inspiring and engaging sights and sounds of nature.
It's a low-maintenance outdoor space through and through thanks to great surfacing and sturdy equipment.
So now all that's left to do for the staff and pupils at Bulwell St Mary's is to enjoy it - and we know they will for many years to come!
Our Playground Consultants thrive off knowing they are improving the playtimes of children and helping children learn through play across England and Wales. For free, expert advice from one of our expert Playground Consultants, Contact Us to arrange a free consultation and site visit.