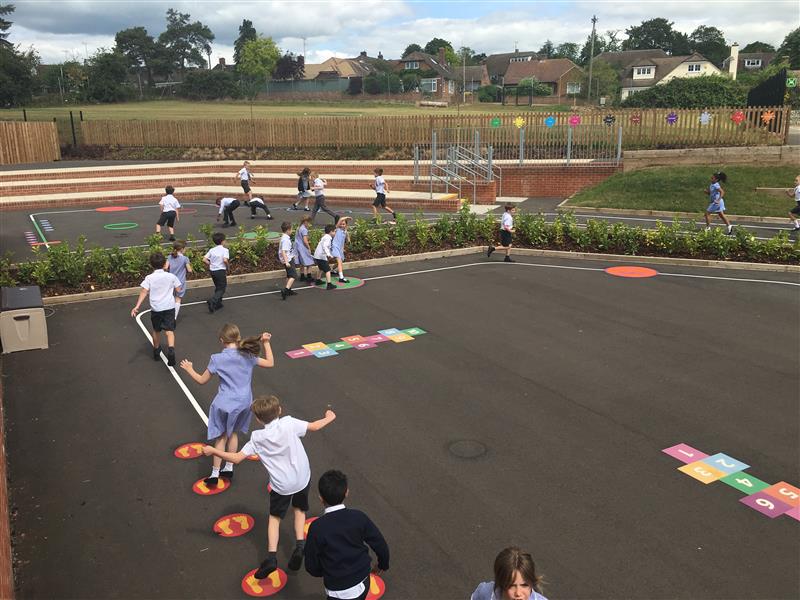 Promoting Daily Exercise With Daily Mile Tracks
The Academy's Director of Sport, Phil Dawes, contacted us to help kick start the Daily Mile initiative in each of the five primary schools within the trust.
Working closely with Phil, our playground consultant, Luke Banner, helped design a daily mile track for each school. He designed them so that they would be more than just a 'Mile a Day' track, but also an active play resource for playtimes, lunchtimes and lessons, too!
Luke designed an individual track for each school, based on their needs and space size, after speaking and understanding what the senior leadership members at each school wanted their children to gain from the new tracks.
Daily Mile Tracks
Each of the five schools; Cooks Spinney Primary Academy, Freshwaters Primary Academy, Little Pardon Primary Academy, Magna Carta Primary Academy and Roydon Primary Academy, all located in Essex, had a range of different Daily Mile Tracks installed.
Created out of Thermoplastic Playground Markings, Luke was able to design the tracks to include a range of different challenges, which also provided an exciting, active playtime activity.
Activity trails at Magna Carta Primary Academy encourage the children to perform quick actions, such as squats, star jumps and skipping during their mile a day.
Magna Carta wanted to extend their new track further to create a more exciting, unique trail for the school. The other schools have opted to focus on improving the children's endurance while running, therefore have clear running boundaries.
There are so many benefits that the daily mile brings to school children across the UK, which is why this was a fantastic project to work on with the academy trust.
By running a mile a day, children's fitness and stamina levels are increased. Therefore, the childhood obesity rate decreases and they become less sedentary.
As the children run and participate in the mile a day, their key physical skills are developed as they learn to lead a healthy lifestyle. Along with the physical benefits, children's mental health, confidence and self-esteem are improved through participation in this healthy activity.
Teachers have even reported that their children look forward to being outside, competing with one another during the mile and generally enjoying being outside in the fresh air!
Phil Dawes was more than happy with our service while undertaking this project. He even left us these lovely comments:
"When looking for a company to install Mile A Day tracks at the 5 primary schools in our Trust, Pentagon Play provided the quickest and warmest response. The staff were very thorough, answering queries very promptly and keeping the project moving initially. Luke continued this excellent service by swiftly making contact to organise visits around the schools.
When I met him to do the visits, I found him very professional when dealing with the staff at the various schools to find out their individual needs, offering sound advice when required.
Once this was done, he made the installation process very easy for me by doing what he could at his end. During the installations, he kept me updated and once they were completed, was in touch afterwards to check the schools were happy with the results.
The tracks are now being used on a daily basis and all 5 schools seem very happy with the results; not only how the tracks look on their playgrounds but the impact they are having on the children in terms of their activity levels as well as the knock on effects such as settling children in class and breaking up periods of inactivity.
Luke has since returned to the schools to check on the state of the tracks and advise on their aftercare to ensure the longevity of their use.
We are very pleased we've had the tracks installed at all our Primary schools and also that we chose Pentagon Play to provide the service."
If you want to improve your children's overall health and fitness by kick-starting your school's mile a day, please feel free to Contact Us Here for a free, no obligation quotation – we have a huge range of Daily Mile Tracks to enhance your children's fitness.