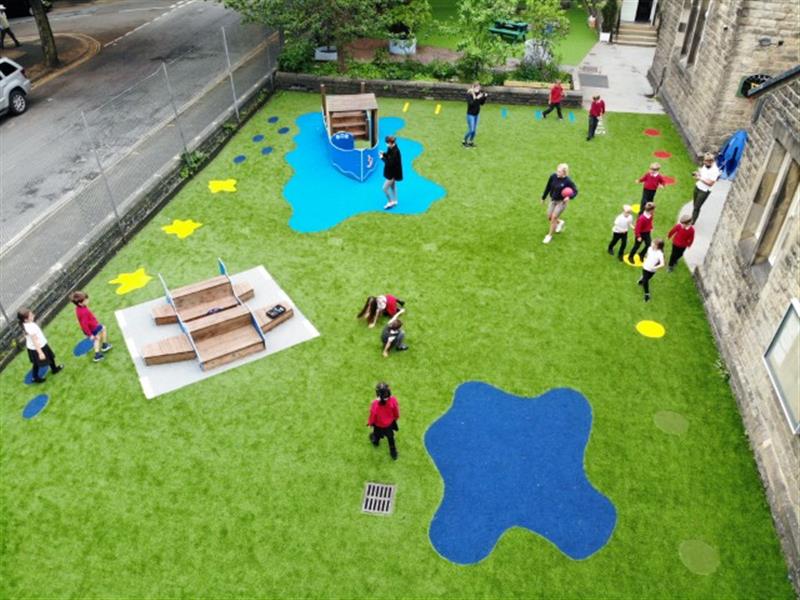 A Bespoke Daily Mile Track and Playground Surfacing Design for Budding Athletes
Pentagon's range of playground surfacing options have the ability to completely transform any space. The children at Buxton Infant school can now spend more time outdoors, racing around their new track in the fresh air.
The grey, concrete playground is unrecognisable thanks to the installation of our artificial grass over the existing surface. Pupils have commented that the space is now bright, appealing and most importantly so soft!
Children feel safe and free to explore, take risks and challenge themselves.
A bespoke track that can be used by all
The beginning of the track is indicated with a START sign.
Learners are then given the freedom to complete the course however they choose.
There are coloured hurdles and circle spots that can be used for jumping on or over. Yellow splashes and smaller spots allow children freedom to creatively devise their own physical and imaginative games.
A multi-coloured hopscotch marking, within the Artificial Grass Surfacing, provides a new challenge and helps with number recognition and counting.
Pupils have been extremely creative when using the course, they have been busy side-stepping, crawling, swimming like sharks and hopping like bunnies.
There has been no stopping them!
Setting new goals
Buxton Infant school have placed a beautiful, wooden sign next to the track which reminds the children that 26 laps of their track would equate to 1 mile.
Pupils have been setting themselves daily goals and logging the number of laps they complete each day or over the course of a week.
One pupil commented that he had successfully ran half a mile so far. The course provides many opportunities for cross-curricular learning. It is proving very popular during break times and is used within P.E. lessons. Year 2 are set to use the course for an after school running club.
Our super safeturf!
To further enhance imaginative play, we were able to add some safeturf splashes around the schools existing equipment.
A large, blue splash gave the boat a place to sail and we created a bespoke, grey runway for the plane to take off from.
Another blue splash, set away from the equipment, provides children with the perfect resting spot. Our Safeturf acts as a colourful, playground carpet. It can even be used in all weathers as it is free draining.
"The whole process was smooth and easy!"
We received some amazing feedback from Helen Williams, business manager, at Buxton Infant School who commented,
"All of my requirements were understood during our initial meeting, plans were clear and the whole process was smooth and easy. Pentagon Play were able to store equipment where we needed and the installation was finished quicker than expected!

It was greatly beneficial to have a term-time installation as the children and visitors were able to see the progress of the project. The installation team arrived on time, they were neat and tidy and answered questions from both staff and children. In fact, we hardly knew they were here throughout the school day!

I would absolutely recommend Pentagon Play to other schools and I'm already thinking about where I can get some more artificial grass surfacing!"
It was lovely to see pupils at Buxton Infant school really enjoying being active in their new outdoor environment. The children were so full of enthusiasm and their smiles spread from ear to ear!
Our Playground Surfacing Solutions have the ability to revitalise any outdoor play and learning space! Contact Us Here to begin your journey with Pentagon Play. View all of our playground developments completed in the Derbyshire area on our dedicated Derbyshire Page Here.