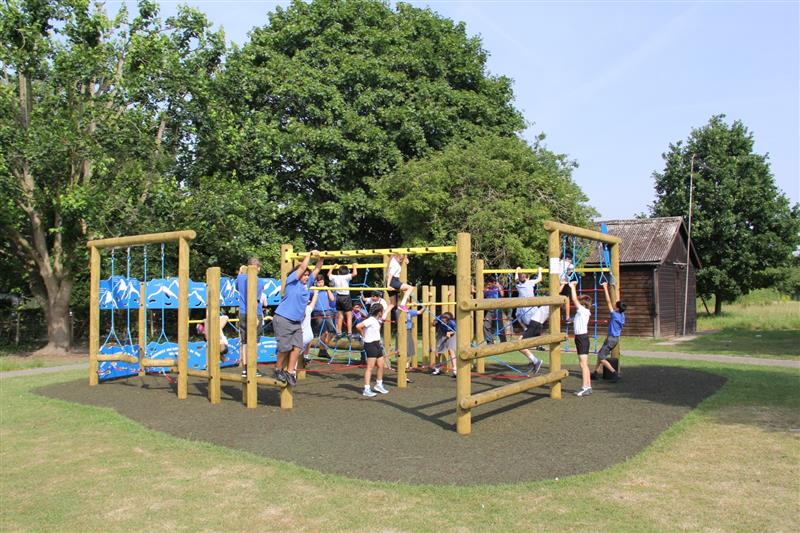 Our Apollo Challenger has been a huge hit at Cassiobury Junior School
Our Sales Director, Sam Flatman, worked in partnership with Cassiobury Junior School to create an exciting playground zone for physical development and active play.
The Headteacher, Jenny Sherry, was a returning customer who was keen to work with us again. Jenny wanted to add new active playground equipment to inspire the children to lead a healthier lifestyle.
Gary Stanley (Deputy Headteacher) said:
"We are a big school and there really isn't much for all of the children to do at break times. We have large grounds and want to encourage the children to be outside and active in all weathers. We want to go large, as it means that more of our children can play on the equipment during any one break time".
With the school requesting a large structure to accommodate bigger groups of children, we decided to install our Apollo Challenger – one of our biggest climbing frames with 16 different challenges.
Our Apollo Challenger accommodates children of mixed ages and abilities. Younger children can enjoy the items which focus on balance, hand-eye coordination and core stability, while the older and more able children can take safe risks and push themselves on the gross motor skill and upper body strength items.
The children mainly enjoy the Apollo because there are plenty of different routes to manoeuvre around the structure. This encourages role play and imaginative games as well as future proofing against boredom!
We made the area safe for risk taking with the installation of our Playbond Safety Surfacing.
Jenny Sherry (Headteacher) had this to say:
'The children clearly love it and it has certainly made break times more interesting for our children. I'm hoping that the upper body strength items will help to improve the handwriting skills of our 'reluctant writers' – As most of our readers will know, children's fine motor skills are often underdeveloped in this world of the 'iPad' and the gross motor skill activities that the Apollo provides will help to strengthen children's grab and grasp.'
"I wouldn't hesitate to recommend Sam and Pentagon Play to other schools".
We thoroughly enjoyed working with Cassiobury Junior School once again and hope the children feel inspired to improve physically, take safe risks and lead a healthier lifestyle.
Are you looking for new playground equipment to inspire active play during break and lunch time? We have a huge range of Active Play Products for you to view. Fill in our Contact Form and we will be in touch to arrange a free consultation. Alternatively, you can cal 01625 890 330 (North Office) or 0117 379 0899 (South Office).