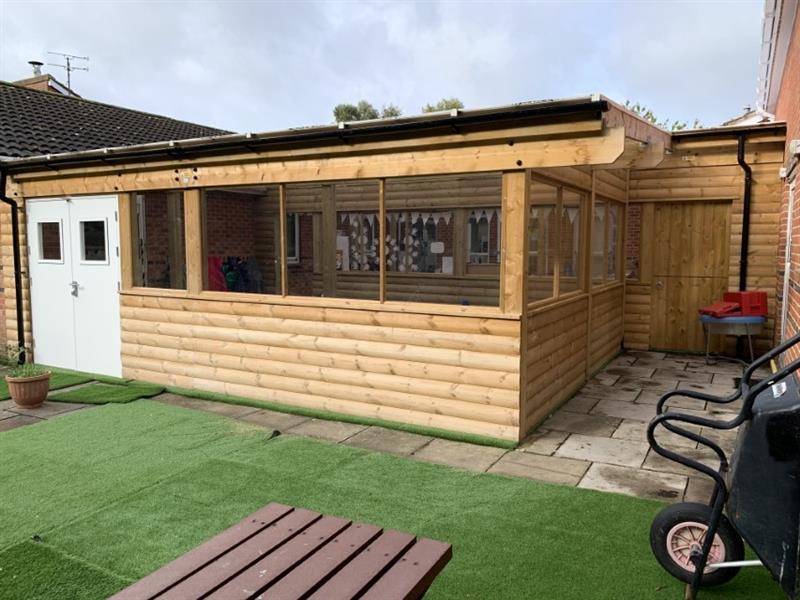 An Inspiring Active Play Area and Purposeful Outdoor Classroom
Chaddleworth St Andrew's and Shefford Primary School, located in West Berkshire, contacted us as they had a few outdoor play and learning projects that they wanted to bring to reality.
Our playground consultant, Donella Felton, worked closely with the school to gather their ideas and objectives, create an in depth, realistic playground design and transform their outdoor dreams into a reality.
Bridget Goodrich, the headteacher of Chaddleworth, wanted to provide her KS1 and KS2 children with an inspiring active play space that would ensure all key physical skills are targeted while encouraging each and every child to get active and fit. For the younger children, she wanted a purposeful, multi-use indoor-outdoor play and learning environment!
Energising Active Play Area
Chaddleworth wanted to extend the physical play opportunities presented to their children through the addition of exciting active play area that would truly inspire each and every child to participate in healthy activities during playtimes and lunchtimes.
Consequently, Donella designed an excellent space consisting of Trim Trail Equipment with a huge Tryfan Climber as a focal point in the centre of the new area.
Our log and rope Tryfan Climber is an excellent, non-prescriptive frame that provides children with an open-ended active challenge where there are no obvious ways to enter and exit: ensuring children can climb and traverse as high as they like as they build their climbing confidence and other core muscle strength.
Surrounding the open-ended Tryfan climber are other physical resources, including:
Pull Up Bars
Monkey Bars
Double sided timber climbing wall
Rocking log traverse
Climbing poles
With such a variety of outdoor active play equipment installed, we have created a truly open-ended space where children can enter and exit the equipment wherever they like. Along with this, the challenges are progressive and enable every year group to get active and keep healthy outside.
The outdoor space has been designed to target each aspect of physical development as the children swing, balance and complete each obstacle.
They also love using the space as a focal point for imaginative play games – leaping through the trees like cheeky monkeys as they swing on the ropes and balance on the logs or playing collaborative games such as try not to touch the floor or only use one hand and one leg to complete the challenge.
Safety is a top priority here at Pentagon, so we installed our excellent, impact absorbing Artificial Grass surfacing underneath the equipment to ensure that serious injuries are prevented if the children fall or slip off the equipment as they practise safe risk taking.
As well as the safety aspect, it also looks natural and enables the space to be used throughout the seasons since it allows rainwater to penetrate through the surface rather than create a muddy, mucky, slippery mess!
Extending the indoor classroom to the outdoors
Along with the energising active play area, we have also created an excellent indoor-outdoor learning environment for the children to access while sheltered from the elements.
A 9m x 10.5m Timber Canopy has been built on the school site outside of the classroom doors and includes a selection of features to meet the schools needs of creating an outdoor extension of the indoor classroom.
The features include a Fire Door, Glazed Windows and Artificial Grass Surfacing to create a comfortable play and learning space.
The new free-flow play environment has transformed a previous tarmac area into a busy area where play and learning can take place. Activities can be set up and lessons and interventions can take place in their quiet area where even snack time can happen outside of the constraints of the indoor classroom.
The busy bees feel truly free in the space and they truly enjoy sharing a story under the canopy or using the space as a quiet area to simply read and discuss everything and anything with one another.
The school are more than delighted that Donella was able to transform their outdoor play and learning ideas into a reality. Meanwhile, the children feel truly empowered by their new outdoor classroom and active play environment and love spending time in both areas as they learn through play!
If you'd like to transform your outdoor area to create an energising Active Play space or extension of your indoor classroom with a Timber Canopy, please feel free to Contact Us for expert help and advice.