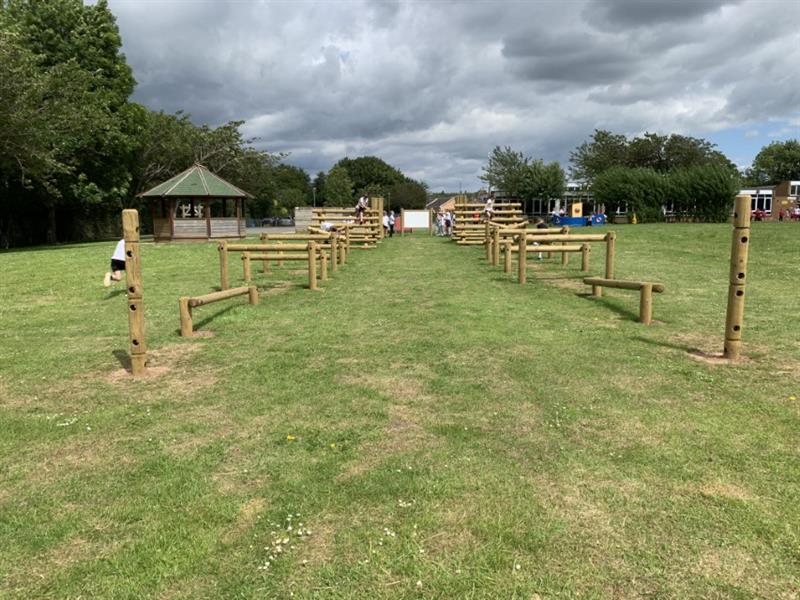 A Playground Ninja Assault Course

Our Playground Consultant, Greg Gavin, worked closely with Chaloner Primary School to create an exciting zone for physical development.
The school didn't want a simple trim trail for the children to complete; instead, they wanted to create a unique energetic area that was both challenging and provided a competitive aspect to the children's playtime.
With this in mind, Greg worked with the school to create a Ninja Assault Course brimming with fun challenges and obstacles that will test the children's physical ability, coordination and gross motor skills.
We placed 2 obstacle courses side by side to encourage the children to compete with each other while racing through each challenge. Featuring a Giant Whiteboard at the beginning of the trail, children can create their own leader boards and keep track of scores and times when competing the course.
This Nina Assault Course includes the following obstacles:
Inclined Balance Beam
Log Weaver
Twist Net Bridge
Over and Under Hurdles
Log Climber
Giant Whiteboard
Den Making Post with Holes
With such a huge selection of obstacles, children will be encouraged to balance, jump, run and climb at multiple intervals throughout the course.
The assault course will naturally turn into a team challenge and while it's main aim is to develop children's key physical skills, it will also help develop communication, language, turn taking and good sportsmanship.
The children have been fully enjoying the new assault course and it has definitely provided an exciting activity for the children to participate in during play time.
If you would like your very own Ninja Assault Course at your school, please feel free to Contact Us Here for a free playground consultation. To give you a better idea of the obstacle we provide, you can view our range of Trim Trail equipment.