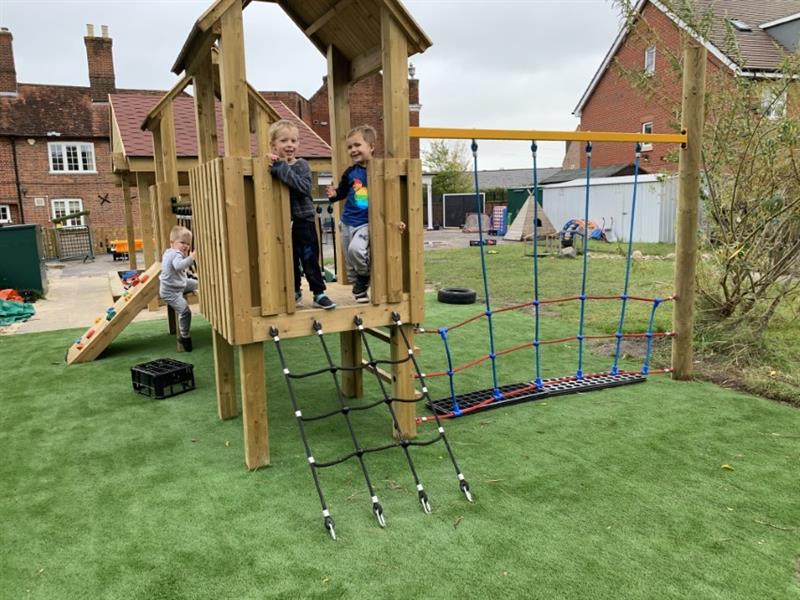 A Fun-Filled Outdoor Area That Develops Essential Life Skills for 2-5 Year Olds
Anita Cheeseman is the new head of school at Chertsey Nursery School in Surrey - and she brings with her a new legacy in the form of a fabulous new outdoor area for the children to play, learn and develop essential life skills…..
Donella Felton, one of our expert playground consultants, designed a fun-filled new outdoor area for 2-5 year olds at Chertsey Nursery School in Surrey, featuring a roadway, a huge sand pit and a fairytale play tower.
The nursery school was founded during the Second World War and has long been at the heart of family life in Chertsey.
This new playground, which provides the children with a beautiful garden space to make friends and socialise, brings a new dimension to the ways in which Chertsey Nursery School can continue to play its hugely important role within the community.
A 'Real World' Roadway For 2-3 Year Olds
We began with the creation of an exciting 'real world' bespoke Roadway area for the younger children to travel around on their bikes and trikes.
To do this, we laid our smooth and spongy, impact-absorbing Black Wetpour Surfacing to create the perfect base for the children to race around safely, without risk of injury from falls as they develop their co-ordination.
We set Inlaid Yellow Roadway Markings into this, which include Zebra Crossings, 20 mph speed signs, and a Stop Sign along with Parking Bays numbered 1-5.
Not just for physical activity, this is a great space for the Chertsey children to enjoy role-play games, experimenting with social interactions, conversation and language development.
In the centre of the roadway, we laid our beautifully soft, textured Playturf Artificial Grass for bringing vibrant colour to the space as well as an option for comfortable, floor-based activities at all times of year.
A Space for Sand-Based Experiments For 3-5 Year Olds
Next to the roadway, we installed a large Sandpit with a Roof and Sliding Lid for all the younger children to enjoy digging and playing together.
The lid cleverly doubles-up as a mini performance stage, so the children can have all sorts of fun with it in different ways!
Before we could install the brand new Sand Area, we removed and disposed of the two old sandpits, the paving slabs, and all the old bushes, box hedging and raised planters.
Anita wanted the children to have a large, shaded sand area to explore, where they would be able to dig and enjoy sensory play as well as learning some important Early Years mathematical skills.
To achieve this, we designed a bespoke sand pit for Chertsey, which we built with sleeper edges and a paved surround.
We built an attractive gable-end timber canopy roof, which we installed on posts to create shade and shelter for the children as they play.
It's become a real focal-point for the children: a place where they love to socialise and enjoy sand-based experiments together. There is plenty of room for everyone to join in!
A Play Tower That Provides Early Physical Play Opportunities
We removed and disposed of the old play frame and replaced it with our all-singing Tintagel Modular Play Tower.
It includes two roof towers with a fun suspension bridge for the children to cross between.
The climbing net and net traverse are great for building the children's climbing confidence and helping to improve their fine motor skills through grab, grasp and pull actions.
We surrounded the area with our Playturf Artificial Grass with baseworks to create a safe, level, all-weather play space under and around the play tower.
The children at Chertsey love whooshing down the tower slide and thanks to the soft artificial grass, there is always a cushioned, clean landing waiting for them!
"You gave us the best service in respect of what we wanted…"
We asked Anita how she found the overall experience of working with Pentagon as it's important for us to know where we are getting things right and where we can improve our service for schools, particularly in these difficult times. Here's what she had to say:
"You gave us the best service in respect of what we wanted and how we were going to get it installed. You provided great customer service. You were always keeping us posted, especially during the Covid-19 closures, about how we were going to get it installed. The teams that came out and installed were excellent and we couldn't have asked them to do anything more.
The new playground is really developing the children's gross motor skills. It is just looking fantastic and all of the parents are very jealous that they haven't been able to come and use it! We've had lots of good, positive feedback on our social media page as we were monitoring how things were developing over time. Our 2 year old area has just transformed their outside space because they now have a purposeful space of their own."
Are your nursery pupils in need of a new outdoor educational adventure? We can help! Have a look at our full range of outdoor play equipment for nursery. Please do Contact Us to arrange a free consultation with one of our education experts.
We're working across the UK to design and install thousands of wonderful outdoor play and learning projects each year. View our dedicated Surrey Page to see all of the fantastic playground developments we've completed in Surrey.