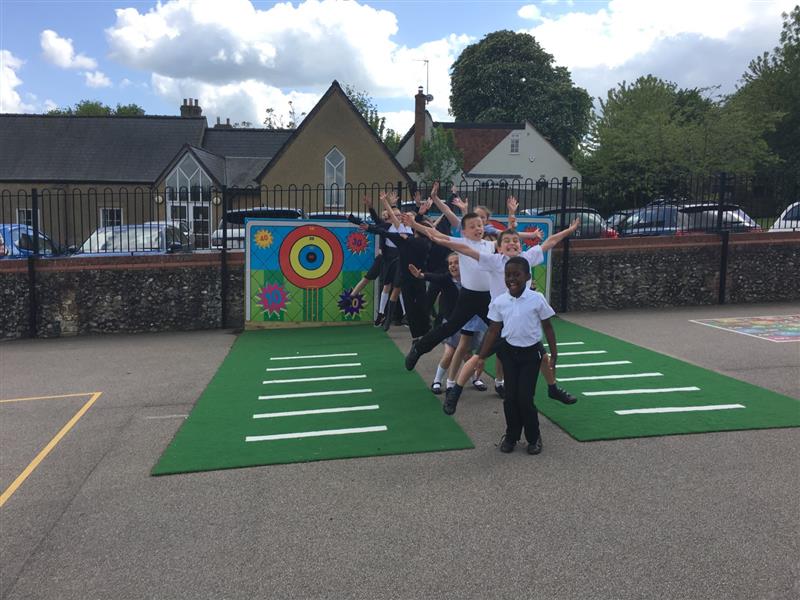 An Amazing Range Of Early Years Playground Equipment
We recently finalised an outdoor, early years playground renovation for Cheveley C of E Primary School in Cambridgeshire.
Pentagon Play consultant, Marion McCall, liaised with Headteacher; Diane Kingdon.
The requirements were specific, they sought an 'outdoor classroom' look for the early years play area at Cheveley C of E Primary School.
It was decided that the addition of more imaginative play and an outdoor seating area would support this vision.
With a shining commendation for their early years provision (most recent Ofsted report 2018), we had our work cut out.
"I found that early years provision has been developed significantly over this academic year and meets the needs of children well. There is a rich and stimulating curriculum, both indoors and outdoors. This supports good learning for boys and girls." – Ofsted 2018
Pentagon were required to plan and install an outdoor play area which further complimented Cheveley C of E primary school's vision; '…to offer an environment where all children are excited by learning…'
Imaginative and Creative Playground Equipment
The Mini Mud Kitchen
Setting up a mini mud kitchen at Cheveley C of E primary school was a complete no- brainer.
This popular piece of kit for early years playgrounds is integral for physical, social and emotional development (PSED).
Whilst using the mud kitchen children can use their imagination to take on various roles such as; the chef, being like Mummy or Daddy. It also encourages turn-taking and sensory play.
Small Playhouse with Playturf Artificial Grass Flooring
The Playhouse provides a mini shelter for children and the perfect supplement for imaginative play.
It can be utilised as a shop, car garage, fire station and with the addition of a chalkboard it can be operated as a shop counter.
This is beneficial for social interaction with other children and to act out their understanding of the world around them. The playturf provides a softened surface for children to sit on.
Story Telling Area with Mark Making Boards
To help progress the children's reading, writing and literacy skills, we created a brilliant Story Telling Area. Children can take turns reading stories from the Story Telling Chair while others express their creativity on the Mark Making Boards.
The aesthetically pleasing and colourful Mushroom Seats provide children with comfortable and imaginative seating while listening to their favourite stories.
You can now view our range of Imaginative and Creative Playground Equipment.
Playground Seating For Communication and PSED
Gametop Picnic Tables
We fitted 6 picnic tables at Cheveley C of E primary school with the following Gametops;
Connect 4 and Ludo
Composter and Veggies Top
Chess and Draughts
Football
Maze and Snakes
Playtown
Children can participate in entertaining and engaging seated play during their lunchbreaks.
These Gametop tables are great for developing PSED and children's general knowledge of worldly concepts.
Small Moveable Artificial Grass-Topped Seats
These cushioned, portable seats, with grassy textures, has many sensory benefits, they are soft and replicate sitting on grass, but then again, the elevation means that they can be used with a table.
View our huge range of playground seating options today
We love positive reactions from our customers and have listed some of the wonderful feedback Pentagon Play received after completing this playground project at Cheveley C of E primary school.
Since the installation the children at Cheveley C of E primary school are;
Engaged and excited
Behaviour has improved
Year 6 young leaders have helped set up the games tables and making packs for their children to use,
Teachers love it!
For more information on how we could convert your school's outdoor play area Contact Us through the website and we will be in touch to arrange a free consultation.
You can view our full range of outstanding early years outdoor play equipment for primary schools and nurseries by clicking.