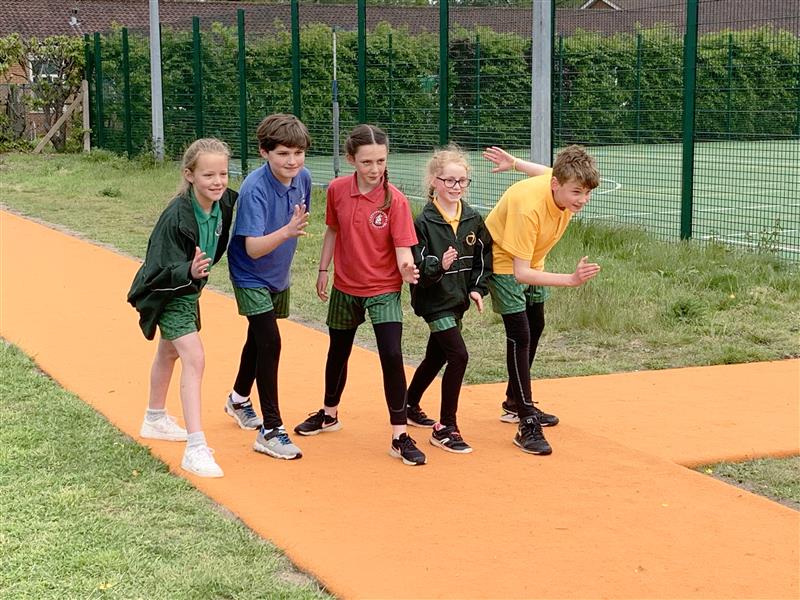 Going The Extra Mile To Create a Healthy Lifestyle
Connaught Junior School were inspired to add a Safe Turf Daily Mile Track onto their school field to help increase the children's involvement in sport during playtime.
As a school who embrace the ethos of keeping children active, they needed a Daily Mile Track that had space for multiple children to run alongside one another, Siobhan McGann commented…
"I have spoken to the children about the track and they absolutely love it, they find that there is a lot of room to be able to run side by side"
Our playground consultant, Donella Felton enjoyed returning to this school to complete another project for their outside area.
To transform the school's field, we added our Daily Mile Track to create a vibrant, energetic area for the children to partake in different physical activities.
We added a path that leads off the daily mile track and onto the sports courts, this helps to keep the surface clean and mud-free! However, it also acts as a starting point so the children can clearly know when they have completed a lap of the track.
How does it benefit the children and the school?
Our Daily Mile Track has had a beneficial impact on the school, as it has encouraged more children to run, job and walk, especially on their breaks and during P.E lessons.
Connaught Junior School felt like they needed a big lift following the past year of home-learning and we felt an orange colour would stand out and entice the children to use the new area.
The school left the middle of the track empty, which has created many more opportunities for the school to hold events and other competitive sporting activities.
Feedback from the school
Siobhan McGann gave us some incredible feedback about her time working with Pentagon Play and how it has created a positive impact on the school.
"I particularly like that it is exactly what I asked for, so sometimes I go upstairs and take photos because of how nice it is! And I love that you can see it from upstairs. I also like the path that leads from the sports courts onto the daily mile track"
"There is still lots of room for everything and we will be holding the year 6 ceremony in the middle of it"
Would you like to uplift your schools' field, to create more opportunities for your children to improve their physical fitness and mental wellbeing too? Take a look at our Daily Mile Track Page to gain more knowledge on this product.
To arrange a free consultation with one of our expert outdoor learning consultants, please fill out Online Contact Us Form and we will get in touch to start your schools Journey.
To view more examples of our wonderful playground projects we have completed in Surrey, visit our Surrey Project Page.