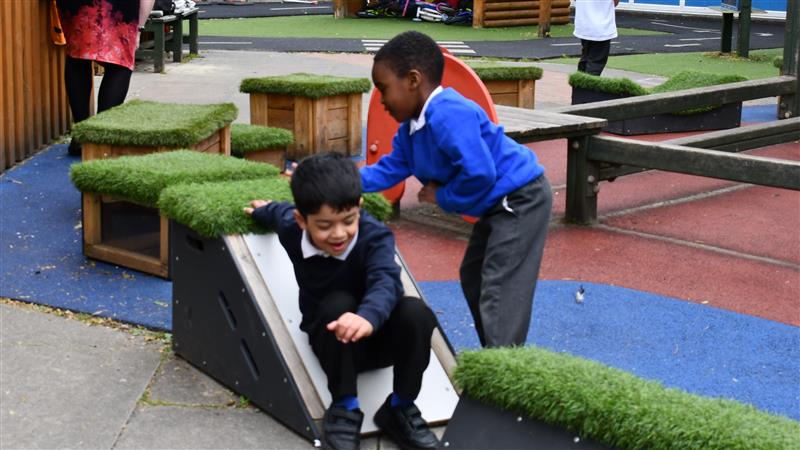 The Customer
Crowcroft primary School in Manchester pride themselves on providing a happy environment for their pupils to take on new challenges and learnings daily with great enthusiasm.
They believe in creating an environment where pupils will be able to forge a solid educational foundation for their future and providing a learning through play space that supports that is extremely important to them.
---
Their Objectives
Crowcroft Primary School initially contacted Pentagon Play looking for active play solutions to replace some worn equipment in their primary school playground.
Looking for something to stimulate their children's gross motor skills and motivate them to instil physical activity in their daily life, active play was the key focus of this project.
"We were aware that, following COVID, gross motor skills and fine motor skills were something that we needed to focus in on, particularly when they were starting school."- Alison Mottram, Assistant Headteacher at Crowcroft Primary.
---
Their Approach
Crowcroft Primary School ultimately found what they were looking for on our Online Shop.
"We were not in the position to refurbish the entire outdoor space, but we wanted to enhance it and we wanted something that we could put in place swiftly to have an immediate impact."- Juliet Francis, Headteacher.
In March 2022, they purchased a set of our Get Set, Go! Blocks- The Mendips, and then almost 6 months later, they bought another set of the Get Set, Go! Blocks, but this time, The Cheviot Set.
Our Get Set, Go! Blocks are designed to provide a safe, low-level space for beginner climbers to build their confidence with risk-taking and explore their gross motor skills in the initial stages in a comfortable space.
"We wanted to really think about developing those gross motor skills but at levels that were safe, and that would encourage children of all abilities to take part in."- Ali Mottram, Assistant Headteacher at Crowcroft Primary School.
These blocks, not only, support gross motor skills, but fine motor skills too as they come with in-built mark-making panels that pupils can use to draw and write on with chalk!
The blocks are also majorly aesthetically pleasing, made of solid timber, with a luscious green artificial Playturf top.
However, that isn't all that Crowcroft purchased from Pentagon.
They also bought themselves 2 Moveable Artificial Grass-Topped Seats Packages, adding new seating to their outdoor area for 14 more pupils.
These comfy seats are the perfect outdoor seating solution for all weathers, and they fit with the natural theme of any playground!
---
The Results
Well, hear what they had to say!
"The products themselves are extremely high-quality, they're very durable, they do not become slippery in the rain so they're accessible at all times to the children."- Alison Mottram
"The equipment gave us a variety of movement, there are steps, there are opportunities to slide, the equipment's all movable so we can choose the positions of the equipment."- Alison Mottram
---
Their Recommendation
"I would recommend them to any school, mainly because of the opportunities that they're giving, there are opportunities to jump, crawl, climb, positional language, we do a lot of maths work with them outside!"- Alison Mottram
"Yes, it's easy to use, and the quality of the products is good. It's very useful that you can get that immediate price."- Juliet Francis, Headteacher
Would you like to improve your outdoor area just like Crowfcroft Primary School? Take a look at all of our freely movable playground equipment here!