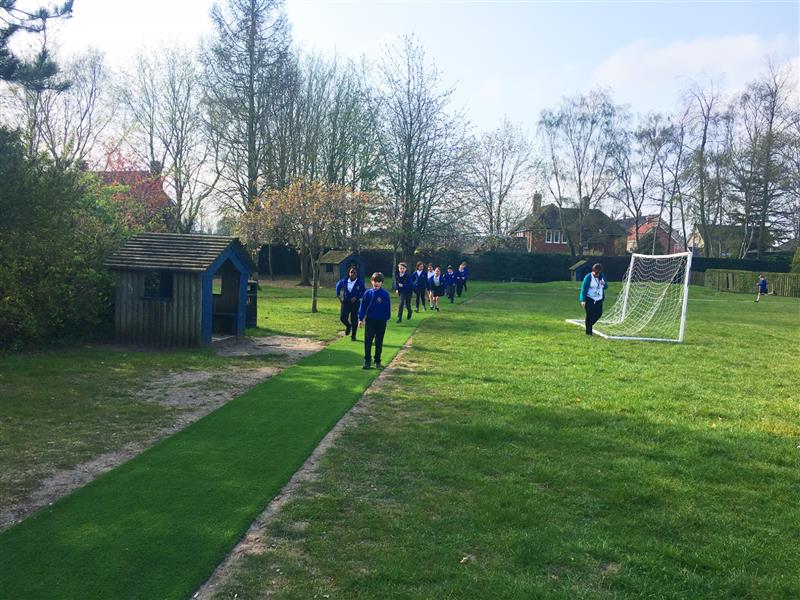 Every day is an active one for the children of St Mary's Church of England Academy!
There is no stopping the children at St Mary's Academy in Bury St Edmunds as they run, walk, hop and skip around their new Daily Mile Track.
Our expert playground consultant, Marion Rolph, met with school sports coach Dale Farnham to plan a track that would promote regular physical activity.
Preparing the space
We excavated the area where the track would go and prepared the base by installing a stone and sand layer. Weed suppressant membrane was used to create a low maintenance space.
Our Artificial Grass Daily Mile was fitted which is extremely durable but maintains a realistic appearance and texture. Pupils will feel safe using their track in all weathers as it won't become waterlogged, will remain clean and the children won't slip.
The track weaves through the beautiful, green surroundings at St Mary's and the children have enjoyed using it for 15 minutes each morning. A dedicated track can motivate children and gives them a clear focus.
When used regularly children's cardiovascular fitness is improved and pupils lead a healthier lifestyle through daily exercise.
A track for all seasons
One of the many benefits of a daily mile track is that it can be used at any time of the day in all seasons. The children just need to change their shoes, possibly grab their coat and off they go!
If a teacher feels that the children have been sedentary for a sustained period or that the next lesson is challenging and requires deep concentration, the use of a daily mile track is beneficial before returning to class.
Every child will be able to use and enjoy the track as they set their own time limits and goals.
Classes and individuals can create their own targets such as changing the number of laps and pace.
Younger children may not complete the full course but will enjoy running to bean bags, hoops and balls whereas more advanced runners could jump hurdles or set competitions against their peers.
If children are feeling anxious or stressed, worrying about a test or a performance, the use of a daily mile track can relieve this as it is a fun, friendly, social activity.
Bringing the school community together
The whole school community at St Mary's have enjoyed being outdoors in the fresh air each day. Staff have noticed how children support and motivate their friends and relationships have been strengthened.
The children have felt re-energised, focussed and alert in their lessons. Increased confidence and resilience have been shown even by the youngest learners.
Dale Farnham, Sports Coach, at St Mary's who championed the project commented:
"The Pentagon Play team have been helpful and professional. They were very knowledgeable and able to answer our enquiries promptly. The 'Toolbox Talk' that the installation team gave was informative and answered all the children's questions."
By installing our daily mile track, we hope to have created a resource that makes children happy and active.
We believe it will be used by the pupils of St Mary's for many years to come.
Would you like to uplift your schools' field, to create more opportunities for your children to improve their physical fitness and mental wellbeing too? Take a look at our Daily Mile Track Page to gain more knowledge on this product.
To arrange a free consultation with one of our expert outdoor learning consultants, please fill out Online Contact Us Form and we will get in touch to start your journey with Pentagon Play. To view more examples of the wonderful playground projects we have completed in Suffolk, visit our Suffolk Project Page.