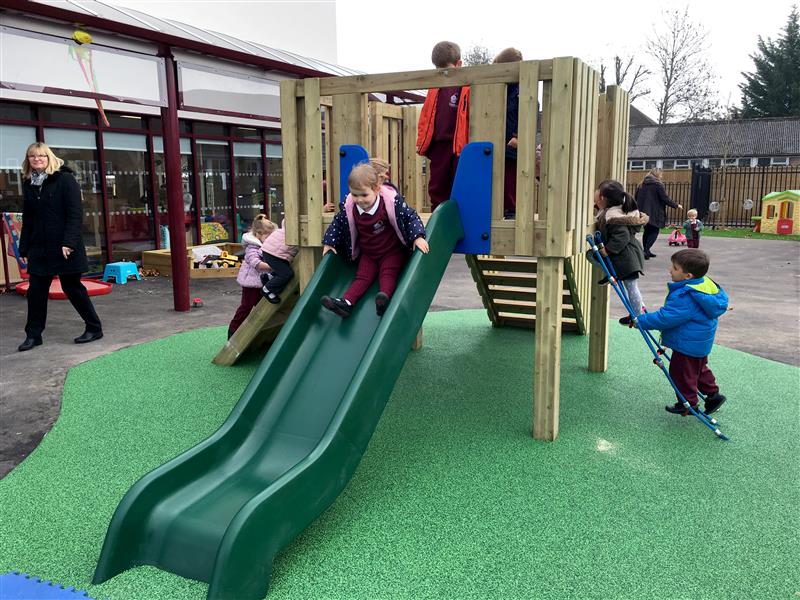 Exciting new developments for the early years stages
Over the past year, Danetree Primary School has gone through an incredible resurgence after expanding from a Junior School into a Primary School.
Rated as 'Good' by Ofsted, the school was tasked with creating an additional Reception Class as well as a new Nursery.
Whilst the new buildings were being constructed, the school contacted our Southern Playground Consultant, Donella Felton, to discuss developing the outdoor play environments for the new Reception and Nursery classes.
Working closely with the school, we created vibrant and energetic outdoor play spaces that promote areas of the curriculum and inspire children to collaborate and express themselves.
The 'DaneTree Play Tower' on the Nursery Playground
For the Nursery playground, we mainly focused on children's physical and gross motor development.
To create an introductory climbing challenge, we modified our Restormel Play Tower to include additional entry and exit points.
This provides their nursery children with different types of climbing elements to help build confidence and prepare them for the larger challenges in the Reception playground. We named this bespoke design, 'The Danetree Play Tower'.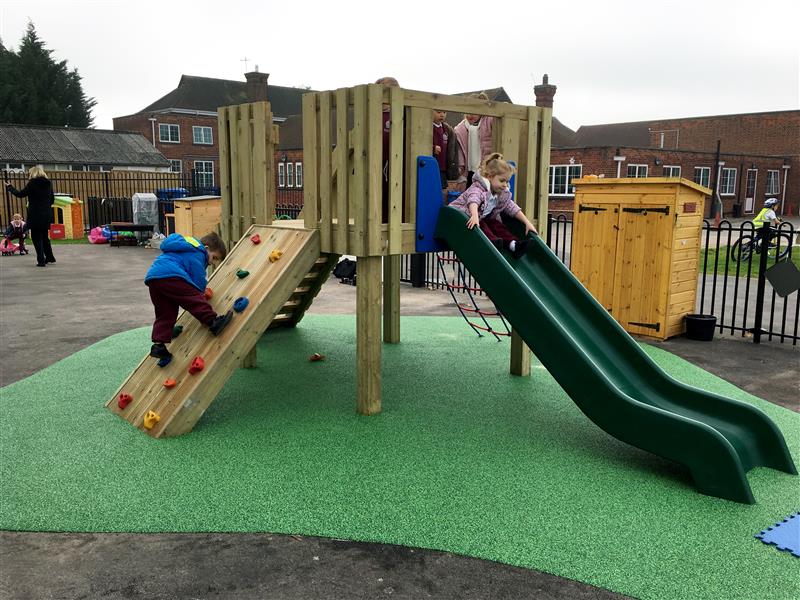 The Danetree Play Tower includes a climbing net, stairs, climbing wall and a slide to make it a truly versatile play structure
Each of these challenges are specifically designed to present different physical and mental challenges and require children to use different parts of their bodies to enter and exit the Tower.
The movements required exercise the entire body, build core strength and improve overall fitness. Gripping the climbing holds builds hand strength and essential fine motor skills needed for writing
Danetree's Bespoke Tower is the optimal outdoor resource for crossover between active and imaginative play, adding something very unique to the playground.
Children can make dens underneath, act out their favourite stories and conquer fears through safe risk-taking
We installed a mix of dark and light green Wet Pour underneath the Tower to make the area safe and protect children from falls.
You can view our entire Modular Tower Range now!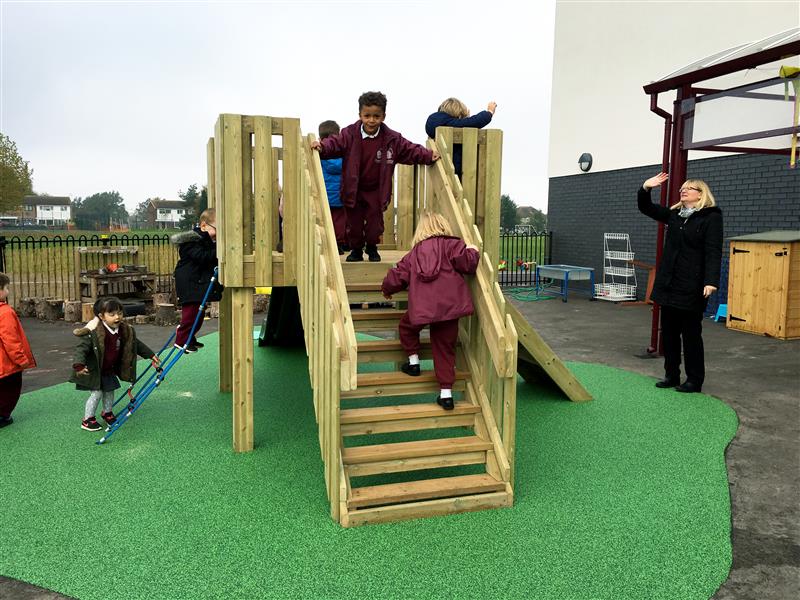 On the other side of the Nursery Playground, we created a wonderful Roadway with Thermoplastic Markings.
This is a brilliant way to encourage children to use their bikes and trikes and further develop their gross motor skills.
The Roadway can help children understand road safety from a young age.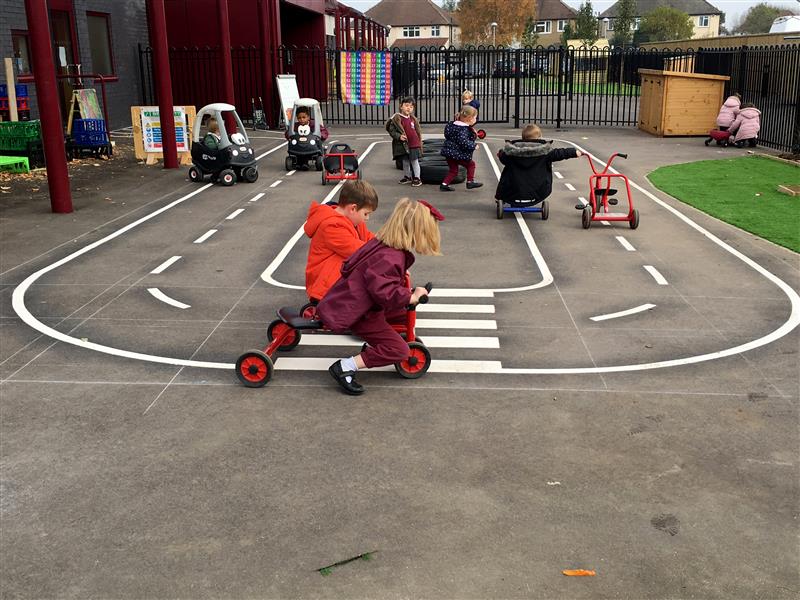 Exciting developments on the Reception playground
Moving onto the Reception area, we wanted to ensure the children had continual development from Nursery. We installed similar challenges to those installed on the Nursery playground but with a higher level of difficulty to advance the children's skills further.
One of these was an advanced Figure 8 Roadway. This exciting track is bigger in size and includes a roundabout for children to maneuverer around.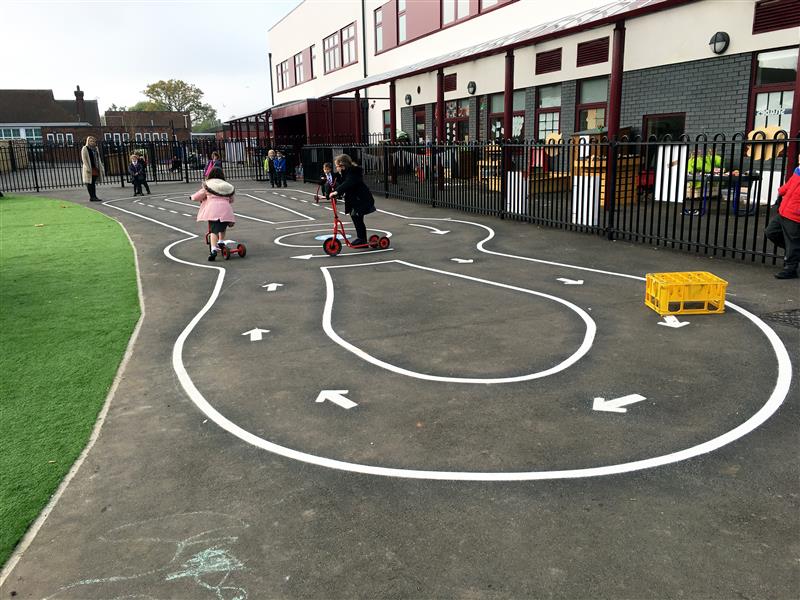 To provide the children with an advanced climbing challenge, we installed our magnificent Harter Fell Climber.
Our Harter Fell Climber is a triangular log climbing frame with flexible routes, several crossing points and multiple ways to climb and traverse
Children coming from Nursery will have the confidence to tackle this challenging climbing frame after developing physical skills from our Tower in their previous playground.
It's also non-prescriptive, allowing children to play in ways they imagine and climb at their own pace. There is no obvious way for the children to enter the challenge, making it open-ended and exciting for the children.
You can view our entire range of Climbing Frames on our website!
We also created a wonderful zone on the playground brimming with opportunities for imaginative and open ended play.
This area includes a Giant Playhouse and a Story Telling Chair alongside Moveable Seats. The Giant Playhouse will inspire role play, drama and social fun with friends. Due to its open-ended nature, children can lead the play and transform the Playhouse into anything from a Bakery to a Travel Agents.
Children can take it in turns to read stories on the Story Telling Chair, further improving their spoken language, communication and early literacy skills.
This entire imaginative zone has been surfaced with our natural looking artificial grass to ensure it can be accessed in all weathers.
Teachers can also use the space for separate learning and quieter curricular activities away from the busy classroom environment.
View our entire Imaginative and Creative products range now!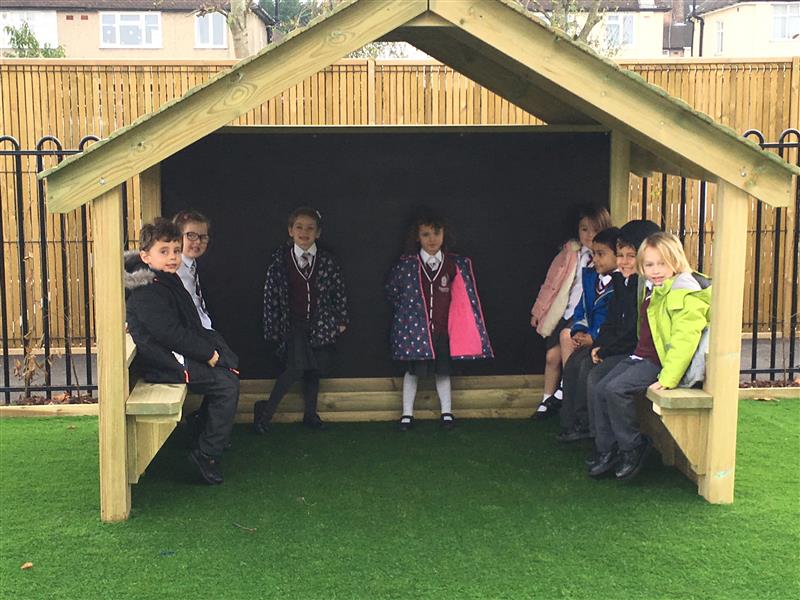 If you're interested in developing your outdoor play space and would like to arrange a free consultation and site visit, contact us by completing our Online Contact Form. Alternatively, you can call 01625 890 330 (Northern Office) or 0117 379 0899 (Southern Office).