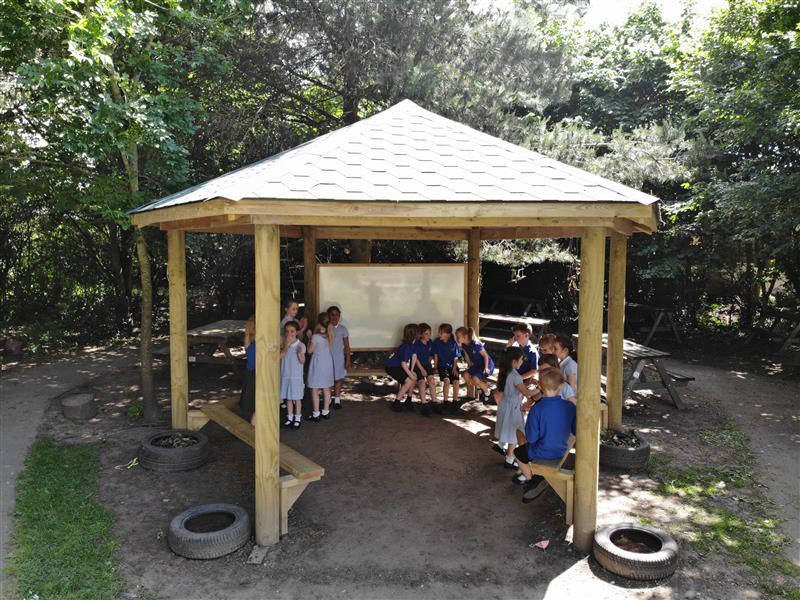 A Nature-Inspired Play And Learning Environment for Davenham CE Primary School.
Ian Wood, our knowledgeable playground consultant, was excited to work with Headteacher, Joanne Hyslop to create two amazing open-air spaces that would allow pupils to fully embrace outdoor education.
Shelter under the canopy
In the first zone we built a timber canopy next to the existing school building. Rainy days will never deter the children from stepping outside again!
The new sheltered area creates another classroom outside the main one and provides welcome shade during the summer months.
There is now plenty of space for additional seating, tables, water play and recipe making at the Mud Kitchen.
A perfect outdoor learning environment
Next to the canopy, there is a lawned area, that provided us with an ideal blank canvas. We firstly installed two of our unique wigwam shelters which are the perfect dens for devising games and socialising with peers. The wigwams provide a cosy spot for reading for pleasure or crafting activities in nature.
Trellis screens help to zone the area, allowing multiple groups of children to use the space alongside each other. They offer opportunities for threading and weaving; children can develop their fine motor skills and create wonderful artwork.
Our giant whiteboards and chalkboards mean lessons can be taken outside. Children are free to experiment with mark making and they are a valuable tool to accompany games. Pupils could be writing a shopping list, a set of instructions or drawing a map.
A variety of seating options
Moveable seats topped with artificial grass allow staff to create a variety of different seating arrangements to suit various activities. Storytime, group discussions, phonics and music tuition can all take place sitting under the branches of magnificent trees.
Children love running their hands through the grass-topped seats and the natural appearance really suits the leafy surroundings at Davenham Primary.
The brand-new base for Forest School
In the second zone, nestled away amongst the trees, we installed our 5M Hexagonal Gazebo. While classes have been really enjoying their new outdoor classroom, particularly for forest school sessions.
The gazebo provides a base to gather everyone together to explain, discuss, reflect and create. Thirty children comfortably fit around the five benches and the waterproof roof allows for outdoor exploration in all seasons.
The giant whiteboard, mounted to the gazebo wall, allows children to create in the 'open air.'
They could draw pictures of natural treasures that they find or write their own recipes or poems. Pupils have already used their new space to make bird feeders adding to their understanding of caring for local wildlife.
Having a designated outdoor space allows pupils to connect to the natural environment. They can be free to explore, imagine and appreciate the world around them.
We are pleased to have created such special outdoor spaces for all pupils at Davenham CE Primary School to enjoy. They now have fantastic areas where they can play, build relationships and explore nature.
If you would like to transform your playground into a wonderful nature play and learning area, don't hesitate to contact us here to start your journey with Pentagon Play.
If you are in need of some inspiration take a look at the amazing projects we have completed in the Northwest area on our dedicated Cheshire area page.