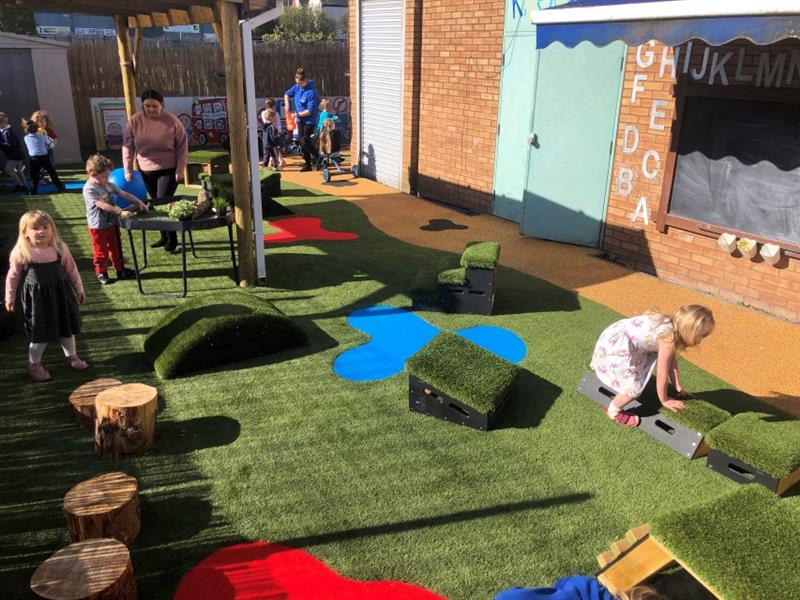 A Vibrant Outdoor Play Space for 2-5 Year Olds in Preschool
Dinnington Preschool in Sheffield have a large outdoor play space for their 2-5 year olds!
The preschool wanted to create a soft and comfortable play area their children can access throughout all-weathers.
Our playground consultant, Daniel Young, was delighted to work with the Preschool to help create a dedicated space for their little ones to run around and play!
Striking Surfacing for Learning and Play
We begun by removing the tired equipment and old surfacing to create a striking play space with a mixture of playground surfacing solutions.
Bright green Artificial Grass makes up the majority of the flooring in the new outdoor play space, it creates a soft surface underfoot for the children to play on, whilst being comfortable for the little ones to sit down on and participate in floor based activities.
Using Saferturf surfacing, we've included bright blue and red splashes to enhance imaginative play games and inject some colour into the environment, too.
A Roadway for Understanding of the World
We created a roadway zone using Wetpour with an artificial grass island in the middle.
It's perfect for familiarising the children with road safety when they're racing their bikes, trikes and scooters around the zone.
The little ones have such good fun in this area whilst burning off some excess energy and improving their cardiovascular fitness.
A Moveable Introductory Climbing Resource
The favourite resource of all amongst the children are their new Get Set, Go! Blocks (The Mendips Set)!
This introductory resource are perfect for this younger age group as they step, balance, climb and jump from block to block: improving early physical skills and building up their climbing confidence.
Practitioners can move the blocks around to create new courses every day whilst using the mark making panels to write numbers and letters on the clear polycarbonate panels to enhance number and letter recognition outdoors.
"It Has Made An Amazing Difference"…
Leah, a staff member at Dinnington Preschool, had this to say about there new outdoor play space:
"It has made an amazing difference! Before the whole area was tarmac, we used to do a lot of setting up of different areas whereas now, it's already set up for us.
The blocks and the different coloured surfacing we have out here the children imagination has been amazing. The children come straight out here and play games with them. They use the blue splashes as water and the red is lava. They make boats to go into them and they play 'row, row your boat'.
The road they absolutely love, before, we didn't really have that area set up as anything, they love following it. Its added a lot of structure to the space.
The grass is so nice for them to just lie down on and roll around. Its nice for us as well to get down there and sit with them without getting covered in tarmac and stone. It's really nice and comfortable. It's definitely made a big improvement and we're really, really happy with it."
We've thoroughly enjoyed creating a safe and striking play area, with a range of colour and exciting learning-oriented play equipment.
The result exceeded Dinnington Preschool's expectations. The children and staff are thrilled with their new play areas and we couldn't be happier.
We understand that each nursery has a budget to adhere to and may have their own individual specifications for their outdoor play areas. With our knowledge and experience in the field, we can transform your gardens into an inviting and exciting area all within your budget and in line with your specifications.
Please Contact Us for more, in-depth advice. You can view our amazing products range for nursery here.
Alternatively, you can view all of our exceptional play spaces created for nurseries and primary schools in Rotherham on our dedicated Rotherham Playground Projects Page Here.