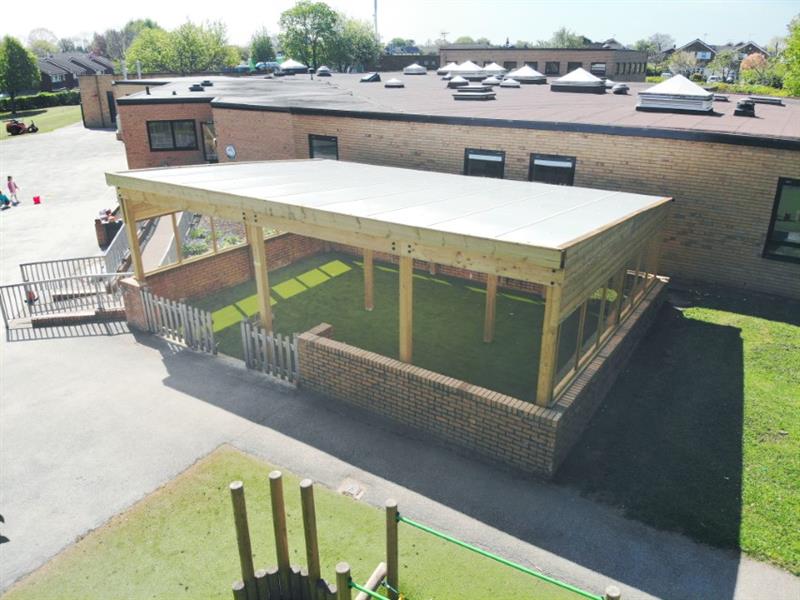 A Healthy Sports Pitch and A Dedicated Space For Outdoor Lessons
With some exciting outdoor visions in mind, Elworth Hall Primary school in Cheshire contacted us to help transform their playground dreams into a reality.
Ian Wood, one of our excellent outdoor learning consultants, worked alongside the school to develop their ideas and bring them to life.
A dedicated pitch for sports and pe lessons
Elworth Hall wanted to create a space where their children could participate in healthy primary school sports and PE lessons come rain or shine.
On the school field, we installed a huge 25m x 15m Muga Pitch, complete with an artificial grass pathway, 2m high sport fencing and an access gate. This dedicated pitch reinvents the way pupils enjoy sports and develop their skills over the school year as it satisfies a wide range of sporting demands.
We installed this multipurpose area with our artificial grass sports surfacing to ensure the space is easy to maintain and can be used throughout the seasons, without becoming muddy or waterlogged.
We inlaid sport lines into the MUGA surface and recessed goal ends to ensure it would be both practical and provide the necessary features for a wide range of sports to take place. From netball and basketball, to football and hockey, the sporting provision has been truly enhanced!
A shaded and sheltered space for outdoor learning
A huge Timber Canopy has been installed on the playground to create a purposeful space for outdoor learning.
Featuring glazed sides and an artificial grass surface, the children can sit comfortably and actively participate in lessons and activities whilst being protected from the elements. It's also a cosy space for friends to talk and socialise during playtime, too!
Whether engaging with exciting winter crafts or English and mathematic interventions, children can relax away and learn at ease as they complete the curriculum just outside of the school building. The timber canopy has provided a popular place for lessons and activities as the crisp air gives the children a fresh focus on their learning.
The freestanding timber canopy has provided the teachers with an area they can fully utilise throughout the day for any outdoor learning opportunities.
We loved transforming the playground dreams of Elworth Hall Primary School into a reality and they are so proud of their playground developments - they are a big focus in the schools Virtual Open Day for prospect new parents!
Would you like to improve outdoor play and learning facilities at your school? View our huge range of school playground equipment here and create your wish list.
We are very much open and we have developed new ways to conduct playground consultations safely in these difficult times. Please do Contact Us Here for more information.
If you would like to view more examples of our playground projects in Cheshire, visit our Cheshire page.