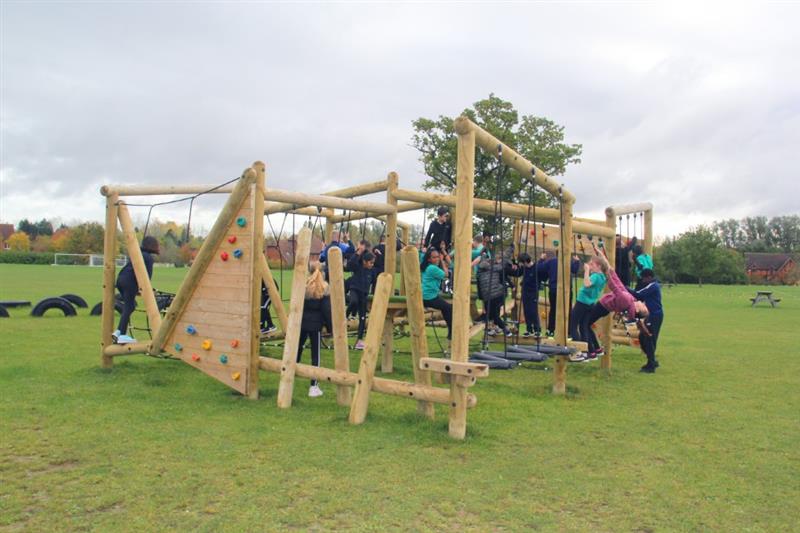 A Multitude Of Active Challenges To Provide Adrenaline-Fueled Playtimes For KS1 and KS2
Inspiring active play and improving physical play opportunities in the school grounds were key focuses this year for Emerson Valley School in Milton Keynes, Buckinghamshire.
Their existing playground was a vast open space, which offered plenty of opportunities for the children to run around and enjoy the fresh air, but there was nothing to inspire or challenge them. This could often lead to boredom and behaviour issues during playtime.
The school was very keen to tackle this issue and make the most of what the huge, beautiful, green, open space could offer the children through the inclusion of outdoor resources to challenge and develop the pupils in both KS1 and KS2.
Our playground consultant, Sam Flatman, worked alongside the passionate school to choose a multitude of motivating mental and physical challenges to provide adrenaline-fuelled playtimes and, of course, plenty of physical development opportunities.
Trim Trail Challenges to Target All Areas of Physical Development
In with the new and out with the old…
An older trim trail area in the playground had become uninspiring and did not support many areas of physical development. As it had aged, the space had to become an 'out of Bounds' area that was no longer accessible to the children.
We began by removing the older equipment to make way for a new exciting space that would reinvigorate the area.
A rope swing traverse, pull up bars, trapeze swing traverse, parallel bars, climbing wall, swinging log traverse and stepping logs provide even more physical play opportunities for the children at Emerson Valley School.
As they explore their new equipment, they will be improving their balance, working as a team and evaluating and managing risk.
Plenty of children can use the new space at one time, offering a competitive aspect to the new area as children race to the end of the trim trail in order to beat one another's time.
Underneath the equipment, we replaced the existing surface with our vibrant Artificial Grass Surfacing to allow for all-weather use. Come rain or shine, the children can swing, climb, balance and traverse to their hearts content.
A Forest Circuit Fit for the Adventurous, Brave and Cautious
Inspired by the popular and action-packed, tree-top adventures, our Grizedale Forest Circuit stands tall on the school field!
Providing more physical play opportunities in the vast open space, the whole circuit is one enormous open-ended challenge! It's made up of numerous obstacles that naturally raise children's enthusiasm and excitement levels.
Whether they're weaving between the logs, scrambling through the net or carefully balancing on zig-zag log bridge, there are plenty of challenges for the little adventurous of year 5 and 6 to conquer: adding a truly exciting dimension to the physical play provision on offer.
Each of the 18 obstacles have been carefully designed to test and improve a wide range of physical skills, including fine and gross motor skills, balance, proprioception, strength and core stability as they climb, jump and traverse through the trees.
A Dedicated Space for the Daily Mile
Given all of the benefits the Daily Mile brings to children, it was an easy decision to add Daily Mile Track Playground Markings to the tarmac.
Emerson Valley wanted the track to provide a dedicated route for the children to take whilst participating in this fantastic initiative.
Through the inclusion of fun challenges to complete along the way, this colourful track encourages the children to run a mile a day - improving their physical, emotional and mental wellbeing!
Moreover, we have installed a Solar Power Stop Watch to provide a competitive aspect to the daily mile. The children can start the clock, run their mile and record their finishing time, always aiming to beat not only their personal record but their friends, too!
This huge playground development has truly enhanced the schools physical play provision, providing much needed challenge and excitement to the outdoor area. The little adventurous can't wait to swing, climb, balance and traverse throughout the multitude of obstacles!
Are you looking at improving your children's physical play opportunities? View our huge range of active play products and create your own wish list. If you are looking for further inspiration, you can view more active play projects.
We have developed new ways to conduct playground consultations safely in these difficult times. Contact Us Here to begin your journey with Pentagon Play.