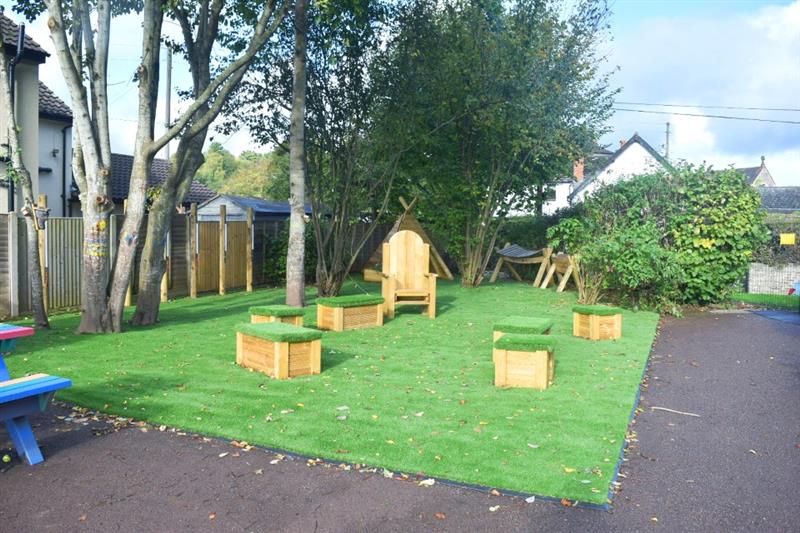 An Inspiring Playground Development For Imaginative Play Games
Ewyas Harold Primary School in Herefordshire, wanted to transform a muddy wildlife area into an inspiring space for imaginative play.
Our outdoor learning consultant Chloe Pope, worked with the school's headteacher Laura Wallace, to bring the school's vision to life.
An all-weather space for play
After considering a wide range of ideas and listening to feedback from the children, we decided create an area for den making, story telling and music making.
We began this exciting playground renovation by transforming the muddy area into an all-weather space for play and learning. To achieve this, we installed our excellent and free draining Artificial Grass Surfacing to create a comfortable space for children to sit and relax with their friends.
Story telling has come to life
Once the grass had been laid, we then installed a magical storytelling circle made up of a Storytelling Chair and moveable, artificial grass-topped seats.
Children can take it in turns to read out loud while others sit around engaging with the story being told. This is fantastic for developing the children's self-confidence and language skills!
Those who'd like to read independently can sneak off to the wigwam to transport themselves to exciting, imaginary worlds.
Children love the sound of music outdoors
To provide more sensory stimulation outdoors, we installed a wide range of Outdoor Musical Instruments.
Our fantastic individual chimes, tongue drum and xylophone encourage children to explore the world of music and play musical rhythms to one another in the playground.
Outdoor musical instruments are perfect for providing auditory stimulation outdoors and can provide children with a calming sensation during a busy day.
"The Area Has Now Been Completely Transformed…"
"For a long time our 'wildlife area' has been overlooked. In recent years it has been a large muddy area with overhanging trees and bushes. It was a wasted area with no resources.
The area has now been completely transformed. Children are excited to access the area which now has a number of resources and activities, linked to different areas of the curriculum such as English, maths, science, music and forest school. It is used as a teaching resource to enhance children's kinaesthetic learning in these areas. It is also used to broaden children's imaginative play as they enjoy playing schools, cowboys and Indians, music concerts and bug hunting.
Chloe was fantastic at planning an area that met the ideas of the children, whom she talked with in-depth and made the most of the space. It was made a simple and easy process with very little needed on our part. The installation team were great. They were professional, accommodating and amenable. They worked hard to install the area to a very high specification.
They liaised with myself throughout to ensure we were satisfied with the work being undertaken and we were given the opportunity to make any changes along the way. The aftercare was also super with Chloe contacting us to discuss the work undertaken and if she could be of any further assistance. She even visited the school to observe the area personally.
Overall, we are extremely pleased with the area and the process from start to finish. The feedback from children, staff, parents/carers and visitors has been extremely positive. So a huge thank you to Chloe and the Pentagon team for all their hard work and assistance. It has made a huge difference to our outdoor area."
Are you looking to create an inspiring space for imaginative play? View our huge range of Imaginative and Creative Play products and create your own wish list.
We have developed new ways to conduct playground consultations safely in these difficult times. Complete our Online Form to begin your journey with Pentagon Play and one of our expert consultants will be in touch to arrange a free consultation.