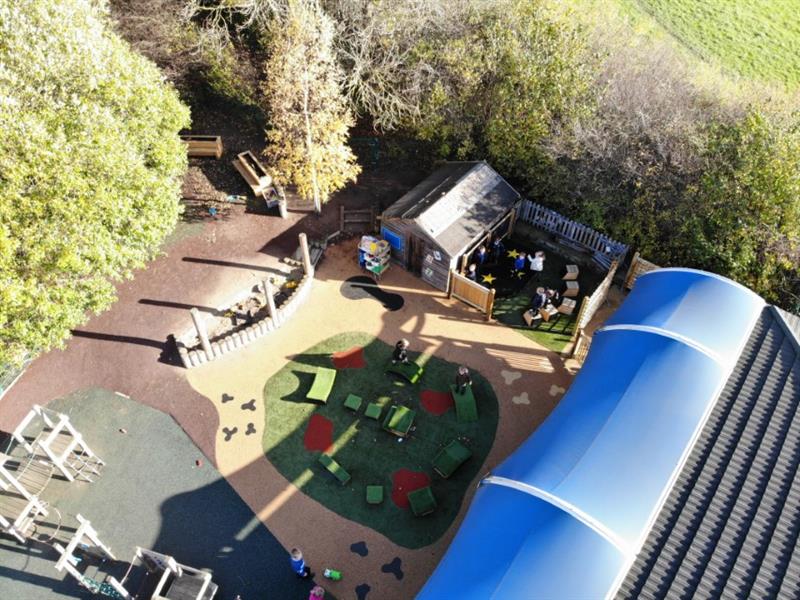 An Accessible, Stimulating and Engaging Outdoor Play Space To Enhance The EYFS Provision
"The new outdoor area provided by Pentagon Play has really enhanced our provision! It has made the area more accessible for the children, making them much more engaged and excited to be outside." - Jackie Heydon, Assistant Head and SENDCo, Aston Hall Junior and Infant School
The new Early Years Outdoor Provision at Aston Hall Junior and Infant School, in Sheffield, is part of a series of outdoor play and learning projects that we have had the pleasure of working on this year for the Wickersley Partnership Trust.
At Aston Hall, we were asked to redevelop a part of the playground to create zoned outdoor play and learning spaces for the Foundation Stage children, with plenty of opportunities for investigative and imaginative play.
Before we began the installation, we removed and disposed of the old surfacing, steps and edging to open up the space ready for the exciting redevelopment.
An Interactive and All-Weather Playground Surface
Feature surfacing was a big and exciting part of this project - with a plan to transform the space using the floor as an interactive, all-weather surface that would encourage the children to really enjoy using their imaginations as they play.
We used a combination of our fabulously versatile Wetpour Surfacing, our Super soft and spongy, impact-absorbing Playbond and our super sensory Playturf Artificial Grass, to create a brilliant bespoke 'grass islands' theme, with intriguing pathways, each featuring fun and colourful splash marks and stepping stones between zones.
The Wetpour pathways are wide and spacious - a top spot for enjoying plenty of floor-based physical activity, running around with friends and racing trikes and other wheeled vehicles.
A Multi-Purpose and Moveable Obstacle Course
On one of the artificial grass 'islands', we created a super 'Large Movement Area' with a set of our popular Get Set, Go! Blocks.
These are a moveable series of open-ended climbing blocks and they're perfect for laying out obstacle courses, switching and mixing the blocks around to keep interest and to raise the level of climbing challenge to suit the children's ability.
At Aston Hall they have laid their blocks out in a circle and the children love going round and round until they can hop, jump and climb no more!
An Inspiring Space for Role Play and Make-Believe Games
On another 'grass island' we built a Performing Arts Area that boasts an all-star Mini Performance Stage with Chalkboard for styling to their own theme - perfect for improvised and expressive play, role play activities and PSED.
There's a Giant Mirror on Posts for dressing up and 5 Drum Seats for the children to play along and enjoy music-making: beating out a rhythm for their friends on stage to dance to.
Next to this, on the opposite side of a Trellis Screen for weaving, is a wonderful Imaginative and Creative Area.
It features our unique Water Wall, complete with Water Table and Water Channels for the children at Aston Hall to manipulate and form their own waterways.
A further multi-functional Weaving Panel and a Giant Paint Panel offer greater scope for creative design and fine motor activities.
A Magical Space for Reading, Storytelling and Small World Play
Closer to the trees, a beautiful Small World Seating Circle sets the scene for outdoor reading, storytelling and small word play. It sits in the centre of Aston Hall's brand new, large scale Sand, Construction and Horticultural Area, which is a firm favourite with the younger children.
There are endless opportunities for digging, exploring, learning about the natural world, practicing numeracy and developing motor skills, with a bespoke sandpit area and a selection of our accessible Planter Benches.
Leaving no stone unturned, we added a set of Den Making Posts in a hidden corner, where the children love hiding away and making up games in a secret den of their own creation.
The new outdoor area has been a success with pupils and parents alike. It's proving to be a great start to school life, building the foundation blocks of engaged learning, and a love for time well-spent outdoors.
Would you like us to help you improve your outdoor learning spaces? Take a closer look at the full range of EYFS School Playground Equipment we offer!
During these difficult times, we have developed new ways to conduct playground consultations safely. Please do Contact Us Here for more information, or to book a visit.
With so many playground transformations completed across the UK, explore our dedicated Rotherham page.