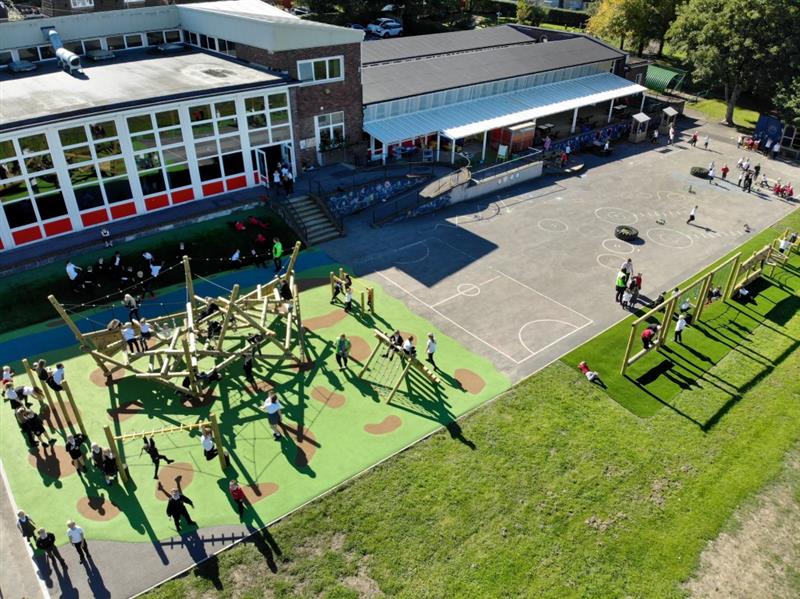 An Exciting Range of Challenging School Playground Equipment
Our Director, James Collis-Pritchard, communicated with Fair Furlong Primary School to discuss plans to revamp their dated outdoor play area into a fresh and stimulating active play zone for the children to explore and enjoy.
For the main playground, we created an active zone to promote and advance physical development in children. This area is fully kitted with climbing and navigating challenges to stimulate the children and progress their strength and essential motor skills.
For the surface, we used vibrant and durable Playturf Artificial Grass with an eye catching Wet Pour design, allowing children to enjoy and immerse themselves in active play all-year-round.
This active zone comprises of school playground equipment made from high-pressure treated 'play grade' timber and steel-reinforced nylon ropes to ensure children's safety when in use.
The Crinkle Crags Climbing Frame
A Pentagon and school favourite, the Crinkle Crags Climber, is our largest and most adaptable climber, presenting numerous adventure and navigating points.
With no specific starting and end points on the climbing frame, children can join where they are most comfortable. The Crinkle Crags Climber plays a crucial role in developing fine and gross motor skills in children.
When climbing, overall muscle strength, balance and coordination are required. It encourages children to work as a team, turn-take and communicate with peers.
This bright yellow, galvanised and powder coated bar is not only amusing but an ideal piece of apparatus to progress children's upper body strength, core stability and grip and grasp technique.
The pull-up bar can also be used as part of PE lessons or when training outdoors.
Sitting adjacent to the pull-up bar, the Log and Net Climber provides children with an opportunity to develop their upper and lower body strength.
Its nifty shape allows children to use their imagination to create a den below it too.
View our exciting range of Climbing Frames here.
Challenging Trim Trail Equipment
An all-weather active Trim Trail was created at the side of the playground to provide additional space for children to play and minimise congestion on their previously limiting playground.
We installed the new area on plush artificial grass. It looks and feels just like real grass and remains a vibrant green all-year-round - minus the muddy mess!
This area comprises of entertaining apparatus, fit for energetic kids:
Tightrope Bridge
Twist Net Bridge
Double-Sided Timber Climbing Wall
Net Traverse
Trapeze Swing Traverse with Step Up Logs
Rocking Log Traverse
All the above Trim Trail Equipment offers a plethora of physical challenges: the equipment has been designed to encourage, co-operation, build confidence and foster friendships on the playground.
It is open-ended and children can choose to progress from one challenge to another or join where they are most contented.
We have a fantastic selection of Trim Trail Equipment which you can view here
The children love their new playground...
We have had some amazing feedback from the children and staff at Fair Furlong Primary School.
The children are much happier and can reap the benefits of exercise and mood-enhancing active play during breaks and lunchtime.
Studies show that active play improves mood and concentration in class too.
With over 20 years experience in the playground industry, we can help you achieve a playground that supports children's development and the curriculum. Contact Us for expert advice and a free consultation. Alternatively, you can call 01625 890 330 (northern office) or 0117 379 0899 (southern office).