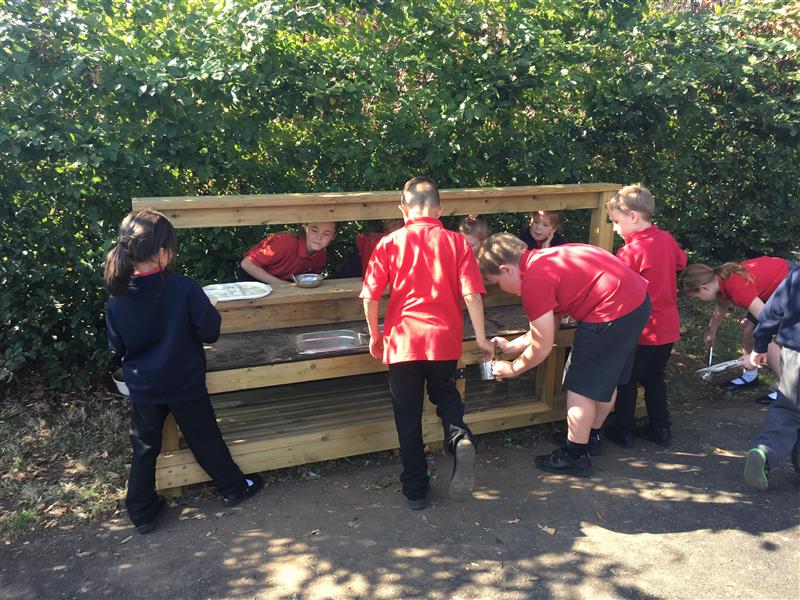 Stimulating Playground Equipment to Promote Cross-Curricular Play
Working with Grange Primary Academy's Headteacher, Chris Latimer, we have transformed two areas of Academy's school grounds to promote cross-curricular play activities outdoors.
Marion Rolph, one of our excellent playground consultants, carefully designed and installed the various areas within the Northamptonshire's school grounds to ensure they met their aims and objectives that had been set out for the projects.
They wanted to promote cross-curricular play, exercise and imaginative play. We therefore installed a huge selection of playground equipment in each section of the outdoor area to create exciting, engaging and stimulating outdoor play areas.
Enhancing The Playground At The Front Of The School
As the school wanted to promote cross-curricular play, exercise and imaginative play, we separated the space into three different zones.
Enabling physical development and promoting physical fitness, we created an energising, healthy Outdoor Gym to ensure the children can keep fit and active all year round.
The new outdoor gym consists of a variety of equipment to provide the children with a selection of activities to participate in, which develop their key physical skills and cardiovascular fitness.
To enhance imaginative play in the playground, we installed a huge outdoor performance stage alongside a selection of musical equipment as well as a Mud Kitchen.
The Outdoor Performance Stage with Den Making Posts and Giant Mirrors is a fantastic addition to the playground. As the young actors and performers participate in their own performances or role-play activities, their communication, language and social skills are further developed during play.
The children love making up their own plays and songs or forming their own bands to then take to the stage and perform their masterpiece in front of their peers! Additionally, they love pulling funny faces in the mirrors together.
The outdoor musical instruments have also been a huge hit as they try out the different instruments, producing magical tunes and interesting rhythms with one another. Teachers at the school can even take music and maths lessons outdoors as the beats are counted, too!
Inspiring the little chefs attending Grange Primary Academy is one of our messy Mud Kitchens. The children have been experimenting with a number of different natural ingredients and utensils as they mix, pour and bake their yummy dishes before serving them to their customers.
Recipes can be written on the chalkboard countertop for the children to follow as they measure out their ingredients to create a delicious Mud Pie! The children also love writing down their own delicious recipes for others to follow.
Finally, we have truly sparked imaginative play, while promoting literacy outdoors, with our humongous playground den - the Hobbit House!
Our Hobbit House is an inspiring den that is fit for the young Hobbits at Grange Primary Academy. The Hobbits love relaxing, socialising and sharing a story in their own little house as they hide away from the hustle and bustle of the playground.
Grange's hobbits are very proud of their new house that they have placed little potted plants at the front door and are always cautious about ensuring their house is clean and tidy before they leave: instilling a sense of pride about their playground in the young children.
A Dedicated Active and Imaginative Play Area
At the rear of the school, in the playground, we have transformed the previously tarmac space into a dedicated space for exercise and imaginative play.
The magnificent focal point of the space is a huge 21m x 12m Multi Use Games Area surfaced with our vibrant green Multi Sport Surfacing and outlined with a bright red Saferturf track to create an all-weather Daily Mile Track.
Enabling sporting activities, such as football, netball and basketball, to take place throughout all seasons, the MUGA Pitch has been an excellent way to promote participate, exercise and improve cardiovascular fitness and key physical skills. The children love participating in sports and exercise as they practice their fundamental movement and sporting skills!
Through the bright red Saferturf outline, every class can participate in the Daily Mile, no matter what the weather brings. This healthy initiative helps children learn what is needed to live a healthy lifestyle as they run for 15 minutes a day, improving their overall fitness, too!
We conveniently placed a stopwatch on the fencing next to the track to allow the children to time and challenge one another as they run and complete their mile a day together.
Of course, next to this active, healthy area, we had to establish a dedicated area for the children to relax. Consequently, we installed one of our wonderful playground dens, a Wigwam and a self-selecting store in next to the sporting space.
The new relaxation area provides the children with both the space and resources to relax, socialise or read before they jump straight back into sports and other lively activities!
Chris Latimer, the headteacher, and the children love their new playground development. Chris even had this to say about working with ourselves:
"I cannot recommend Pentagon Play enough. From our initial phone call, through to our site consultation and design to installation, they have been extremely helpful, supportive and professional. The difference in our outdoor learning environment is nothing short of amazing. Our children absolutely love it! Thanks!"
If you would like to create a stimulating, engaging outdoor learning environment in your school, please Contact Us. We'd love to help transform your playground through the installation of high-quality Playground Equipment.