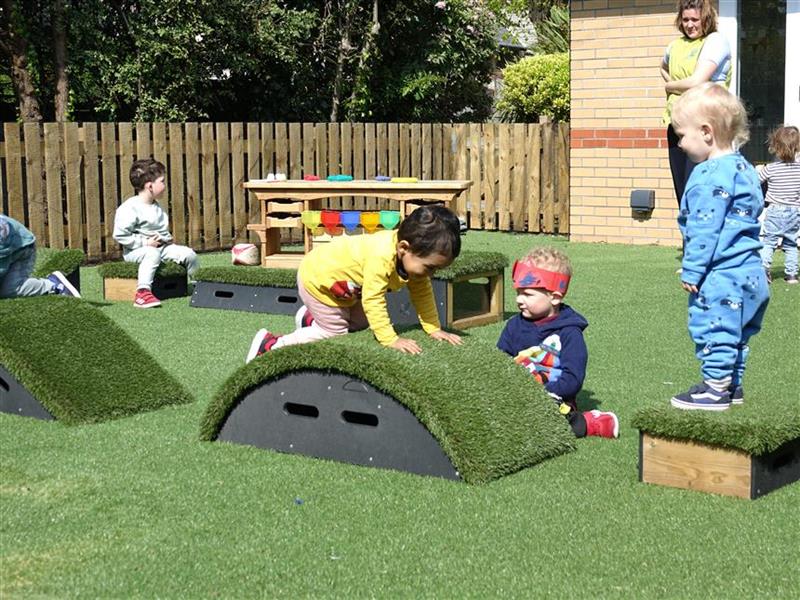 Green Giraffe Day Nursery- A Pentagon Play Online Shop Customer
Designed to offer customers a quick and easy solution to their playground needs, the Pentagon Play Online Shop provides freestanding and movable equipment, delivered to your door in just 4-6 weeks!
Green Giraffe Day Nurseries have 5 branches across Cardiff, and in this particular environment, they were looking for some more active play equipment to support their pupils as they learned to climb.
The advantage of filling your space with moveable equipment is the versatility that comes with it.
You can rearrange the space daily, filling it with different opportunities and adventures, and keeping little ones engaged day after day.
In an interview with Andrea and Bethan, the Nursery Director, and Operational Manager of Green Giraffe Day Nurseries, they explained why they chose Pentagon Play.
"I looked around previously when I was revamping my other settings and I did quite a lot of research and first of all, the customer service was a really big plus." – Andrea, Nursery Director
"We previously used the company for refurbishing a large garden at another setting, and they did an amazing plan and the whole experience was very, very positive." - Andrea, Nursery Director
Get Set, Go! Blocks- The Pennines Set
Green Giraffe opted for our Get Set, Go! Blocks- The Pennines Set. This is our 4th largest set and consists of 9 different blocks.
The blocks range from balancing to hill to ramp blocks, all offering a different adventure for pupils.
With each step, pupils can build and develop another key aspect of their physical literacy.
Get Set, Go! Blocks are ideal in any nursery and EYFS setting, giving children a safe environment to practise risk-taking, build their gross motor skills and have fun!
"We can plan our activities based around the Get Set, Go! Blocks and we can adapt them to each activity as well, so, if we're looking at certain shapes or movements, or certain areas of physical development, we can adapt our plan based on that." - Bethan, Operational Manager
And it's safe to say that the blocks are really supporting the children's development…
"The children love them as well. You can see how it started with them, when they were a bit wobbly and they needed a bit more support, and how much they've come on in the past few weeks since they've been using them, so definitely helping with their physical development!" – Bethan, Operational Manager
The Pentagon Play Online Shop Process
For Green Giraffe, they chose to use the Pentagon Play Online Shop as a way of maximising the learning opportunities at their new nursery.
"We knew that we didn't have a very, very large garden, but we wanted to make it as attractive as we possibly could to use the small space."- Andrea, Nursery Director
The versatility of the items on the Online Shop, and their suitability for small spaces meant that the nursery could offer key physical development opportunities to their pupils, without overcrowding or overwhelming the nursery garden space.
Another benefit of working with Pentagon was the friendly aspect of the business that helped the process run smoothly and easily.
"Everybody was really lovely and very personable. After I made an order, they contacted me straight away and they were extremely friendly, and that was really nice to have that personal touch."- Andrea, Nursery Director
"It's nice to work with people who care and find out exactly what we need."- Andrea, Nursery Director
Would you recommend our Online Shop?
"Definitely, it was very easy!"- Andrea, Nursery Director
"It was a nice website, very easy to navigate. It was well sign-posted which area of the site we needed to go to for our age group and what's available for our little babies and toddlers."- Andrea, Nursery Director
If you're interested in learning more about what's available via our Online Shop, then take a look now and start revitalising your outdoor space.
Or, if you have any questions, feel free to Contact Us Now and speak to a member of our team!