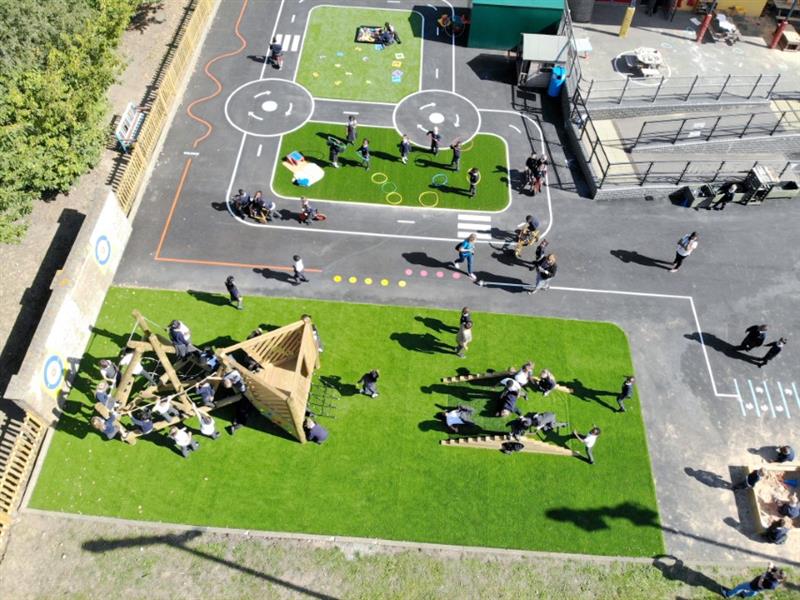 An Active, Engaging Playground For A Kent School!
A large-scale transformation of the grounds at Haberdashers' Aske's Slade Green Temple Grove School in Kent.
We were delighted to have the opportunity to work on this exciting project, creating the perfect physical play provision to support their pupils' physical development and wellbeing.
An Energising Forest Circuit
Taking pride of place in their main playground, our fabulous new Grizedale Forest Circuit is a sight to behold!
It's our biggest circuit yet, featuring dozens of climbing and crossing points that require children to use each part of their bodies as well as logical thinking as they venture their way around it.
The children absolutely love the challenge and the open-ended nature of the Circuit - and because it's large enough to accommodate a whole class, it's perfect for outdoor PE lessons and heavy-work activities.
We removed all the old play panels for the school and installed the Grizedale Forest Circuit onto our all-weather Playturf Artificial Grass, which is a great safety surface that allows the area to be enjoyed all year round.
A Lively Physical and Imaginative Play Area
For EYFS and KS1 children, our Harter Fell Climber with a Platform and Climbing Net is a brilliant piece of climbing equipment.
It's fun and enticing, with interesting angles and colourful rope and climbing holds set into the frame. It offers just the right amount of physical challenge to test and encourage younger children without overwhelming them.
It was a great choice for Haberdashers' Aske's and it's brought a forgotten corner of their playground to life, making excellent use of space.
We installed the Harter Fell onto our Playturf Artificial Grass too, with Shock Pads underneath to protect children from injury should they fall.
And with the addition of our fun Climb Through Tunnel Hill for vestibular development, we've created a lively physical and imaginative play area which has the children running around, exploring and inventing their own games together. It's a lovely atmosphere!
Vibrant Thermoplastic Playground Markings
Connecting the areas together, our bright and cheerful Thermoplastic Playground Markings are an innovative way of fuelling children's imaginations - using the playground surface as a wonderful play and learning resource in it's own right.
At Haberdashers' Aske's they opted for a range of stimulating designs, including an Activity Trail for children to run, jump, count, skip and hop their way around the playground.
We also set out a bespoke educational Thermoplastic Roadway, which the children love to whizz around on their trikes and scooters. It helps them to learn about road safety, positional and directional language and concepts and social interactions as they go.
We installed Artificial Grass within the Roadway to brighten the area and add a lovely soft, textured, sensory surface for small-world play.
Messy Play Opportunities
The school were keen to provide their pupils with some high quality messy play opportunities in their new playground, to encourage the children's creativity and support outdoor learning topics, as well as to help them develop their fine motor skills.
Our ever-popular Mud Kitchen was a clear choice for incorporating all of these requirements at Haberdashers' Aske's. We installed it along with our Sliding Sanding Pit - key for EYFS learning and it doubles up as a handy supply for sand pies and all sorts of other wonderful concoctions!
Our playground consultant, Rachel Westbury, is delighted with the way the design for this excellent large-scale development came to life and loved heading back to see the children enjoying their new outdoor learning and play space.
If you would like to create exciting and educational physical play opportunities in your school playground, please Contact Us for a free, no obligation quotation. You can view our full range of exciting Active Playground Equipment Here.