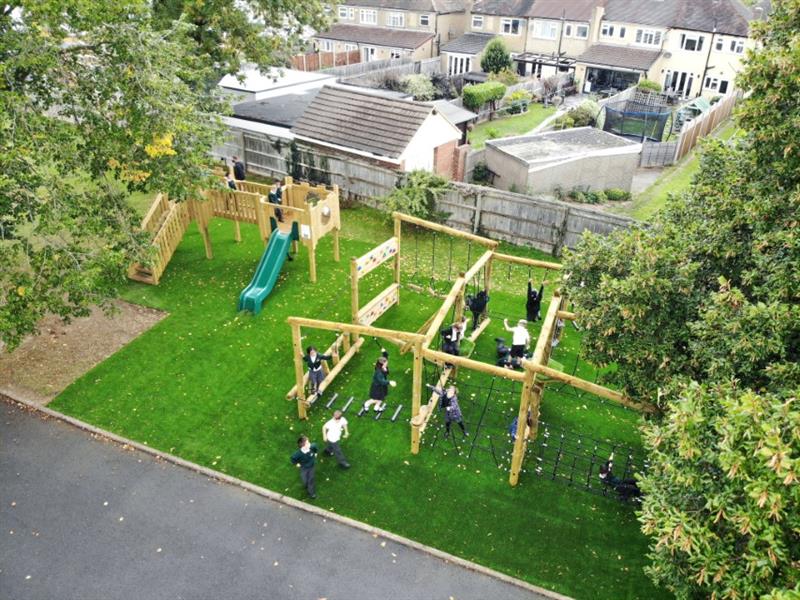 Climb, Traverse and Swing Through Our Exciting Adventure Playground Equipment
September had a BIG surprise in store for the children returning to school at Hamsey Green Primary in Warlingham! Not one, but two brand new activity frames were waiting to greet them in their playground when they arrived to school...
The Surrey school wanted to bring something special to their outdoor play and physical education provision.
They were looking for something that would challenge their children both physically and mentally, that could be used by a whole class group at any one time and that would make the most of the outdoor space that they had to offer.
An Exciting New Way To Exercise In The Playground
Based on a treetop adventure theme, the Grizedale Forest Circuit is one of our newest and most adventurous climbing frame designs yet. Now the children at Hamsey Green have one of their very own in their playground!
The Grizedale is the perfect, multi-functional structure for matching all of the school's requirements for their new space. Inspired by the beautiful Grizedale Forest in the Lake District, a place bursting with natural energy and home to outdoor activities abound, it brings that sense of outdoor adventure and exhilaration directly to the school playground.
Made with high-pressure treated timber logs and reinforced rope, and with a series of pathways, platforms and even climbing walls for children to navigate at different levels, there is no limit to the number of travel combinations the children can choose.
They can step and balance, reach and stretch, grip and grasp, pull and push, hang and swing, climb and jump. It's a great workout and it allows them to use every part of their body to develop both fine and gross motor skills, improve their balance, proprioception, strength and core stability. In short, there is nothing physical the children can't do!
We designed the Grizedale for small hands to be able to grab and hold without slipping. It's completely flexible and open-ended when it comes to entry and exit points, so the children can get on and off it anywhere they like.
This allows them to safely learn to manage risk themselves, test their own boundaries, climb to their own limits and build their confidence naturally.
A space for physical and imaginative play
Alongside the Grizedale, and to add a different dimension to imaginative play, we installed one of our unique Modular Play Towers for inclusive play. It's designed to capture young children's imaginations and inspire role play and creative games, supporting a range of physical challenges at the same time.
The children can climb up and down the gentle staircase, using the supportive handrail if they need to and get a good view out over their playground. A wooden bridge takes them between the two turret-style platforms with lookout portholes - great fun for charging up and down and acting out favourite stories!
There's a fun slide for an easy exit (one of their favourite resources) and plenty of space underneath for building dens.
Play can now be enjoyed in all weathers
For all-weather access, we resurfaced the whole area with our Playturf Artificial Grass, which we have designed specifically for schools.
It creates a safe environment which doesn't become slippy, churned up and muddy and allows the area to be used all year round. It cushions the impact of any falls, reducing the risk of injury in a high-energy area such as this.
The staff and children at Hamsey Green have been making the most of their new outdoor area for PE classes. It's a fantastic use of the space underneath the trees and because the whole class can use it at once there is no hanging around waiting - everyone can enjoy playing and being active together!
Are you looking at improving your children's physical play opportunities? View our huge range of active play products here and create your own wish list. If you are looking for further inspiration, you can view more active play projects here.
We have developed new ways to conduct playground consultations safely in these difficult times. Complete our Online Form to begin your journey with Pentagon Play. One of our consultants will be in touch to arrange a free consultation.
If you would like to view more examples of our playground projects in Surrey, visit our Surrey page here.