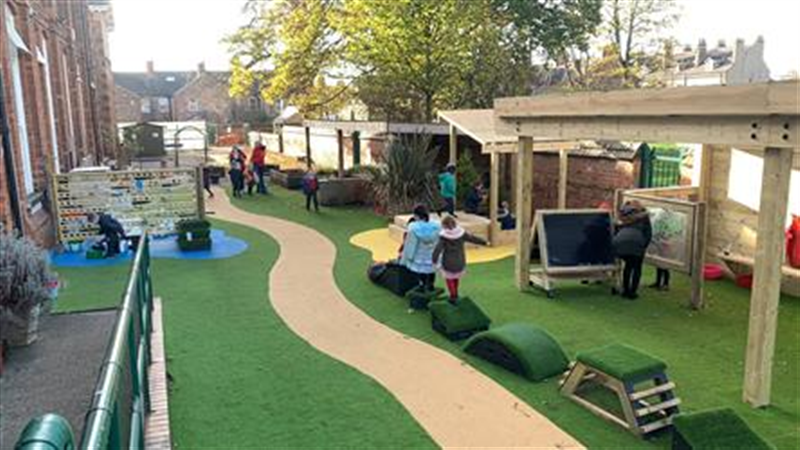 The Discovery Begins for the EYFS pupils at Haxby Road
What a way for the children of Haxby Road Primary Academy to begin their journey through education - with their very own 'journey of discovery' right there in their brand new EYFS playground!
We worked with the North Yorkshire primary school to transform their tired old tarmac playground into a bright and beautiful hive of activity - a dedicated space for the Reception children to enjoy outstanding outdoor learning experiences through investigative, explorative and active play.
First, we removed all of the old, unsuitable fencing and equipment for Haxby Road, and prepared the ground ready for the new installations. And it's here on the ground that the fun begins!
Leading the way to outdoor play…
We used a combination of our beautiful natural-looking Playturf Deluxe Artificial Grass, alongside our bright and bold all-weather Wetpour Safety Surfacing, to design an interactive floor layout. The children follow a perfectly smooth pathway that leads them on an exciting learning journey all the way across their new play space - and there's plenty of intrigue on either side to capture their interest!
Start at one end of the pathway and what do we find? There's a large area of soft, textured and extremely durable artificial grass for the children to run around on and enjoy floor-based games, activities and exercise. And it's here that we installed a super-sized Freestanding Timber Canopy to provide year-round shelter.
We so often hear of the unpredictable (or perhaps too predictable!) weather conditions cited as the main barrier to daily outdoor learning in UK schools. This doesn't have to be the case - and it certainly isn't at Haxby Road! With their new all-weather playground surfacing to eradicate water-logging, and a Canopy that's designed to keep off the rain yet still let the light in, there's no more disruption to planned learning activities and no stopping their fun!
Under the Canopy the children will find comfortable spaces to sit, and a Picnic Table with Chalkboard Top for PSED activities and mark-making in groups. There's a movable Easel on Wheels with a handy shelf for storing chalk, and Giant Paint Panels for everyone to participate in expressive art and design.
Active learners…
Running alongside the pathway, Haxby Road Primary have laid out their set of our champion product Get Set, Go! Blocks. Completely open-ended and flexible in the way that schools can use them, they're fantastic for gross motor development and developing fundamental movement skills.
Each one has handy holds on the sides for easy repositioning - children love using them to design their own obstacle course challenges!

Creative Explorers…
Next stop - marvellously messy and spectacularly sensory play! A foundation block of EYFS learning, sand and water play is a huge feature of the new outdoor learning environment at Haxby Road Primary.
With our unique Water Wall becoming a hive of activity and investigative learning, the children have been busy designing and constructing their own courses for the water to travel. This is a fantastic outdoor resource for the children to play collaboratively, experimenting with scientific concepts such as gravity, water features and changes of state, kinetic energy, solving problems and developing their understanding of the world.
Grass-topped steps allow smaller children to easily reach up to the top of the wall for maximum impact. In this zone we laid our bright blue Wetpour 'splash puddle' to enhance the water theme and provide a safe, non-slip surface for water play.
On the opposite side of the pathway, we installed a large Sandpit with a Roof and Sliding Lid for the children to dig and discover together. Sand play is ideal for fine motor development as children manipulate different resources to scoop, pour and mould sand structures. It's also a practical fail-safe for Early Years learning goals in maths as children learn to count and recognise shapes and measurements.
The sturdy and versatile lid on our Sandpit cleverly doubles up as a seating area or mini-performance stage. The roof provides shelter from the sun's rays, so the children at Haxby Road can be learning outdoors all day if they wish! Here we laid a cheerful yellow Wetpour 'splash' to set a beachy scene!
Outstanding performances…
Our range of star-studded Outdoor Performance Stages are designed to support a broad and balanced outdoor learning programme across the Early Years and throughout KS1 and KS2. They present an inspiring platform upon which to engage children in imaginative and creative learning across all the areas - where communication and language development and expressive art and design skills can take centre stage!
At Haxby Road we built a Performance Stage for EYFS children at the end of the pathway, featuring three bright yellow stars for positioning and colour/counting/shape recognition. Chalkboard back panels encourage children to mark-make and allow them to create their own imaginative backdrop designs.
We were delighted to be treated to a musical performance by the children, who had formed their own fabulous percussion band on their stage - there are certainly a few rising stars in the making in this playground!
Would you like us to help you improve your outdoor spaces for learning and play? Please do Contact Us Here to book a free consultation with one of our playground experts.