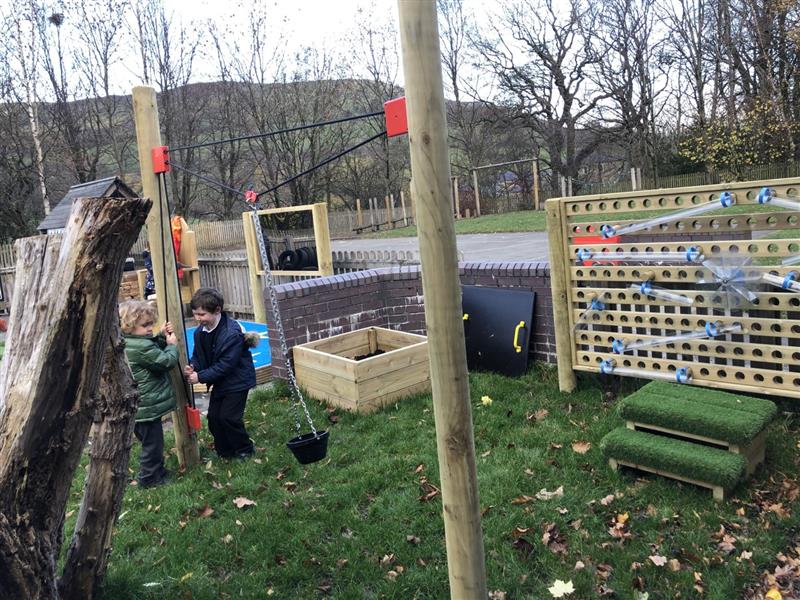 Supporting the curriculum in a fantastic playground environment
Our playground consultant, Daniel Young, worked together with Hayfield Primary School to design an adventure playground with apparatus to challenge and develop the children across all seven areas of learning.
The result was an entertaining and amusing playground divided into three key zones including an area for messy and investigative play, using information gathered through the senses and a place to support problem-solving skills.
We also created a region of the playground for creative and imaginative play, where the children at Hayfield Primary School can let their artistic sides shine through role-play. The area was designed to support children's confidence and communication skills too.
Lastly, we created a storytelling zone, featuring a large storytelling chair. Teachers or children to read to each other can either use this; it inspires turn-taking and role play.
Messy Play Area
Muddled mess with purpose!
Hayfield Primary School decided to have their messy play zone on natural grass next to the tarmac playground. This formed a distinct area for children to indulge their senses and begin their investigative learning journey.
This sector of the playground features incredible Messy Play Playground Equipment, all precisely designed to help children advance their cognitive development, understanding of the world, intellectual thinking and supports PSED.
Mud Box: This creates tons of fun for children to get digging to build their upper body strength and fine motor skills and explore muddy sensations. It is also a great way to keep the muddy mess organised and limited to this storage box. It is made from high quality, 'play grade' timber and we also supplied a black, plywood plastic lid with lively yellow handles, so it can be closed at the end of breaktimes.
Rope and Pulley Materials Mover: This mover is exceptional and special in every way! It offers children the opportunity to load and transfer mud, sand and water from one area to another. We installed it adjacent to the water wall; the circuit runs above with a bucket reinforced by ropes (directly above). It then feeds up and down one of the vertical posts, where children can tug on the ropes to transfer the bucket across. Because of its location at Hayfield Primary School, it can be used to transfer water to the water wall for instance thereby linking different types of play.
Water Wall with Grass-Topped Steps: This fantastic and versatile addition to the playground at Hayfield Primary School is not only fun, but helps children to learn about kinetic energy, the water cycle, water recycling and source mouth. It can also double up as a teaching resource for science lessons.
Construction Table: The table is built from high quality and robust timber to inspire problem-solving and develop fine motor skills. It can also double up as a table for children to write notes and to discuss what they have observed and explored in a group.
Sand Table with Lid
Straight Planter
Timber Weighing Scales
Potting Table
Creative and Imaginative Play Zone
This zone is arguably the focal feature of the concrete playground, found adjacent to the messy play zone.
This stunning 1.8m by 2.6m mini Outdoor Performance Stage with non-slip, cobalt blue and vibrant yellow, stars Saferturf carpet is fit for the little superstars at Hayfield Primary School. It's a great platform to let arty sides shine through.
At the back of the mini stage, is a giant dazzling mirror held up by sturdy timber posts. Whether they are performing in front of their peers, or expressing themselves on the playground, this multipurpose stage is an ideal place to sing, dance and perform and build confidence in children.
Also included in this area are 2 large and 6 small moveable artificial grass-topped seats.
Storytelling Area
Next to the mini stage, is the large Storytelling Chair, which can be used by children and teachers to tell stories in front of other children. They can sit on the moveable chairs above or sit and listen.
It is a great way to help children to build confidence, better communication and active listening skills and endorses teamwork too.
It has been an amazing experience creating a playground that meets the school specifications and supplements fun and amusement into breaktimes. The children at Hayfield Primary School are having a wonderful time exploring all the new features and finding new and imaginative ways of playing with the innovative equipment that we've installed.
We are passionate in what we do and confident in delivering playgrounds that support learning, imagination and creativity. With our years of knowledge and experience in the field, we can create a playground to fit your budget and outdoor space. For further information and specialist advice, please Contact Us.